Nudge marketing is a technique used to indirectly influence users through suggestion and reinforcement by appealing to their psychology. In this blog, we will detail how you can apply nudges to your marketing to try and influence your users into taking the most desirable action.
There are many different types of nudge tactics, some of which are more common than others, such as:
Product badging
Social proofing
Smart notifications
Exit-intent popups/overlays
Anchor pricing
Driving urgency through scarcity
Nudge marketing first derived from Richard Thaler and Cass Sunstein's Nudging principle. To learn more about the principle, find more in-depth detail in their book here.
Nudge marketing in practice
This section showcases examples from online retailers that are utilising some of the above nudge tactics across their site.
Gymshark: Product badging

Gymshark uses product badging both under and on top of its product images and across its category and product pages to pull out key messages, such as:
X% off
Going fast
New in
Key product attributes e.g. oversized
The badges work well because they help to streamline the user journey, by allowing users to easily identify items based on key attributes. They also help with reducing choice paralysis; choice paralysis is what happens when a user is faced with lots of choices at once (you might have experienced this when choosing which chocolate bar to buy in a shop) It causes individuals to become overwhelmed, often resulting in the user not converting at all.
ASOS: Anchor pricing, item badging and offer messaging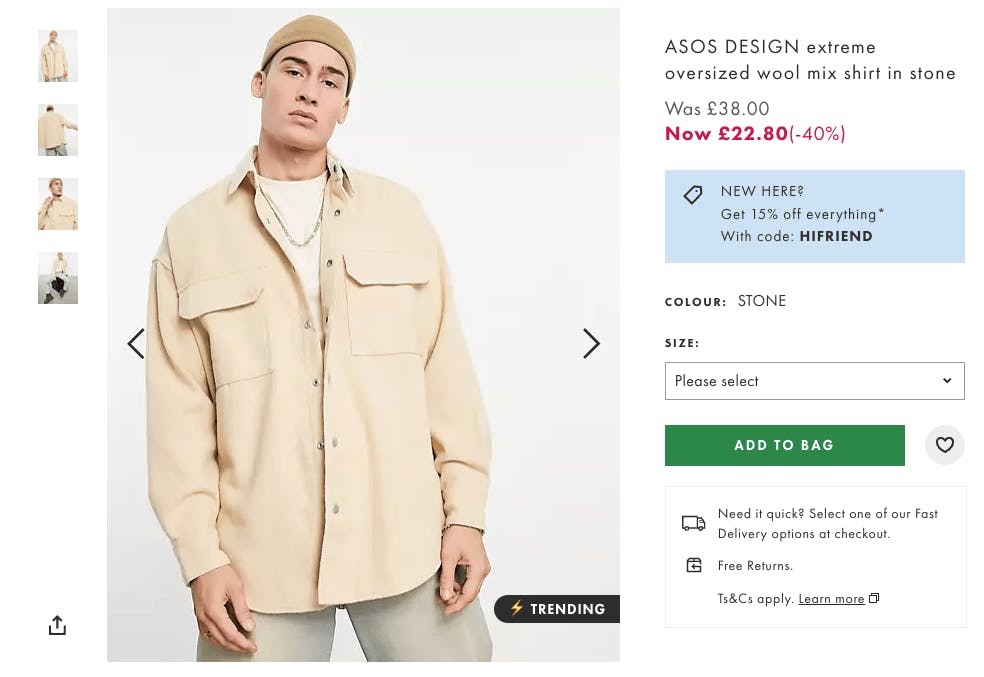 ASOS uses a combination of different nudges on its product pages to try and help persuade the user that the product is right for them.
Anchor pricing: showing a product's original price alongside a discounted price is a tried and tested persuasive pricing technique, but also fits nicely in with nudge theory too.

ASOS goes a step further and also pulls out the % discount amount, to make it easy for the user to see the level of discount they're receiving. ASOS has the new price and % discount in a red font, helping to visually separate the nudge.

Item badging: ASOS uses item badges over the product image to show whether things are currently trending or exclusive. As with Gymshark, this is a great technique that not only allows customers to shop by items that are currently seen as trending, but it also helps create urgency by invoking the scarcity principle, encouraging the user to purchase sooner rather than later for the fear of missing out.

Offer messaging: ASOS is using a data-driven approach to showing offer messaging, with the message above only showing for customers who they've identified as new users. The placement of the messaging works well because it doesn't interrupt the user journey by showing through a popup or notification, and it's placed directly underneath the pricing which helps to highlight the level of discount the customer can receive (the existing 40% off plus an additional 15% discount).
Booking.com

Booking.com is known for running hundreds of A/B tests at any single time and using a number of different nudges across its site, for this example, I'm going to focus on how they create urgency on their search results page.
Booking.com uses the scarcity principle to create urgency with the customer by invoking a fear of them missing out. They do this by pulling out the number of rooms left at the current price. Not only does this create urgency because it shows that not many rooms are left, but also for the fear of the price going up. This is a tried and tested tactic that has proven that when a customer sees that there isn't much of a product left, they're more likely to desire the product and convert.

Booking.com also pulls the scarcity element out in a bold red font, making it one of the key elements on its product listings, and making it more visible to the customer.
Nudge marketing in real life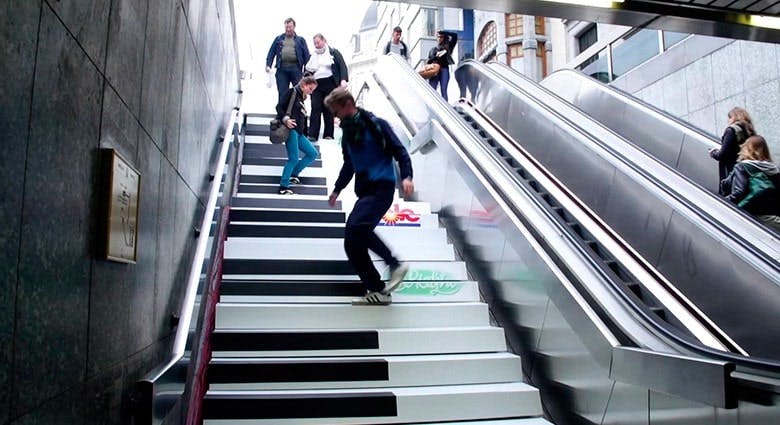 Nudge marketing isn't just something that is solely tied to the realm of digital marketing. In fact, even when we are away from screens, we're surrounded by brands using these types of psychological tactics all day, every day, without us even knowing.
These stairs found in Stockholm are a perfect example of nudge marketing. The project was part of a Volkswagen initiative called "The Fun Theory" and the main objective was to determine whether or not people's behaviour would change if the task at hand was perceived to be more fun.
So why is this a perfect example of nudge marketing? You'll see on the right-hand side of the image you have escalators, on the left, the interactive piano stairs. The purpose of the experiment was to see if more commuters would take the stairs over the escalators.
The Fun Theory reportedly saw a massive 66% increase in commuters taking the stairs over the escalators after they turned them into an interactive piano. This demonstrates how nudges can be applied to everyday life to try and influence the actions people take.
Nudge marketing tactics to boost conversion rates
We've seen some great examples of nudge marketing across some best-in-class retailers, but how do you go about implementing these on your own website? My recommendation would be to tackle them one at a time and to test each of them to see what impact they have on your metrics. Here is a brief breakdown of how to get started on implementing some of the nudges we've touched on above.
Product badging: take a look at your product range and see how you can group your products together. Ideally, you want to come up with a couple of groups such as best sellers, low in stock and on sale items.

Once you've come up with your groups, you then want to decide how you're going to display your badges. You could follow a similar route to Gymshark or ASOS and have them on or around your product images or find somewhere new on the page that works with your website structure. Don't forget to test the position of your badges, what might work well for one retailer, might not work well for you!

Creating urgency through the scarcity principle: there are a few different techniques that can be used here. You could do something similar to booking.com, showing how many rooms or how much stock is left at that current price:

Or, you could do something similar to AO and use prompts on product pages to show how many customers viewed a particular product in the last 24 hours: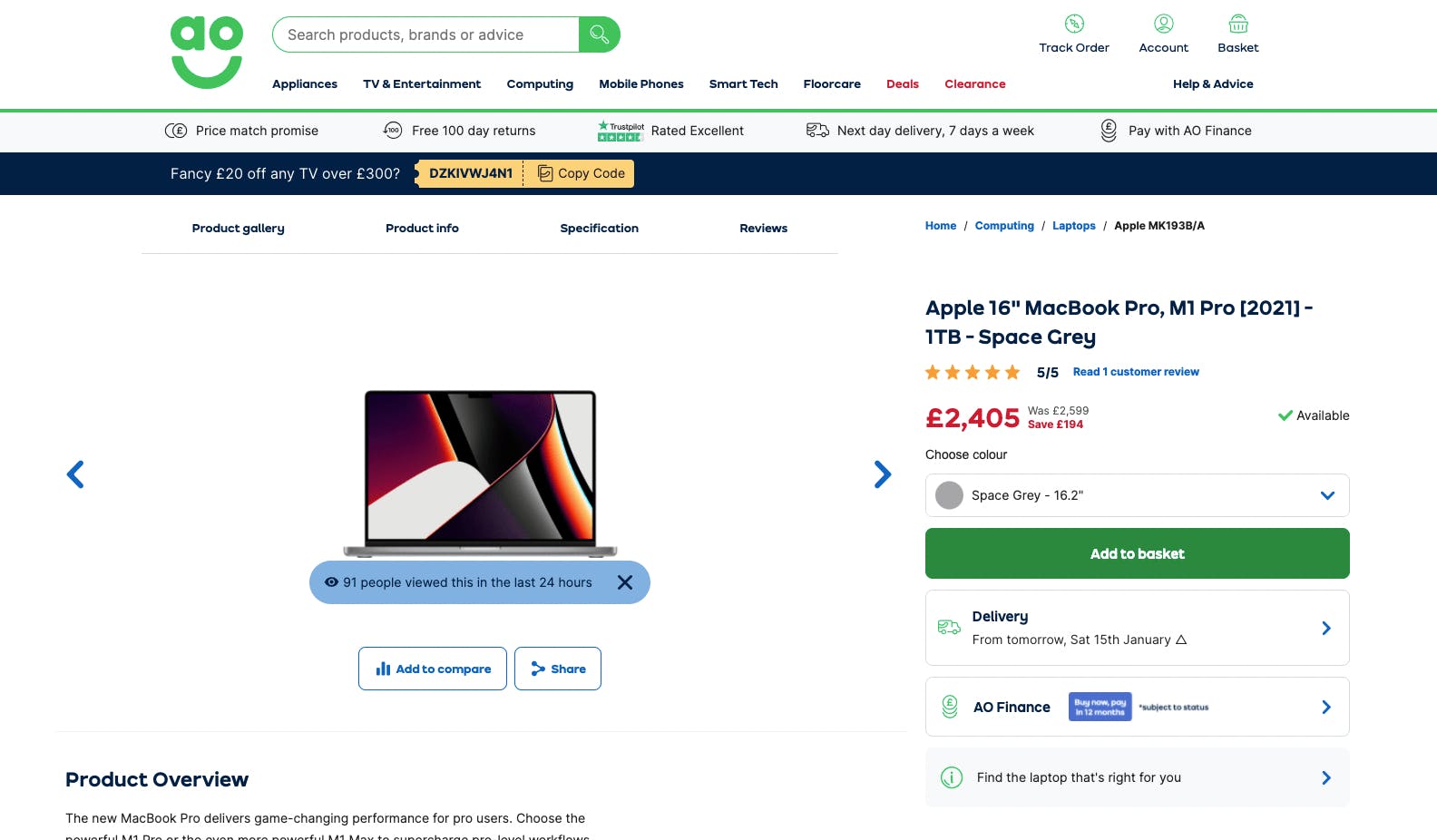 Both techniques work well and could easily be used in conjunction with each other by using the booking.com method on low stock products and the AO method for popular products.
To recap
Nudge marketing is a technique that can be used to try and influence your users through the power of persuasion and reinforcement. We've seen some great examples of nudges used in practice and have shared ways that you can start implementing them on your own website.
As with all changes you make, it's vital that you split test them first to remove the guesswork and assumptions, and most importantly, to make sure they're having a positive impact on your metrics!
Learn more about Impression's CRO offering or explore further CRO tips and techniques on our blog. 
---