Two months into 2019, Google has already launched a handful of impactful algorithm updates that have affected search engine results pages (SERPs). Read on for more updates from Liv, Georgie and Hugo.
The January 2019 Google algorithm update
A few days into the New Year, it appeared that Google had already launched an algorithm update. Algorithm updates on Google tend to impact groups of sectors with regards to their performance and content quality. From looking at the websites targeted, this update was incredibly similar to the Google Medic update, where e-commerce and health websites saw their rankings drop significantly.
For the January 2019 update, it emerged that the websites mostly affected were businesses in industries such as automotive, food and drink, pets and animals. It also appeared that some law and government websites were targeted.
This algorithm update is Google signalling that websites need to optimise their content for better search rankings and user experience. Content should measure up to their E-A-T guidelines:
Whilst this mainly relates to on-site content, it also includes the backlink health of a site and requires websites to have true authority and be a legitimate player in their market.
The January 2019 update shows Google's continued drive towards combatting misleading and unreliable searches that can negatively affect online search. By pushing sites to identify, optimise and create evergreen content that users can come back to, Google can ensure only the best type of content is available for users.
'Newsgate' Algorithm Update
The January update also appeared to have had an impact on news websites and blogs belonging to different niches, causing it to be dubbed the 'Newsgate' algorithm update'.
Google released a document that provided actionable advice and tips for news publishers, with two sections that were titled 'Ways to succeed in Google News'. The main premise of the guidelines stated that news publishers should avoid regurgitating content, however, they also recommended the following practices (in line with the EAT guidelines) to avoid rankings being hit:
Clear and descriptive titles (no clickbait)
Accurate time of publication – using structured data
Correct header hierarchy and HTTPs usage for all posts
Transparency on who has published the content, using a clear byline with a short description of the author and contact details of the publication
What we know about the February algorithm updates so far
It appears that there were small, but significant algorithm changes during February. The peaks for SERPs changes were February 7th, 14th (dubbed the Valentine's Day Update), 22nd and 27th. Whilst these updates have not been confirmed by Google, the below graphs suggest that they did occur.
We will report on the sites mainly affected and why they were impacted once we have further information on this.

Arts & Entertainment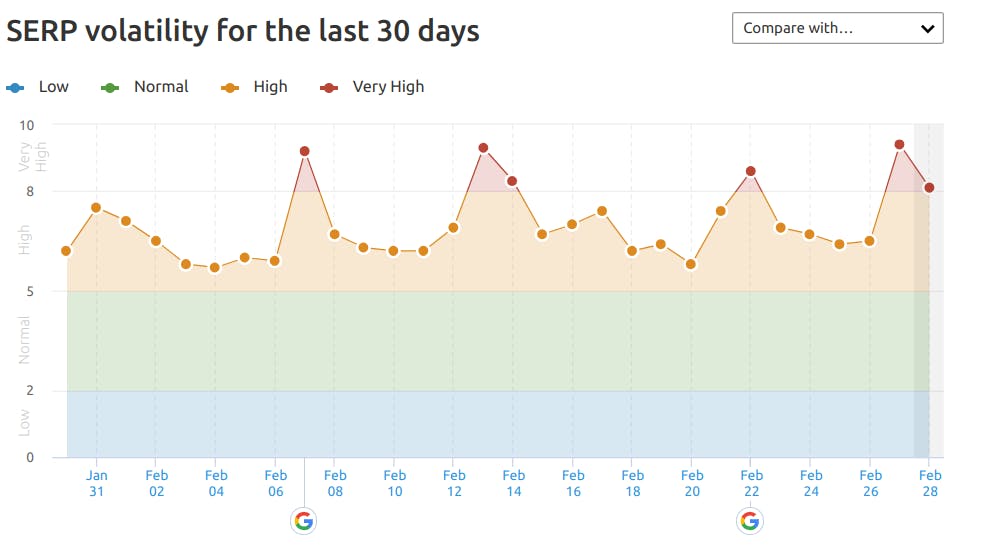 Sports
News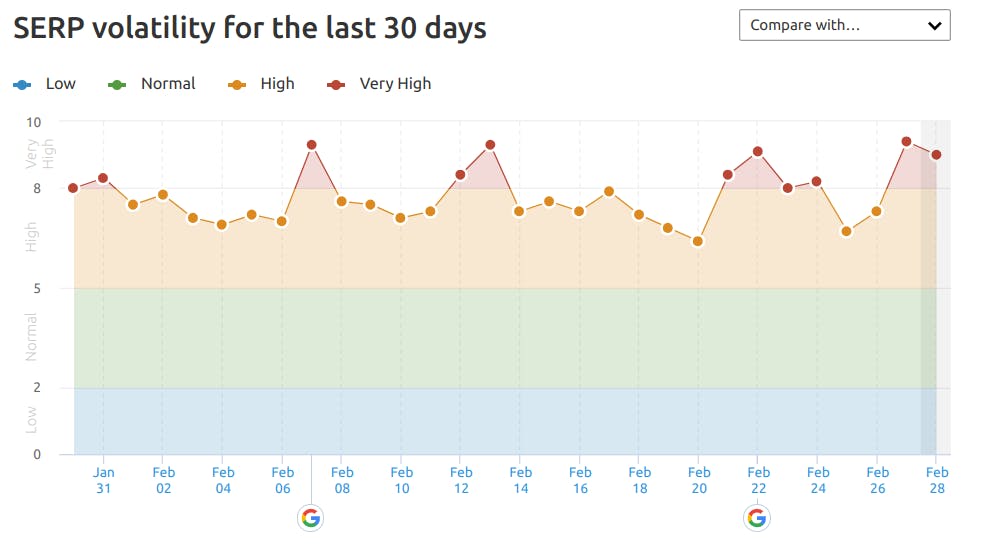 What to expect in March
Google Merchant Centre Update
Google announced on 22nd February 2019 that it would be opening up its Merchant Centre tool to all online retailers, regardless of whether they have an Adwords account or not.
Google's merchant centre has traditionally only been used to power Google Shopping Ads, where Adwords users could upload a feed directly to Google in real-time to ensure all product information was accurate at the time of a given search. In contrast, ecommerce websites relied on schema markup to display rich results, such as ratings and price, as well as rich product image information in organic results.
This update is important because for the first time detailed information used in shopping ads will be made available to display in organic search and image results. Rather than using schema markup to display rich information, which might quickly become outdated, retailers can now submit information in real-time, giving them better control over how their products appear online.
Google also announced that product data would be chosen solely according to their relevance to user queries. This presumably means that the search engine will treat product data similarly to rich results by choosing information to display according to the individual user and their query (including their search history, location, language etc…).
The new Merchant Centre update will be rolled out in the US in the coming weeks, while other countries will be given access to the new service later in the year.
Conclusion
If your sites have been affected by Google algorithm updates during January and February, our advice would be to wait ten to fifteen days before making any drastic changes to your site. Changing aspects of a page during a Google update can have unpredictable results and make any SEO question whether the ranking changes were due to updating the website or Google updating their algorithm.
In the long term, it is important to remember that the recent Google algorithm updates have signalled for websites to deliver quality content that measures up to their EAT guidelines. We recommend identifying areas of low-quality content on your site. By updating any thin or old content on your site, you should be able to recover any lost traffic.
Ultimately, creating informative, factual and generally useful 'evergreen' content can ensure that your site receives traffic on a consistent basis.
Need support for your SEO strategy? Contact us.
---