LinkedIn is a very well known and highly valuable social media platform for professionals, with over 630 million active users. While it is mainly used for professional networking, posting jobs, or looking for new opportunities, it's also got its own advertising platform called Campaign Manager where businesses can acquire new leads, increase their brand awareness and engage with their target audience. Even though LinkedIn Ads are not as commonly used as Facebook Ads or Google Ads, they are a very valuable source for B2B businesses searching for new high-quality leads. This article is one of the series of posts called "3 steps to setting up a successful LinkedIn ad campaign" and will cover all the available LinkedIn ad types.

LinkedIn Ad Types
Before setting up an ad campaign on LinkedIn, it is important to get to know all the ad types available on the LinkedIn Ads platform to help you reach the specific goals of your business.
There are 4 different types of ads on LinkedIn, which are detailed below:

Sponsored Content
Sponsored ads are essentially LinkedIn posts with a budget behind them, shown in the homepage feed of LinkedIn users. They can be seen across both desktop and mobile devices and are marked as ads by the small "Sponsored" or "Promoted" symbol.
Sponsored Content Ads come in three different formats: single image ads, video ads & carousel ads which you can use within the same campaign for creative split testing.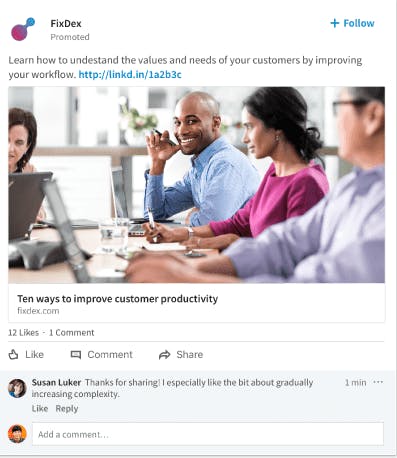 Example of Single Image Sponsored Content Ad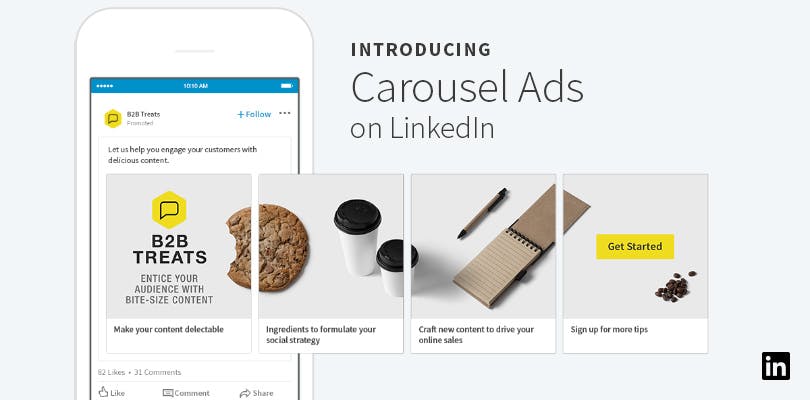 Example of Carousel Sponsored Content Ad

There are several ways you can use Sponsored Content on LinkedIn:
Running native ads in the news feed of professionals you want to reach

Using lead generation forms to capture leads in the news feed. This feature pulls users' information into a form that can be submitted with one simple click. 

Teaming up with LinkedIn Marketing Partners like Brand Networks or Adstage that have knowledge or technology needed to boost the results of your business.
Overall, running Sponsored Content Ads is a great way to increase brand awareness, attract more followers, or generate high-quality leads. They are the most popular ads used on the LinkedIn platform due to their effectiveness and great results.
Message Ads (Formerly Sponsored InMail)
Previously known as Sponsored InMail ads, these are now called Message Ads.
Message Ads can help you deliver personalised messages to the inboxes of your targeted audience. They look similar to the standard messages on LinkedIn, except for being marked as "sponsored". Message Ads are only delivered when LinkedIn users are active on the platform to ensure that they are received and read.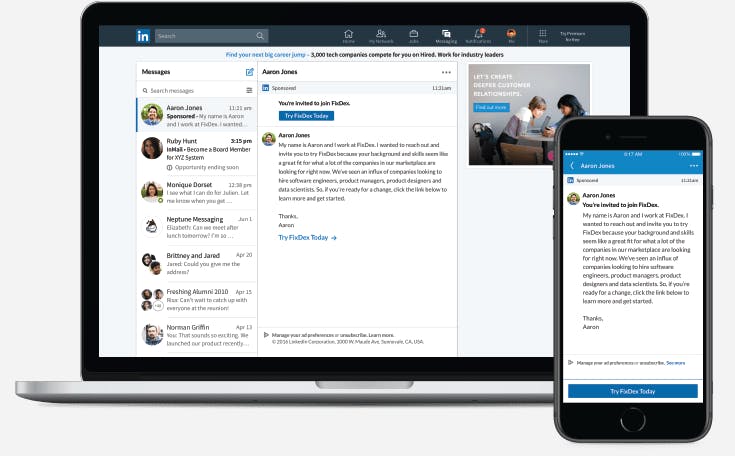 Example of LinkedIn Message Ads
Message Ads have been designed to engage with your audience on a more personalised level, which according to LinkedIn typically generates a higher response rate in comparison to emails. Similar to Sponsored Content ads, you can use lead generation forms to attract new leads.
It's important to note that LinkedIn members can decide to opt-out of receiving Message Ads at any time.
Text Ads
LinkedIn Text Ads are known as the simplest ads to create on LinkedIn. They consist of a headline, short description and optionally a small image, and appear on the top right side of the users' news feed. They are only available for desktop placement.

Example of LinkedIn Text Ads

This LinkedIn ad format is a great way to increase the visibility of a company's LinkedIn page or a website especially if the content is unique and eye-catching. It is recommended to use the A/B split testing to find out which headlines, images and description combinations are the most effective and drive the best results.
With Text Ads, you can set your own budget and control costs with pay per click or cost per impression. Typically, the CPCs on LinkedIn Ads are more expensive than on Facebook Ads, however, LinkedIn has proven to drive better quality leads when it comes to B2B businesses.
Dynamic Ads
LinkedIn Dynamic Ads help you engage prospects with ads that are automatically personalised to them. They look similar to Text Ads, except for one important difference. They take information about the target user to show them an ad featuring each professional's profile photo, your company's logo and a short message addressed specifically to them. This can be seen on the below picture.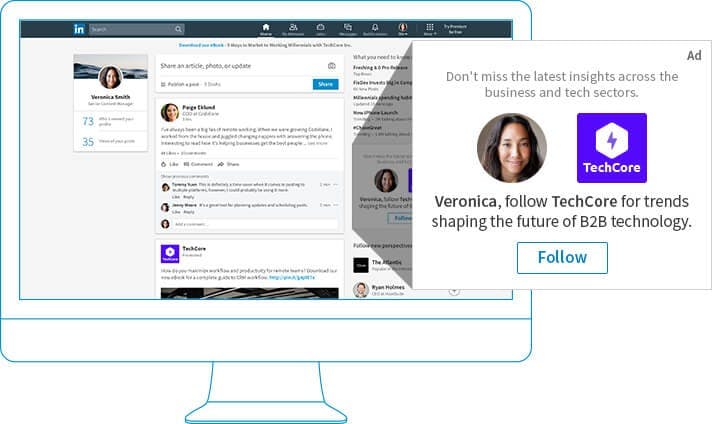 Example of LinkedIn Dynamic Ad
There are three ways you can use Dynamic Ads on LinkedIn:
Follower Ads (help you build brand awareness)
This ad type allows you to expand your audience and get more followers for your LinkedIn or Showcase page. The CTA "Follow" button is accompanied by a short message telling the users why they should keep up with your brand.
Spotlight Ads (allow you to drive traffic and conversions)
These ads are designed to help you drive traffic to your website by featuring the valuable content you want to share e.g. your products, services, articles, events etc. It includes a CTA which is customisable depending on the goal of your campaign. Spotlight Ads are also ideal for driving conversions.
Content Ads (help you generate quality leads)
LinkedIn Content Ads allow you to generate leads when users download your content. This could be for example a white paper, a brochure or a how-to guide. You have an option to either download your leads directly in Campaign Manager or send them to your CRM. These ads are only available through a LinkedIn representative, so if you'd like to start using them, make sure to contact their sales team.
Hopefully reading this article helped you understand the different types of LinkedIn Ads and decide which one would align best with your business objectives. The next article from "3 steps to setting up a successful LinkedIn ad campaign" series will cover an in-depth process of creating an effective LinkedIn Ad campaign, so keep your eyes peeled. If you need help with setting up the LinkedIn Ad Campaign, or you would like to discuss any other aspect of your digital strategy with our team, get in touch today.
---