Well, yes. And no. Let me explain.
As of the 5th December 2019, Google has begun rolling out its new "Explanations" feature and whilst on the surface, it seems like a condensed version of the recommendations tab, it has the potential to be more insightful and actually practical.
Simply put, when it comes to optimising an account or campaign, you need to easily understand why performance changes – and that's where Explanations comes in. According to Google, "with explanations, you can view the most likely reasons for impression, click, and cost changes with the click of a button. This makes it easy for you to spend more time focusing on optimisation, and less time investigating performance issues".
Traditionally when noticing a drastic change in the performance of a campaign, such as a drop in impressions, you'd have to fire up a report, populate it with relevant metrics and spend time analysing data – Google explanations aims to cut this out. As you can see below, by hovering the mouse over the change in cost, a new window pops up.
Clicking the "see explanations" button, you're presented with a host of infographics for the campaign and corresponding ad groups. Here you'll find a host of useful information about search trends, auction insights, prominence metrics etc. As you can see, Google will try to explain what led to the change – in this case, an increase in search interest.
Scrolling to the bottom, you're presented with a brief summary of what Google believes to have led to the change – indicated by the blue "!" mark. This is particularly useful when trying to juggle multiple accounts within a large team where time is of the essence.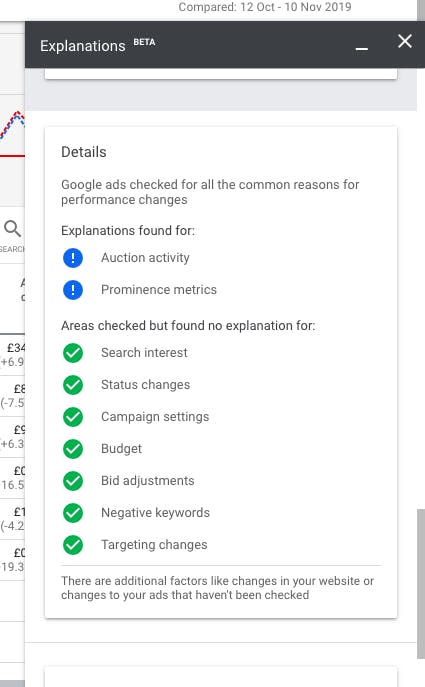 However, there are a few caveats.
Currently, the beta version of explanations is only available for manual CPC or eCPC Search campaigns with significant performance changes. On top of this, you can only compare two time periods of equal length within the last 90 days. As explanations develops, it would be great to see it implemented for all bidding strategies, not just manual CPC/eCPC.
With this in mind, Google explanations has the potential to save hours of time adjusting campaigns, prevent misjudged/ill-informed decisions and spot changes in search interest. Only time will tell how useful this feature truly is, but it's a step in the right direction for Google.
---