Whilst there were no major search industry updates during April 2022, there were some small changes to Bing and Google products, as well as new guidance regarding the use of non-recommended structured data.
The most noteworthy news from last month included:
The usual traffic light system is in place to differentiate the updates that need immediate attention from those that are less pressing. Red light updates are major changes that should be factored in straight away; amber is for updates that you should take note of (but which may not need any urgent action), and green updates are still worth knowing about, yet less critical than the others.
Keen to know more about any of these changes and what they mean for your SEO? Get in touch or visit our SEO agency page to find out how we can help.
Google's new guidelines state that automatically generated content is against their guidelines when it is used to manipulate search rankings.
This means that if you use artificial intelligence to create content with the purpose of trying to 'outdo' the algorithm, you will be in violation of Google's guidelines and could be penalised.
What does this mean for me?
Don't create pages with the sole purpose of manipulating Google's search algorithm. For example, this could look like creating multiple category pages that target different variations of the same keywords – such as cheap washing machine, affordable washing machine, and other similar blog posts/category pages that don't have much content.
Continuing to produce quality, keyword focussed content that puts the user first and contains no elements of 'black hat SEO' such as keyword stuffing will help to ensure that you remain compliant with Google's guidelines, whilst also helping you to grow your organic presence.
Bing has made new updates to their Ethical Shopping hub. The updates include new tools to help users find ethical and sustainable products, as well as information on the environmental and social impact of different products. The goal of the updates is to help users make more informed choices about the products they purchase.
Bing first released this experience last year in the UK, but have now expanded to the US and Canada in English.
These ratings are now integrated into Microsoft Bing shopping filters that consumers can apply when searching for fashion products. The filters provide a score that allows shoppers to spend thoughtfully and make a difference when shopping with Microsoft Bing.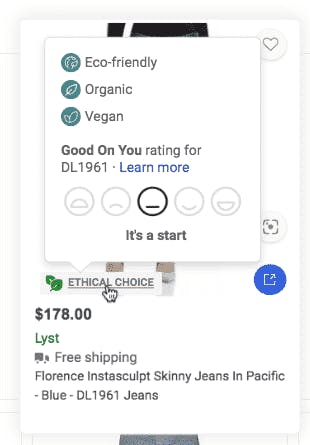 What does this mean for me?
This is good news for fashion brands that offer sustainable products. Microsoft Bing is rewarding environmentally-friendly brands with greater visibility on relevant search queries. Opening up beyond the UK means more chances to earn sales in the US and Canada.
Fashion brands that sell environmentally-friendly products will now have greater visibility on Microsoft Bing across the UK, Canada and the US.
Google is writing its own Knowledge Panels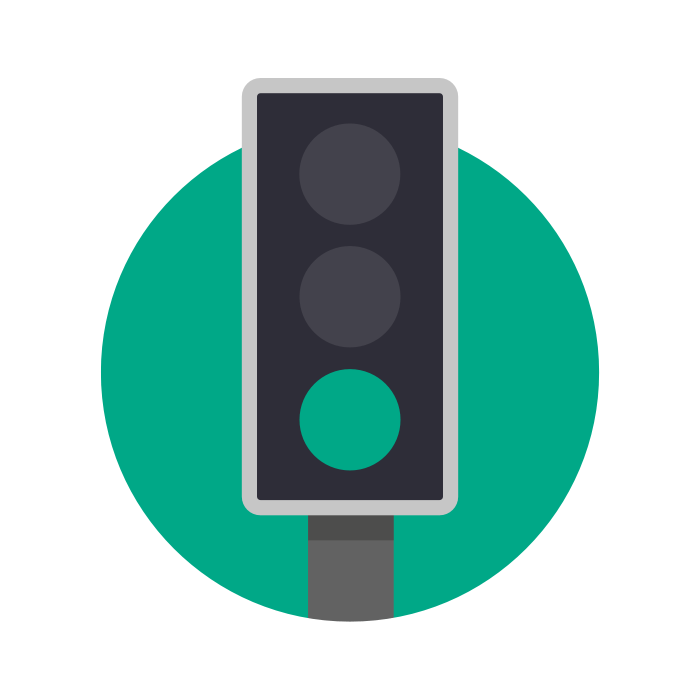 Google is constantly tweaking the presentation of its search results, and one of the most noticeable changes over the last decade has been the rise of the Knowledge Panel.
First launched in 2012, these SERP features are designed to give users quick and easy access to information about a particular topic, and they often appear at the top of the search results page.
Knowledge Panels vary, but often include a section of text about whatever the user has searched for along with some other facts and images. Typically, this information is taken from third-party sources like Wikipedia, which will be cited at the bottom of the panel.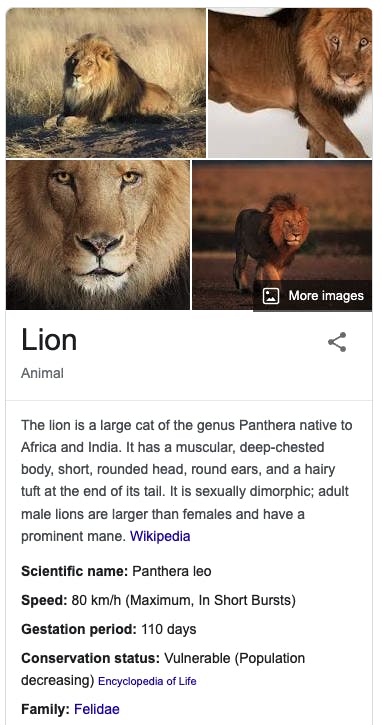 In this example, we can see that the description of the lion is immediately followed by a link to the source page on Wikipedia, whereas the vulnerable conservation status of lions is followed by an Encyclopaedia of Life citation.
Most recently, we have started to see Google writing its own Knowledge Panels without citing any sources. You can an example taken from the SERPs for 'Nottingham' below: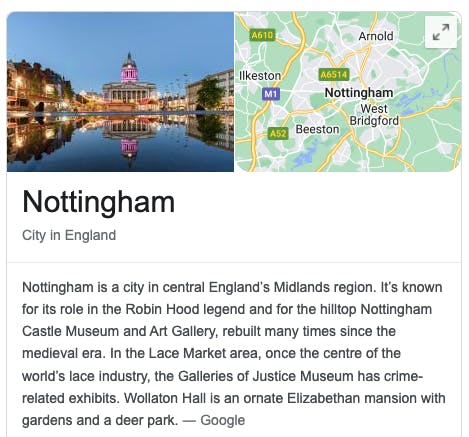 In this instance, the usual citation is replaced simply with 'Google', indicating that the information is not taken directly from a third-party website.
Interestingly, these Knowledge Panels are not automatically generated as you might expect. Google's Danny Sullivan has confirmed that the text is actually written by Google employees, and went on to say that they've been doing this increasingly since 2018:
Some members of the SEO community have criticised Google for yet another situation in which it is drawing traffic away from sites that provided this type of content.
There are also ethical concerns around Google writing Knowledge Panels as an extension of its monopoly over easily accessible online knowledge, with users having to place more and more trust in the search engine itself if they want to access in-SERP information.
What does this mean for me?
Unless you work on a site like Wikipedia, it's unlikely that Knowledge Panels written by Google will have any impact on traffic to your domain.
That said, for some of these larger encyclopaedic information sites, this could result in a reduction in visitors over time, which could then cause wider issues depending on their business models – Wikipedia, for example, relies on donations from people who visit the site, so this trend may also pose a threat to its funding.
As a regular denizen of the web, the increasing prevalence of Google-owned Knowledge Panels also limits the availability of information from a wider range of trusted sources within the SERPs themselves. Of course, all of this will still be available to users who are willing to take the time to visit the sites directly.
Google Search removal request feature to be expanded to personally identifiable information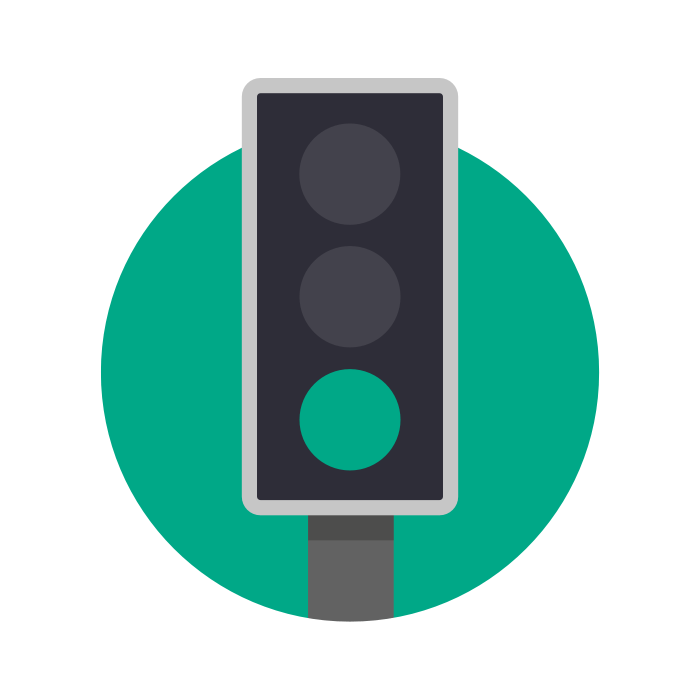 With the rise of doxxing, identity theft, and other forms of harmful activity taking place online, Google has been on a mission to safeguard its users.
For quite some time now, users have been able to request the removal of search listings that contain sensitive, personal information that they'd rather not be found online – this has historically included details such as bank account and credit card numbers, along with other data that could result in financial fraud.
Now, Google has made the decision to expand this feature to facilitate removal requests of a range of other personally identifiable information. Effective at the time of writing, this allows users to ask for the removal of listings that feature personal contact information like a phone number, email address, or physical address, as well as confidential login details.
Google's Global Policy Leader for Search, Michelle Chang, had this to say about the new feature in a recent blog post:
'Open access to information is a key goal of Search, but so is empowering people with the tools they need to protect themselves and keep their sensitive, personally identifiable information private. That's why we're updating our policies to help people take more control of their online presence in Search.
[…]
The availability of personal contact information online can be jarring — and it can be used in harmful ways, including for unwanted direct contact or even physical harm. And people have given us feedback that they would like the ability to remove this type of information from Search in some cases.
When we receive removal requests, we will evaluate all content on the web page to ensure that we're not limiting the availability of other information that is broadly useful, for instance in news articles. We'll also evaluate if the content appears as part of the public record on the sites of government or official sources. In such cases, we won't make removals.'
What does this mean for me?
The expanded removal request functionality is an excellent feature for helping to protect users like you and I from identity theft and other forms of criminal activity online.
Whilst it's great that confidential personal information can now be removed from Google Search, remember that this won't take it down from the internet altogether – as well as requesting the removal via Google, you should also contact the host site directly if your sensitive personal information has been shared online.
In a recent episode of Google's Search Off Record podcast, the team discussed structured data and the possibilities of going beyond what the dev pages recommend. Co-host Martin Splitt mentioned that "non-recommended" structured data could be useful beyond things like rich results to which Ryan Levering, a Google software engineer responded:
"We can potentially use that for some things at Google.
[…] I never advise people to not put structured data on their web page if it makes semantic sense.
[…] So structured data is just one signal in that overall calculation.
But it can help us with certain disambiguations in terms of what the actual page is about. So it is useful but just in a more implicit sense right now."
What does this mean for me?
It's important to note that structured data use isn't a ranking factor but it's good to know that Google acknowledges use of Schema outside their own recommendations and can use it for things like disambiguation.
Helping Google's search algorithms understand pages more clearly is a worthwhile endeavour and working with relevant and valid Schema can act as a form of future proofing (because we all know how Google likes to change things around every once in a while!)
Next steps
For any further information about these posts – or to learn how we can support your SEO – get in touch today.
---