Christoph C. Cemper is the Co-Founder and CEO of Link Detox and LinkResearchTools (LRT). Cemper is particularly well known in the digital marketing industry for his bold orange suits and wide SEO knowledge. He explains how LRT provides all the appropriate tools to audit links, analysing backlinks, link risk management to help with regaining organic traffic to your site. In his talk, Christoph covers 20 tools in 20 minutes which should be used by every SEO in their daily, monthly and yearly routine.
Free SEO Tools
Google Search Console
GSC really can be regarded as the holy grail of SEO tools. This tool, powered by Google, allows you to see manual actions, real rankings and click-through rates (CTRs) and gain link data for multiple different properties. This means that GSC now allows you to tie together multiple websites together to view accumulated data sets.
Google Analytics
Google Analytics (GA) again, is an extremely beneficial tool for any type of business. GA allows tracking for customers from different locations, devices, landing of certain pages and interactions with your site. Most importantly, GA lets you collect historical data, which in turn aids in the analysis of certain trends over time displayed through visitor traffic. This is the pinnacle of understanding your future customers and can help to effectively configure certain campaigns, reports and website structure.
Google Tag Manager
Google's tag management system lets you deploy tags (snippets of Javascript or tracking pixels) on a site without having to entirely alter the code. GTM is a very convenient tool that helps you manage multiple tags that are all stored in a singular place. This tool can also arguably increase the speed of your site as all the tags are situated in one place. Although this tool is regarded as simple, and easy to use, it's essential to have a small amount of technical knowledge to understand the process of tagging as a whole.
Keywordtool.io
This SEO tool cropped up during many talks throughout Brighton SEO 2018 and was praised throughout. Keywordtool.io has the ability to find "hidden" keywords by using autocomplete, also known as Google Suggest, shown below. This feature on the tool can consequently provide meaningful insights towards trends and intent of consumers that are easy to analyse when searching for a particular keyword.

Keywordtool.io clarifies that their tool is the best free alternative to Google's Keyword Planner, with many additional features making this viable. One includes the opportunity to analyse long-tail keyword search volume in bulk in the majority of cities, countries and languages. This type of scaling in one tool provides an extremely beneficial alternative to keyword planner. In addition, this tool has the ability to search engines, including; Google, YouTube, Instagram, Bing, Yahoo, eBay and the App Store.
Keywordtracker.io
This keyword tracker allows for simple keyword tracking, perfect for a smaller business starting up in SEO. Keywordtracker.io is different to many free tracking tools, as they have a daily ranking tracker, in comparison to many other tools with a weekly analysis. They also have a rank search depth of 200, which means that if your business is ranking position 140 on the search engine results page (SERP), then this tool will show you this, instead of stating not available.
Free Desktop SEO Crawlers
XENU
Xenu's Link Sleuth has been regarded as the monster of all Window's desktop crawlers. The main focus of this tools is to discover broken links, however, the simple interface can also overcome a host of problems, including; status code of pages crawled, length of title tags, analysing a site's information architecture and generating XML sitemaps. Xenu's straightforward tool to help identify very useful data that can be revised in the future to encourage better site usage.
Screaming Frog
The Screaming Frog SEO Spider tool is an established freemium crawler that allows users to use many of their features and to accurately crawl a site of up to 500 URLs. Screaming Frog's free version, also allows you to find broken links, errors and redirects, analyse titles and metadata, discover duplicate pages and audit hreflang attributes.
Site Bulb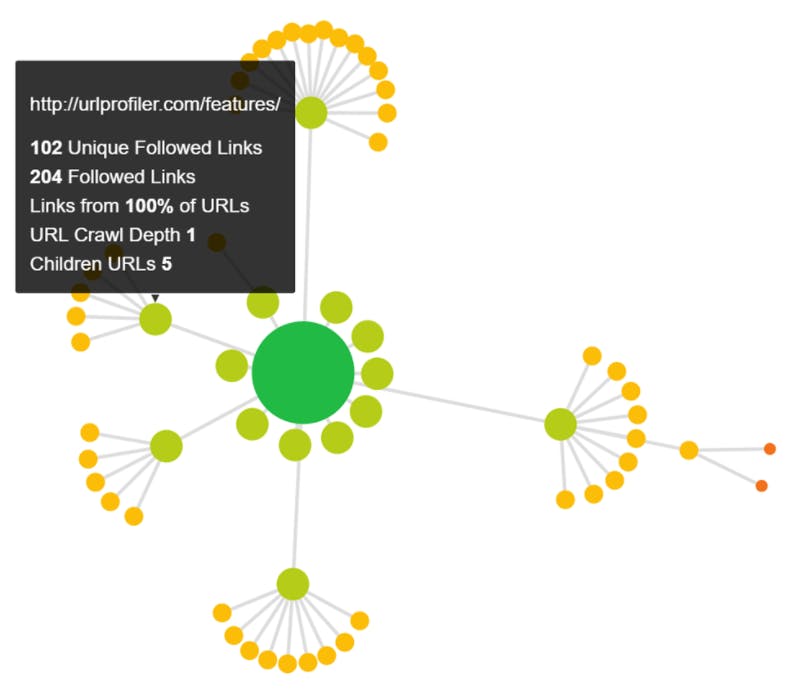 This desktop crawler is designed for 'advanced SEOs' that delivers actionable technical insights in a clear manner, to save you digging around for X amount of hours. Site Bulb offers a welcoming 14 day free trial on their crawler, without having to enter card details, with the option of opting in for their licence of a minor £25 + VAT a month for the service.
A feature of this crawler that makes it extremely popular is the lack of effort needed to visualise and understand the data sets. Site Bulb offers a clear dashboard to interpret the data, especially with their Crawl Map feature, shown on the right. This feature visibly presents your website architecture, in different ways, such as; flat site architecture, duplicate content, pagination chains, content explosion and many more.
Free SEO Plugins
Yoast SEO
The Yoast plugin has successfully been implemented in every WordPress setup for 10+ years, to aid in increasing a readers' engagement and potentially increase traffic to your site. This easy to use plugin offers a free version which includes keyword optimisation of 1 keyword, a Google preview of your page, a comprehensive readability check and a two-week check to ensure each aspect is continually optimised.
Free SEO Extensions
JSON-LD Test Suite
This SEO extension is a divided up into a set of tests to the set of specifications that constitute JSON-LD. This extension is a relatively technical SEO extension with some developer based knowledge needed to understand upon running the test suite but nevertheless provides insightful data.
Open All URLs
This online tool has been constructed to open multiple URLs at the same time. This is especially useful for SEOs when checking page speed, website load time and to assess concurrent connections. OpenAllURLs is supported on ALL major browsers and opens a new tab in your preferred browser for each URL inserted into the extension text area. However, it should be noted, that if opening too many multiple links at once, that your browser is likely to freeze for a couple of seconds whilst carefully works through opening each URL.
Structured Data Testing Tool
Google's structured data tool helps to build, test and release your structured data. The structured data tool flags up advisable actions on site, to improve the site's overall visibility on the SERPS. For example, your site is using a job markup but there is no content explaining the job description, how to apply for the job or contains deceptive documentation. The Google structured data testing tool will then advise relevant guidelines to implement, to then wait for reconsideration from Google. to enhance your  You will be able to see all these changes in GSC, and usually will be notified via email.
Hreflang Tag Checker
This chrome extension was primarily designed to speed up the efficiency process of checking a website's Hreflang tag deployment. In short, a Hreflang tag helps Google to understand what language you are using on a specific page, particularly usefully for international URLs. The result? The search engine is able to deliver the correct language to the user's location API.
JS and CSS Beautifier
This extension automatically has the option to make CSS, JavaScript or JSON files of code 'beautiful'. This extension helps minified code to transfer into your preferred human-readable structure. This can include indentation, customised spacing or other formatting options completed in minutes!
Link Clump
Linkclump's extension enables you to drab a selection box around links to open, copy or bookmarks multiple links simultaneously. This tool has multiple free features, including; only selecting 'important' links of a web page, auto scroll to enable the selection on multiple links, the ability to include and exclude certain links that contain certain keywords.
User Agent Switcher
This extension allows to quickly switch between different user-agent strings. Each part of your user system indicates something particular about your system. The user system usually refers to the application that accesses a different computer, usually a server, through the network. The User Agent Switcher also allows selecting what particular URL you want to spoof every single time.
Keywords everywhere
The free search volume extension allows you to discover a certain keyword, particularly long-tail, search volume, cost per click (CPC) and competition data of keywords on many different websites. Keywords Everywhere have the ability to gain data from a range of supporting websites, these include:
Google Search
Google Trends
Answer the Public
YouTube
Amazon
Moz Site Explorer
Etsy and many more.
Link Redirect Chase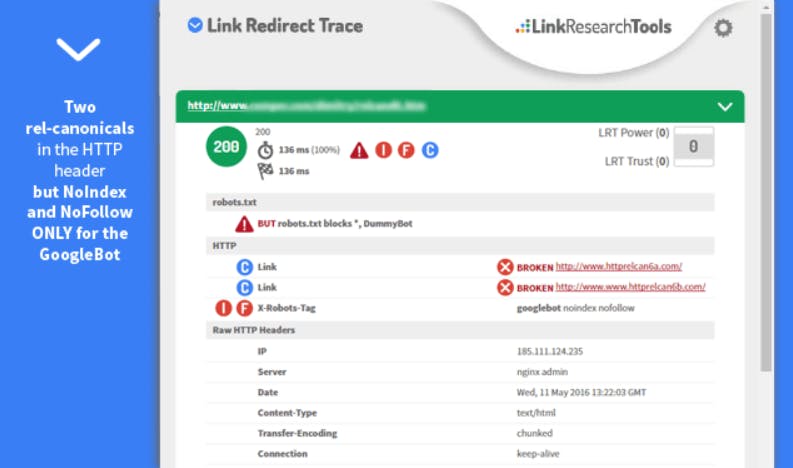 This extension is regarded as the all-in-one redirect path analyser. This tool helps to perform detailed analysis of links both on and off page, redirects, competitor analysis, robots.txt implications and many more.
Powered by LinkResearchTools, Link Redirect Chase is available to download on both Google Chrome and Firefox and helps to efficiently track redirects and headers whilst still browsing online.
LRT Link Checker 
As an SEO, you are aware of the monotonous task link checking can be. With the LRT Link Checker extension, this allows you to check a range of links against their validity, to provide you with the most suited metrics. LRT offers 97 metrics to choose from to suit the particular client and URL.
---