Earlier this year, I was made aware of Bing attracting large amounts of organic traffic through Google due to its new Discover section which sits alongside their image search. However towards the end of April, Bing lost millions of organic visitors in the space of a few weeks. I wanted to explore why this happened and if Bing could have done things differently.
Great to see Bing's SEO team doing a good job of increasing their rankings in Google ? h/t/ @kirwanseo pic.twitter.com/mCqg0Iqpnw

— Matthew Howells-Barby (@matthewbarby) March 21, 2019
Roey Skief also wrote an article in April on how Bing uses this approach to "steal" organic traffic from Google and further documents how Bing approached this. The layout and targeting of these pages is nothing new in SEO, it was a clever move by Bing to gain traffic from Google and it had ultimately worked quite well for a short period of time. Unfortunately for Bing, the whole of the /discover/ section suffered a major traffic loss. I submitted this discovery to Barry Schwartz which was featured on Search Engine Land and highlighted to the wider SEO community. As covered in the Search Engine Land, Bing commented:
This was a change that Google made so we cannot answer on their behalf. "Microsoft did not make any changes to Bing Discover that would lead to this change. I do believe they made changes after Google removed those pages from its index, but prior, no – no change."
Discover Section – Organic Traffic Decline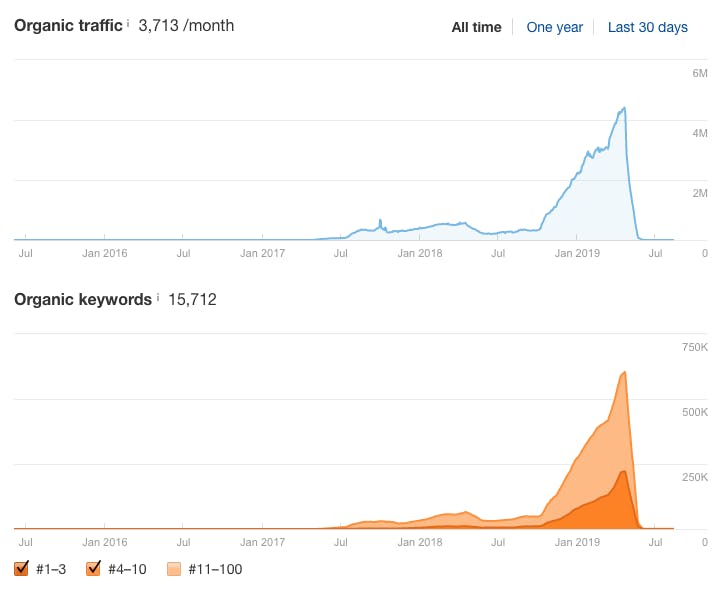 Although the discover URL now redirects to https://www.bing.com/images/discover?FORM=ILPMFT, we can see the organic traffic drop across all the topics that were previously gaining high volumes of traffic:
/discover/phone-wallpapers performance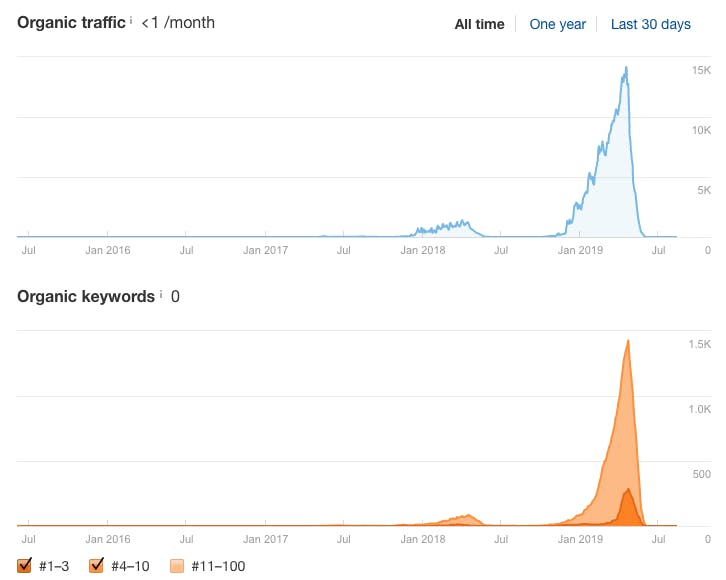 All the topic based landing pages are now out of Google's index which would explain why Bing lost all their organic traffic to the /discover/ section. With no crawler or indexing limitations, we can only assume that Google penalised Bing in a similar way they penalised Giphy.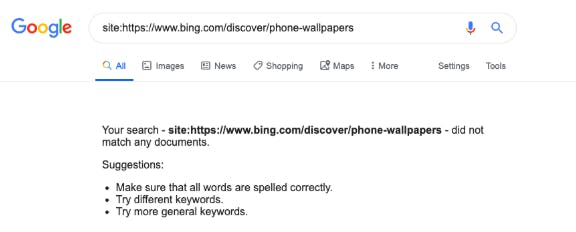 Giphy and Google
In October 2017, the popular GIF search engine Giphy was penalised by Google. One of the main reasons for this was Giphy's reliance on indexing search results. As explained in this post by Sistrix on Giphy's organic drop off, Google does not want to index site search results within their index and a lot of SEOs would know that it's best practise to disallow site search results in order to avoid thin content pages. Giphy's organic visibility still hasn't recovered to the heights that they were previously seeing, although they have managed to regain top spots for keywords such [happy birthday gif] by migrating their landing page reliance away from the /search/ section on the website.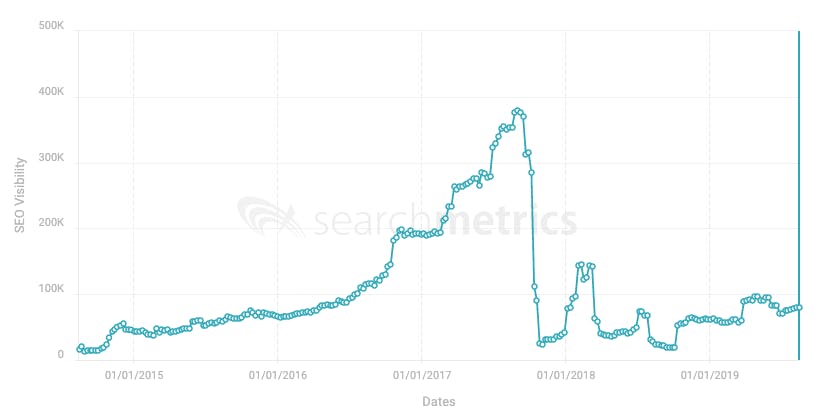 As highlighted in Roey's blog post, Bing actually did a good job of handling thin content across the discover section by implementing "noindex, nofollow" across pages that returned empty pages, but Google must have had an issue with Bing serving the search result format across all subject pages.
Long Term Success
Bing gained a large amount of organic traffic during this short spell, but could they have structured their discover section for long term organic growth? In my opinion, yes. Dynamic content pages are utilised by a wide variety of websites currently winning in organic search.
Here are some of my favourite websites utilising dynamic content that pull through into organic landing pages. These create a great experience for the user and Googlebot.
Transferwise & scaling organic landing pages
Transferwise's organic growth has been impressive and this is largely down to their organic landing page structures. Transferwise dominates the organic search results for online money transfers overseas by pulling dynamic content to generate user focused pages.
Here is an example of search term – [Send money to France]. Transferwise has created a template which uses a structure to target transactional terms overseas. The page structure pulls in the location and dynamic data related to the countries which creates a unique page which is indexed by Google, and more importantly, is valuable to the user.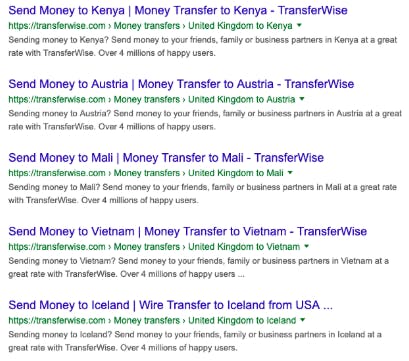 Transferwise's content structure
H1 – Send money to [ location ]
H2 – Fast, low-cost, and secure online money transfers from the [ location ] to [ location ]
In order to support their main head terms and improve their authority on the main topic, they've also introduced multiple sections with supporting content and questions. These include:
Compare the best transfer rates
How to send money to [ Location ]
How much does it cost to send money to [ location ]
These also contain a consistent heading hierarchy. Not only does this content help the individual pages rank for a large variety of keywords, but it's also helped Transferwise gain featured snippets placements in Google for a large amount of transfer money search queries.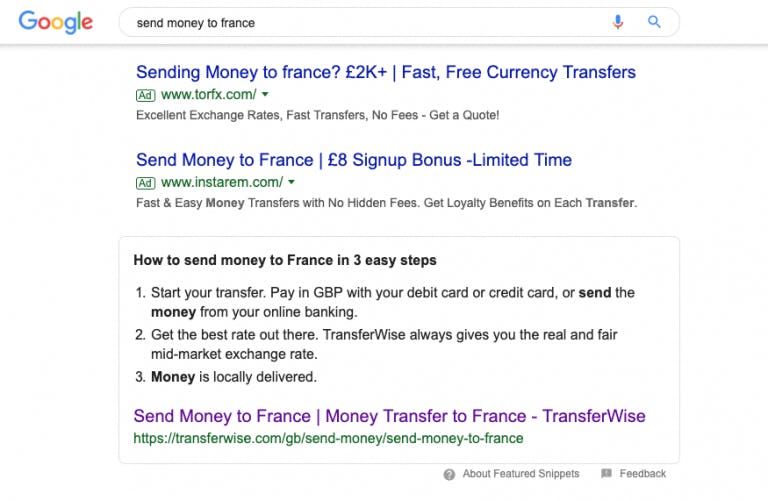 Trainline & scaling organic landing pages
Similar to Transferwise, Trainline has adopted an approach by automating unique landing pages for trains from [Location] to [Location]. Like Transferwise, the potential issue for targeting users on scale through pages is that it can cause duplicate content issues with Google deciding to choose a different canonical than the user selected. However, this can be avoided by ensuring unique content is being delivered to the user.
Trainline is able to bring unique attributes to these pages by pulling information related towards the journey from [Location] to [Location]. This includes duration, journey information and estimated pricing.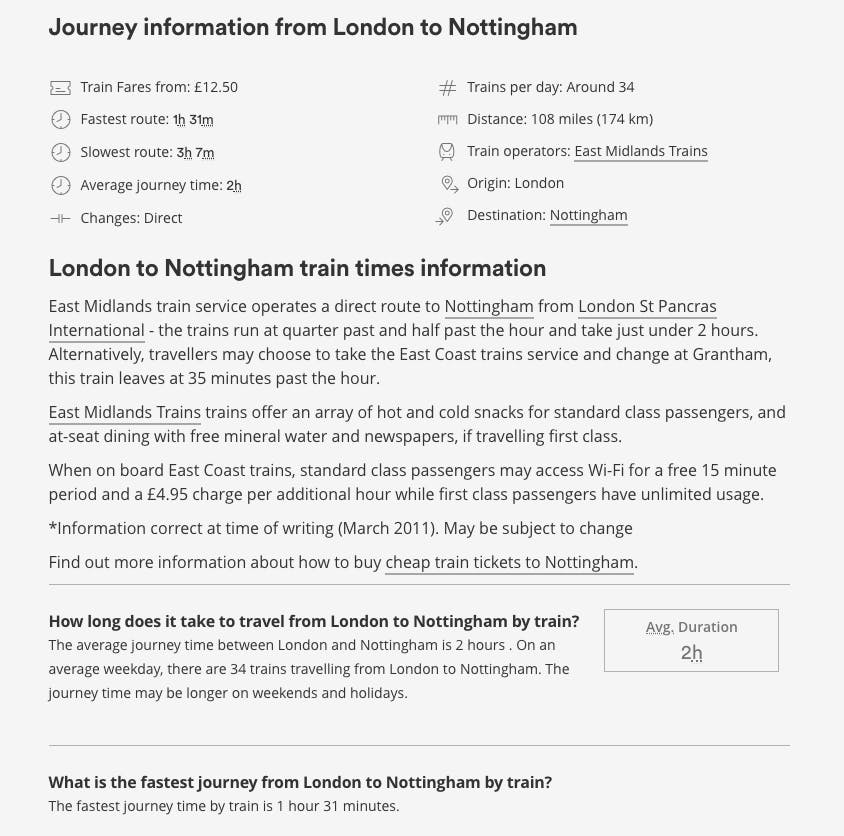 Trainline currently has 1,500,000 + pages indexed in their /train-times/ section. This is clearly a core part of their SEO strategy and organic growth to date.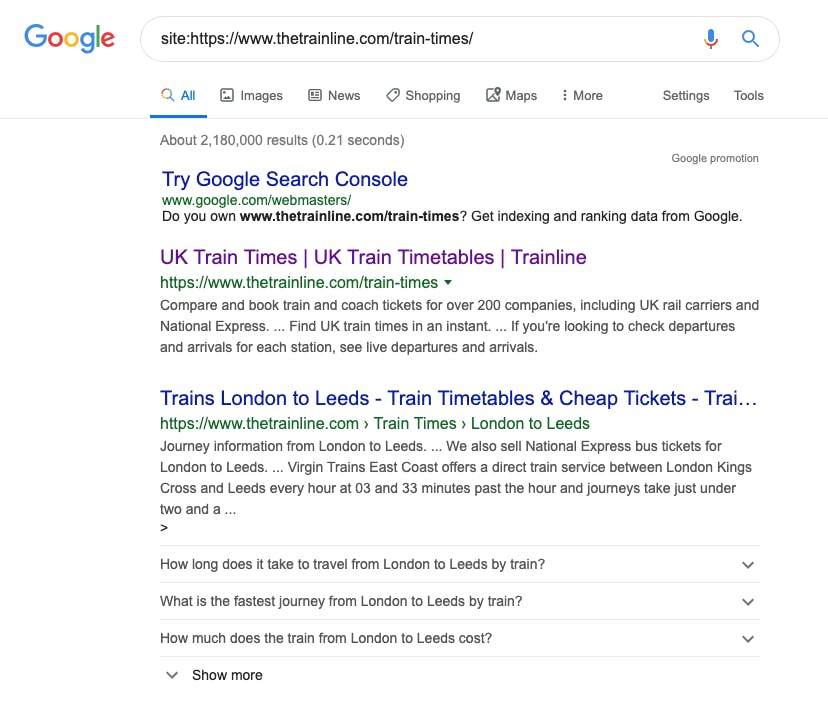 Trainline – Organic position 1-3 growth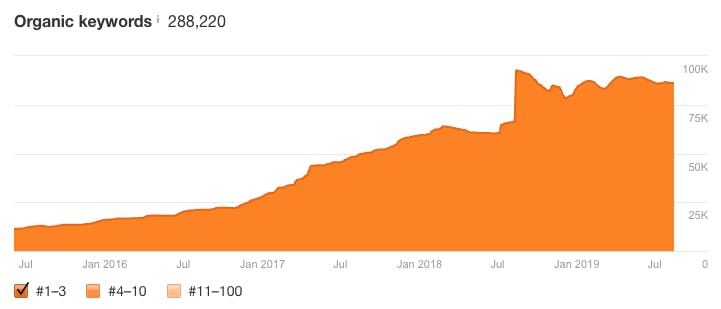 A proposed Page Structure for Bing
I would approach the page strategy in a similar way that Transferwise and Trainline have done, by automating landing pages which dynamically pull in content which provide value to the user across major searched subjects. I would begin by scaling landing pages in the discover section based on search volume/interest, which will all contain a similar page structure but with dynamic content pulled in. This would ensure all discover landing pages are unique to the topic.
Example Discover landing pages:
/discover/phone-wallpapers/
/discover/dogs/
/discover/tacos/
The page structure will move away from a standard search result by implementing more structure around the content on each topic.
A defined H1 with supporting heading hierarchy on related information
An introducing image feed showcasing the most popular images with a CTA to click through to related search results
A related subject section which will showcase related phone wallpaper topics that will be internally link to search results (however, crawler access will be denied through robots.txt for the search area)
The second part of the related subject section will display related discover landing pages for the user
The final part would be a media section which will display related videos to the subject. A potential issue with this section is that Bing would probably prefer not to send traffic to YouTube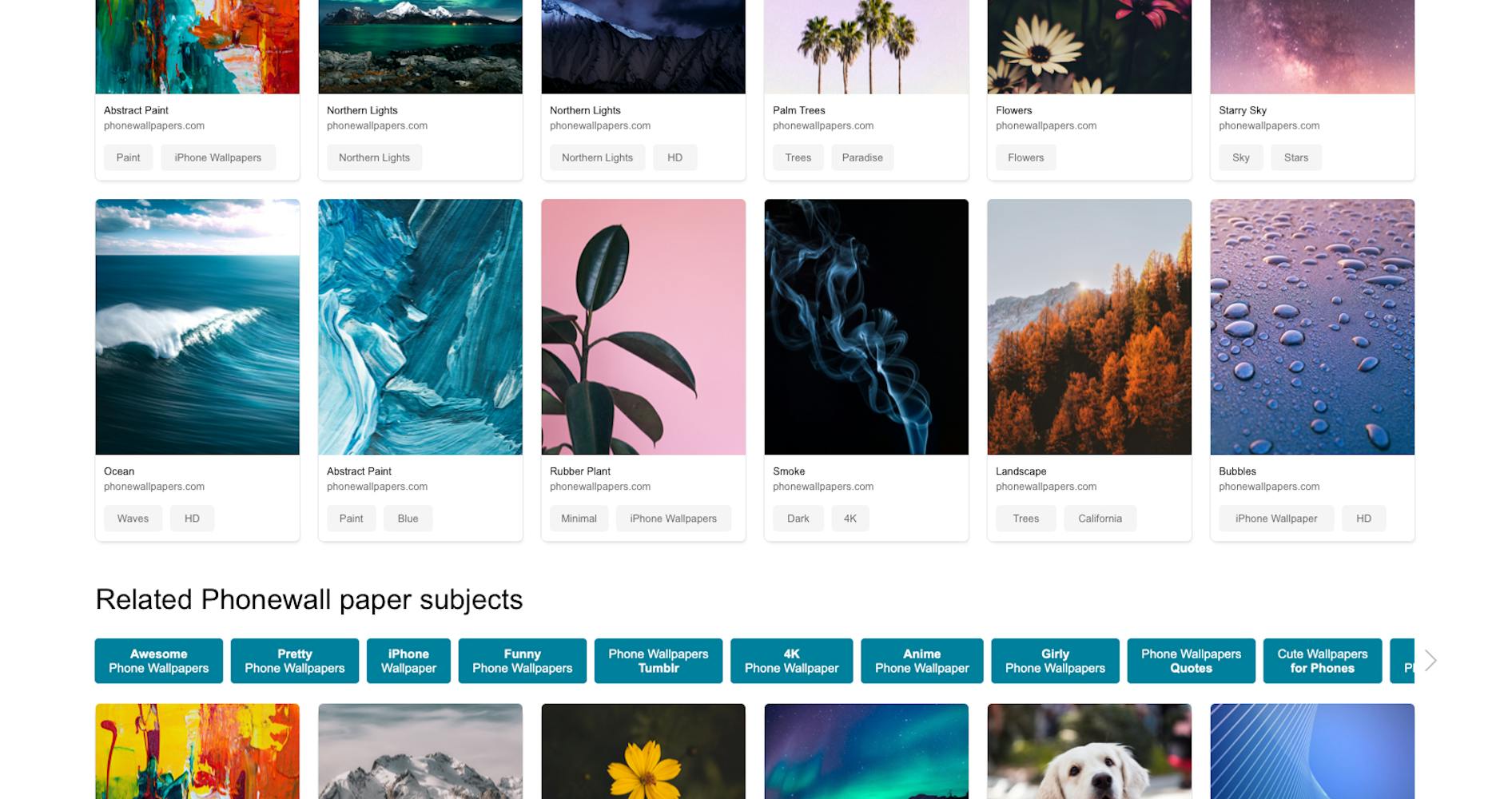 Other content considerations
Trend data – Unfortunately for Bing, they currently don't have a trend tool similar to Google Trends. If they did, they could pull in trend data across these landing pages.
Popular news/social posts – Bing could showcase discussion around certain topics by pulling in popular news stories and social posts into these landing pages.
Who else could "steal" traffic from Google?
Twitter usually relies on their /hashtag/ sub folder to rank for popular topics:

I believe Twitter could also create a indexable discover section in order to attract users and use popular social engagements across their platform to create engaging landing pages. Within this landing page, they could display a short description on the topic, popular tweets, latests tweets, recommended profiles and much more.
One issue that Twitter potentially would face with this approach is accusations of being biased if there were topics around politics by displaying certain political commentators.
Conclusion
I believe this was similar to Giphy's search result penalisation and it was no real surprise that Google eventually stopped Bing's efforts. However, it may appear to be more aggressive due to Google vs Bing. I don't believe Bing should give up with this approach as there is a viable way of them attracting traffic through Google and there remain opportunities for other companies (such as Twitter) to be doing this as well.
---