Digital marketers will all agree that we work in a fast-faced environment. With new techniques, new channels and regular updates from the search engines, it can seem like a huge challenge to keep up with the latest tools that will increase our visibility in the busy online world.
As Europe's Best Large SEO Agency, we regularly host events which share tips and advanced with marketers at all levels. This morning, we welcomed marketers to a breakfast event hosted in partnership between Impression and Status Social. Below, you'll find outlines and slides from the presentations from Mark Saxby, founder at Status Social, and Adam Bly, digital strategist at Impression.
Social media
Facebook
The news feed has always been the main area for advertising on Facebook and the core part of the platform itself. But, as Mark pointed out, Facebook is changing and he expects for the news feed to be removed.
@wongmjane is a Facebook 'tester' who shares lots of tips about Facebook. Mark referenced her in his presentation, with an example of the news feed being changed into a 'story feed'. It will be interesting to see how businesses use this moving forward.
The 'relevance score' for Facebook advertisers has also been updated. Previously, it was a little unclear but now, the relevance score has been explained as being relative to your competitors – so if your competitors are doing better ads than you, you should expect your own score to decrease. The top takeaway? Know what your competitors are doing.
Instagram
In an attempt to move away from people seeking 'self worth' from the number of 'likes' they get, Instagram is removing the count of likes on its posts – so you'll be able to see who likes a post, but not how many people.
However, we will still be able to see the number of likes we achieve ourselves.
Instagram has also increased control over what gets posted on Instagram; we can now remove comments without having to block the user.
Instagram is also trying to make 'influencers' better by getting more information about them, to improve the quality of influencer post.
Another area which is interesting is the new 'nudge' concept, where Instagram will nudge users who are writing a negative post to reconsider – which may affect how customer service works on Insta.
The new 'donate' button is also exciting for brands and individuals alike, as Instagram will donate 100% of the money raised through people's stories.
Twitter
Many brands will have seen that their follower levels can fluctuate. Mark explained that this is often because spam bots are following then unfollowing – so Twitter has decreased the number of users you can follow per day from 1,000 to 400.
Twitter is also testing 'replies moderation'; again going back to the customer service angle, you will be able to moderate replies, including making your own 'private' to that user.
The Twitter profile has also been updated, to highlight your photos more and also to give increased prominence to your Lists. It's worth reviewing which photos are being shown on your profile and make sure you're happy.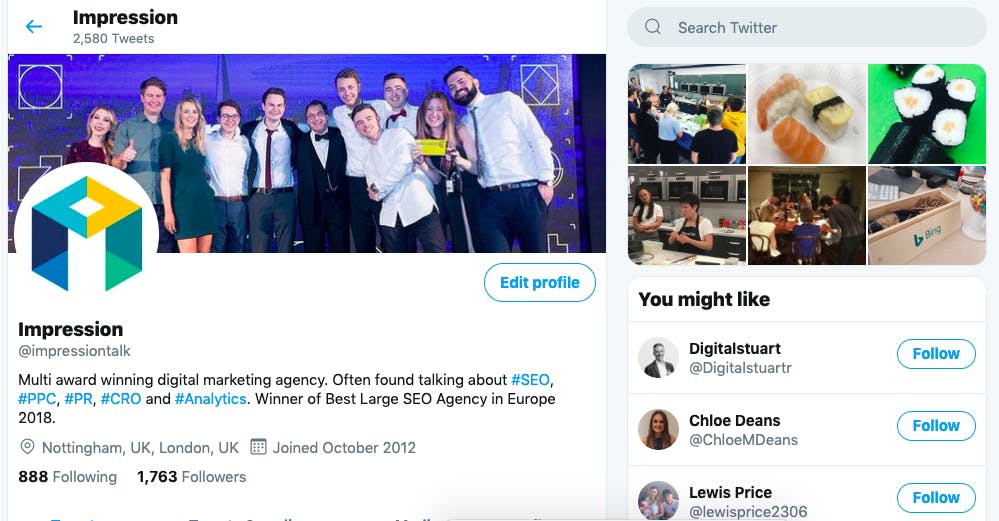 LinkedIn
Of course, the big news here is the addition of sentiment based responses, other than just 'like'. Sophie wrote an awesome round up of this here.
This is intended to improve the LinkedIn algorithm and make it better at showing content which is going to appeal most to the individual.
LinkedIn is also testing a 'find a service provider' feature – so you'll be able to list the services you provide on your profile and people will be able to find you based on that.
Pinterest
This is an area where Mark suggests there is huge scope for growth. Consider utilising promoted pins, especially as a retailer.
Messenger
Mark suggests Messenger will be the 'new Facebook', with the news feed moving away from Facebook itself and Messenger taking on the news feed element. This could be the primary place for businesses to advertise moving forward.
There's a lot more that can be done with Messenger; consider using Chat Bots, for example.
WhatsApp For Business is another tool Mark recommends, making it easy to make sales through the platform.
SEO
Algorithms
Algorithm updates, as Adam explained, are happening all the time to make the experience people have on Google as positive as possible.
The biggest update in recent times was Florida 2, which we explored in a blog post here. It was linked to the removal of spammy content and spammy practices. What's most important is that we, as marketers, ensure that we are giving the best possible answer in the right format to the user.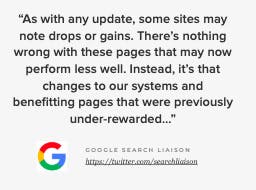 EAT (Expertise, Authority and Trust) is all about focusing in on content which comes from a credible source. Though this is more pertinent in YMYL (your money or your life) websites (i.e. finance, medical, etc), it's still worth all content producers considering the credibility of their brand to speak on a specific topic and utilising methods such as outbound links to credit any third party sources on which they have to rely to make their content as 'expert' as possible.
You should also be ensuring your site has an SSL certificate by this point; any website which doesn't have HTTPS must absolutely update this, even if it's not an ecommerce site.
You also no longer need to use rel=prev/next to tell Google the order of your pages, as Google can do it for itself.
Moz Domain Authority update
DA is a third party metric made by Moz which suggests the relative authority of a website by scoring it between 0-100.
Moz recently updated their metric to be a lot more granular and to make it a more even bell curve – so quite a few websites saw their authority dropped significantly. This didn't indicate a drop in actual authority – rather, it showed a change in how your website was assessed amongst all the sites on the web.
Mobile first
The mobile first index pushed web developers to produce faster loading websites – which is very positive for the online experience overall.
Use the Page Speed Insights tool to find out how fast your site is and how to improve that.
SERP Features
SERP features are anything within the search results pages that is not just a blue link and a description. It includes answers, rich snippets, image carousels, recipes, flight times and more.
The number of search features is growing, as is the number of search queries for which they show. This means that marketers should be focusing on creating as much valuable content as possible, and doing so in the format which is most appropriate to users – so list formats in how to guides, images in tutorials, clear answers to questions and so on.
Adam points out that the sentiment amongst the industry has been mixed, in that Google could well be keeping traffic that would otherwise have clicked through. However, if yours is a business which wants to support the user journey, it can only be a good thing that you're there giving answers when people need them. Plus, as Adam suggests, helping Google to do better with its own experiences can only help you in the grand scheme of things.
Google's new crawler
Adam explained that Google has been using what was a relatively outdated crawling solution until recently. Through the updated version of Chromium, Google has become better able to crawl different formats of websites and providing marketers will assurance that its ability to parse different content types has improved – so we can be arguably less cautious of things like JavaScript.
With that said, we still recognise that Google can struggle with anything outside of straight HTML, so if your website is using JavaScript, it's important to consider its implications and think about using Pre-Render or similar tools.
Image search
Image search is being talked about more and more as a method to gain visibility, especially as an ecommerce brand. Gary Ilyes recently presented on this topic, with everything becoming more visual in the search results and the use of mobile making search more visual than ever before. We really need to be focusing on image search more in order to capitalise on this – in organic and paid platforms.
We're already seeing Google monetising image search, with ads appearing along the top of the search results. If Google is monetising it, it's worth paying attention, as traffic is coming through it.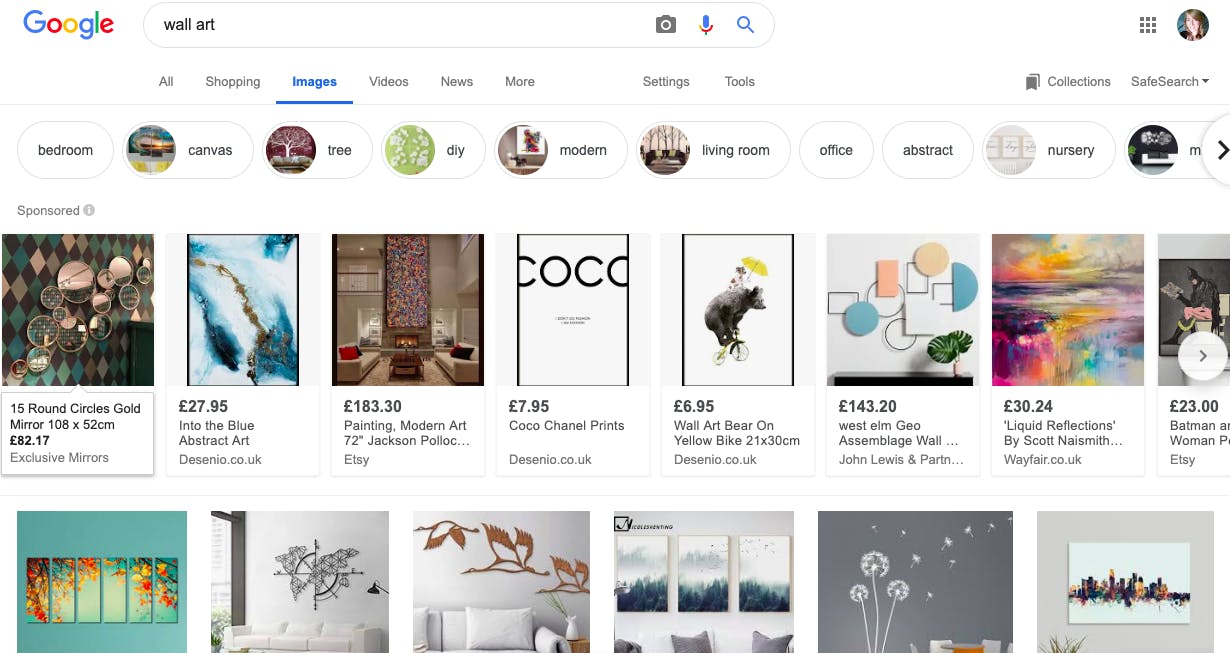 Are you looking for help with your SEO or wider digital strategy? Get in touch today. We're also happy to answer any questions in the comments below.
---