Since its inception in 1998, Google has gradually cemented its place as the go-to search engine in the world. Recent figures show that Google-owned properties may even own up to 94.15% of all web search, a figure that should send a shiver down the spines of everyone who appreciates competition.
Google has created its de facto monopoly of web search through developing market-leading platforms (Google Images) or purchasing those leading the way (Youtube). And the scary thing is that it's showing no sign of slowing down.
One of the biggest trends in recent years has been the rapid growth in no-click searches. Rand Fishkin, CEO of SparkToro, shared some worrying figures for SEOs from ex-leading clickstream analytics provider Jumpshot, which was recently closed down by parent company Avast: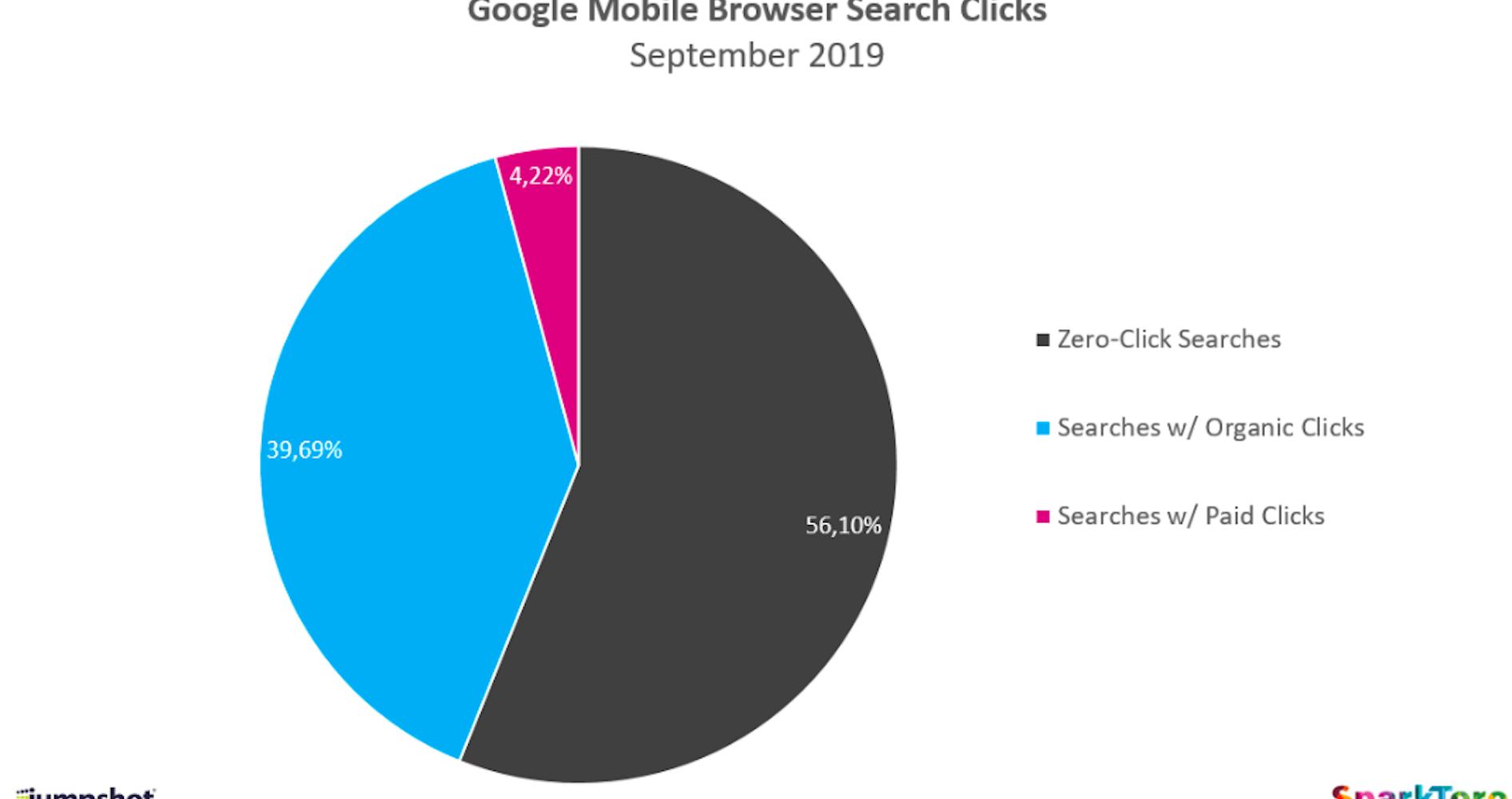 What's the reason behind this? The proliferation of SERP Features.
Google's goal is to make information as easily accessible as possible, which is why it has introduced SERP features that do just this. Featured snippets, People Also Ask Boxes, Knowledge Panels – all of these pull data from open sources and display them in the search results meaning that in most cases the searcher is less likely to click through to the featured brand's website.
Google's latest foray in this realm is the Colleges platform.
The platform, which was rolled out in the US and India at the end of last year, allows users to research and compare different colleges against each other in one place. The platform includes a wealth of data that users can use to filter the results of their searches, including:
Program (course)
Location
Average Cost
Tuition
Type
State
Acceptance Rate
Size
Campus Setting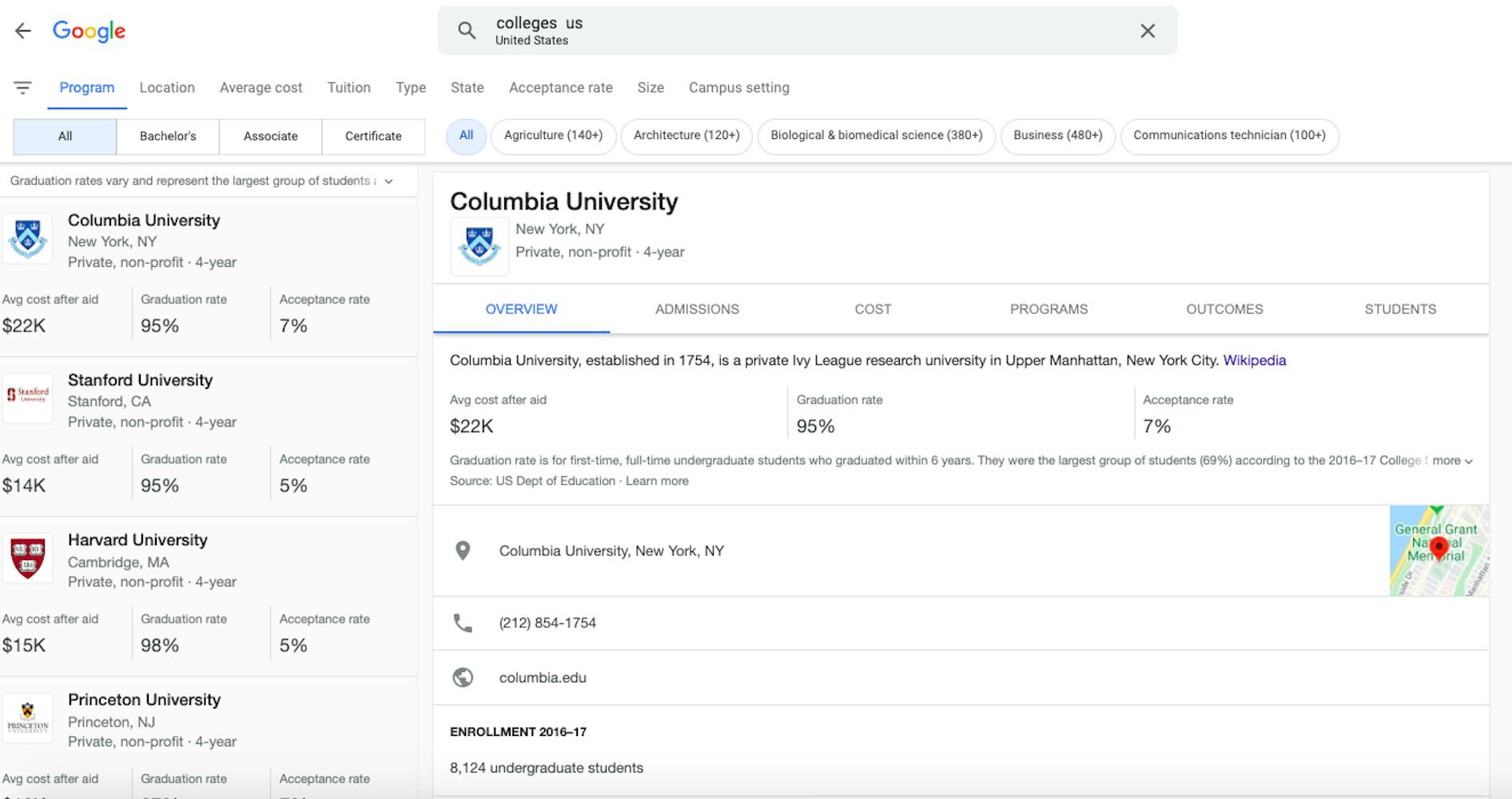 The dedicated Google page for the new platform explains that the data is pulled primarily from U.S. Department of Education publications, Careers360 and 'other relevant web pages'. The information is updated regularly, much like Google's Job platform.
Users can use the platform to find universities according to different criteria e.g. 'universities near me' or 'universities with Psychology programs'.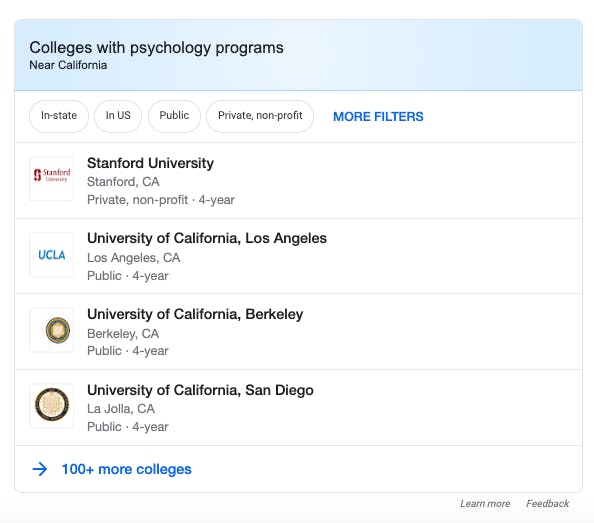 The new platform is user-friendly, informative and, most importantly (for Google), Google-owned. The university sector is highly-profitable, particularly regarding international students and research, and it makes sense that Google would want to increase its dominance in the space.
Websites like US News and Niche have historically received a huge bulk of their traffic from users looking to compare universities. Now, the entire industry is at risk of being turned on its head.
The platform only currently operates at a general university level, but it's more than likely that we could see it expanding to individual courses into the near future. Google already has 'Course' schema markup, and when Google has a type of schema it's more than likely that it'll eventually be rolled into a SERP feature. Google's own schema markup reference pages are a good indicator of future SERP features as we've seen from the past; Jobs for example.
What would be the impact if, or when, Google rolls the platform out in UK search?
Universities will lose a portion of their tracking data
One of the most impactful consequences of such a SERP feature would be the data that universities would lose. Prospective students would no longer have an incentive to visit the different university websites during the decision process, as all the information they would need would be readily available in one place: Google's property.
Universities would thus lose a huge amount of the data they gather from users: behavioural metrics on the site, email capture, audience retargeting. Additionally, they would lose out on the chance to push brand awareness and interact with users at every conversion touch-point.
Universities will consequently lose much of their ability to market themselves to their target market, leaving the search experience part of the decision process in the hands of Google.
University comparison websites will be at risk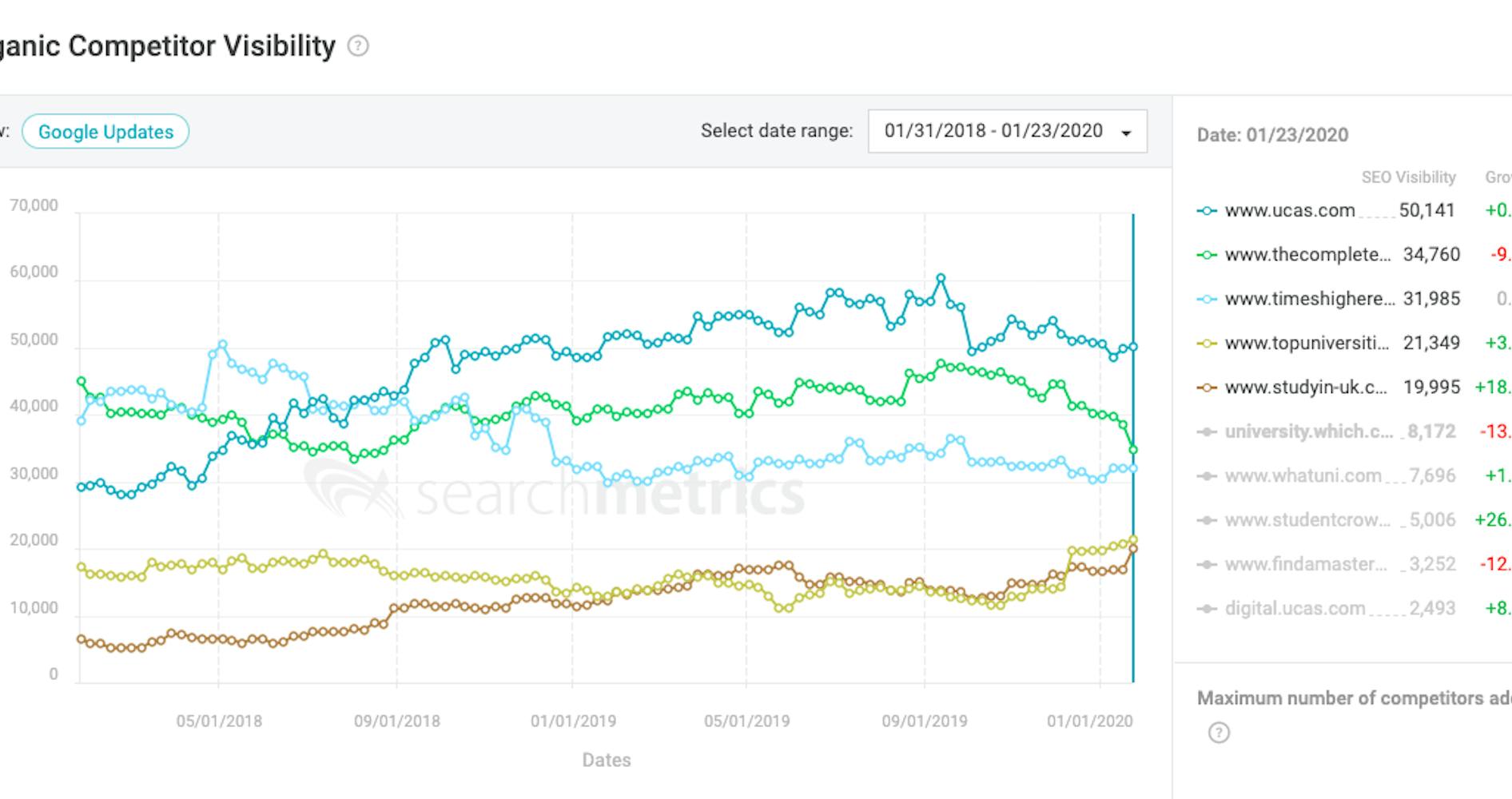 Not only will university websites be affected, but university and course comparison websites as well. There are several websites currently acting as the main players in the university comparison industry, including:
www.ucas.com
www.thecompleteuniversityguide.com
www.timeshighereducation.com
www.topuniversities.com
https://university.which.co.uk (now https://www.theuniguide.co.uk)
These receive hundreds of thousands of visits a month, yet the introduction of Google's platform could see them lose a large portion of their audience.
Rand Fishkin shared data from now-closed marketing analytics company Jumpshot in November 2019, in which he mentions the impact that SERP features have on organic traffic opportunity. In one example, he explains that SERPs lost 30%-70% of available clicks when definition boxes were expanded (see example SERP for 'monopoly definition').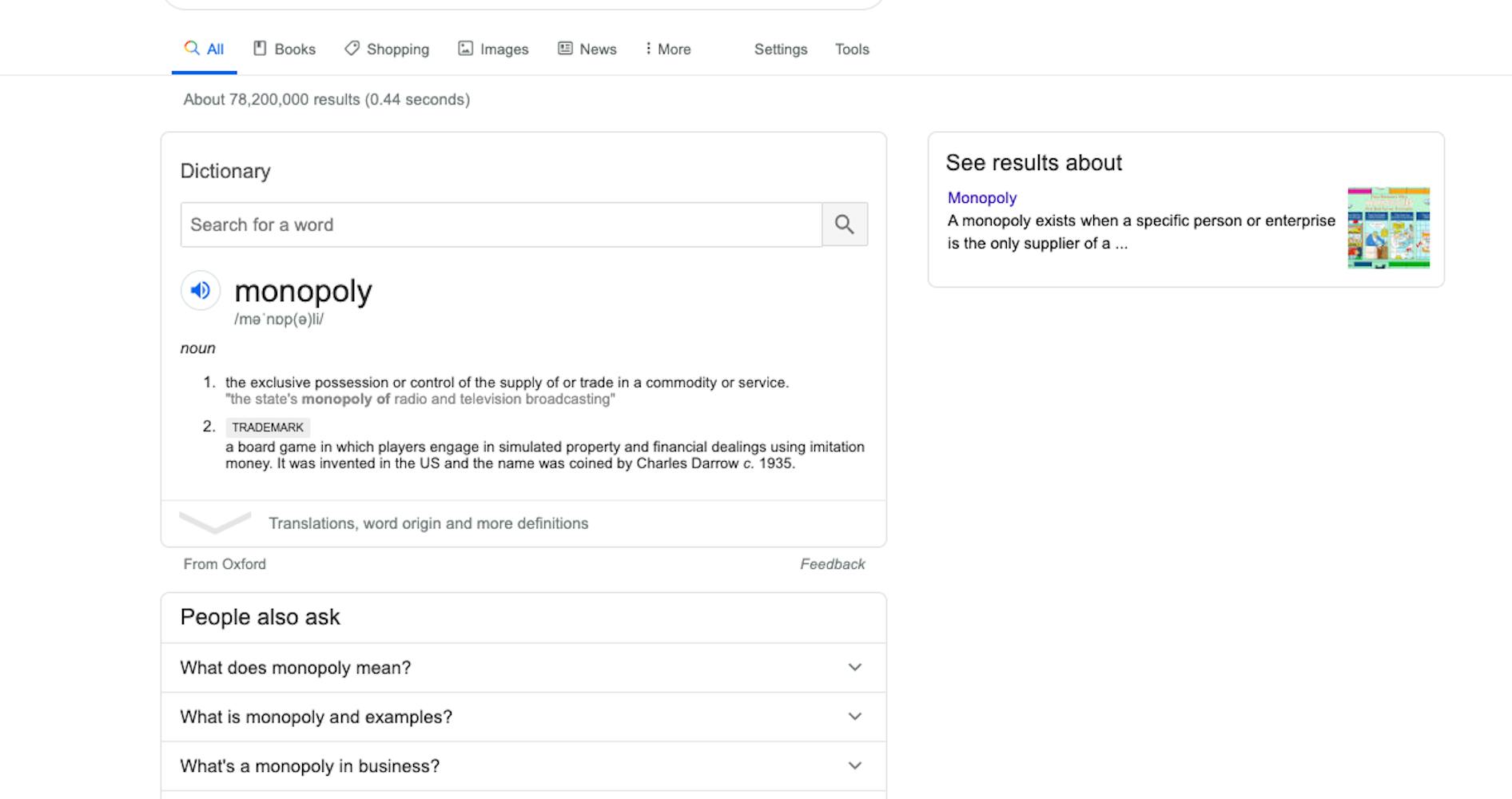 He goes on to provide specific examples where a SERP feature being introduced resulted in a huge loss of organic clicks. For example, after Google introduced Google Jobs in 2017, the proportion of clicks towards it has risen to around 27% (as of July 2019). That's 27% of clicks that websites like Indeed and Monster previously enjoyed!
This graph is indicative of the wider SEO trend of no-click searches. By introducing SERP features, Google is taking the search experience increasingly into its own hands by keeping users in its search results, ready to click on ads and on Google properties. In September 2019, around 56% of global mobile searches resulted in zero-clicks.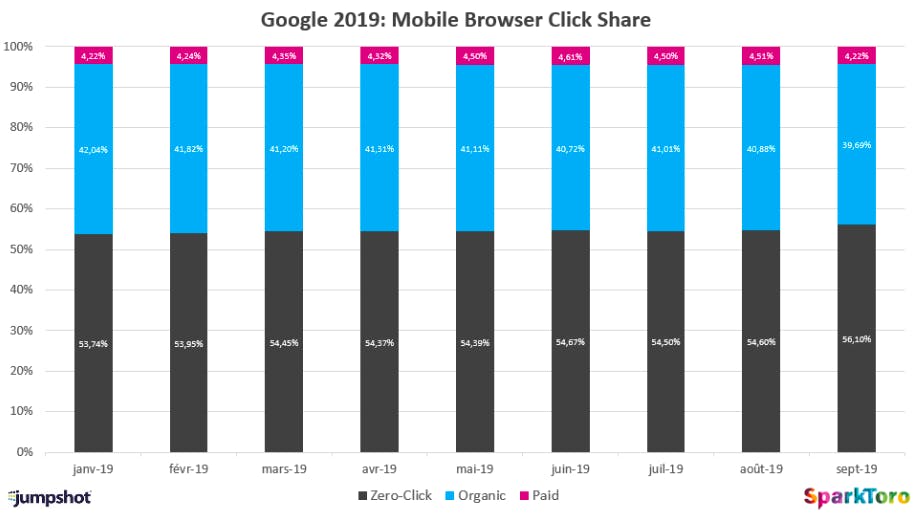 This figure is slightly less severe on desktop searches, but still notable.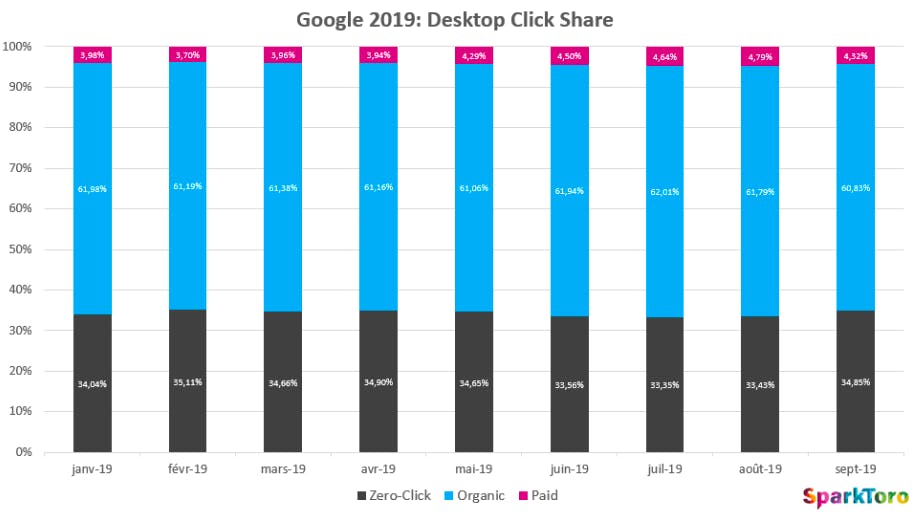 According to Statista, over 52% of global search traffic is now mobile, a figure that is only set to grow in the years to come. With users set to search on mobile more than ever before, Google will capture an increasing amount of search traffic.
Taking Top Universities as an example, Searchmetrics estimates that the total traffic index available to this website is 7.19 million sessions a month. This traffic index 'corresponds to the assumed number of clicks per month on the search result', a figure that takes the size and number of SERP features into account.
Top Universities' current estimated monthly traffic index is 370,600. If we take the impact of Google Jobs as an example, Top Universities could expect their traffic to drop by around 25% – 92,650 searches. In terms of total traffic potential, that's 1,797,500 searches a month.
Universities will have to implement schema as standard
Universities will be encouraged to mark up their courses with relevant schema in order to appear more prominently in organic search. Google is always looking for more data, and will favour the institutions doing the most to share their data in a more complete way.
Universities will have to pay to play
If there's one thing that Google will try to do, it's increase its revenue streams through its Ads product. As mentioned previously, the Higher Education sector is highly profitable and Google will try to monetise its position as much as possible.
The new SERP feature will make it more difficult for universities to show up organically for their target keywords. Google will claim that these SERP features are implemented to help users – which they do. However, the real reason behind this decision would be to push an ad dominated experience.
As such, institutions will be encouraged to bid more aggressively for their target keywords, hence increasing the bidding price and Google's revenue. It also means generally increasing their paid search advertising activities.
Universities and comparison sites will have to adapt their digital strategies
With organic search set to become increasingly difficult to compete in, universities and university comparison websites will have to find new ways to bring in traffic. Firstly, they will have to diversify their traffic sources, investing more heavily in social media and paid search.
Secondly, they will have to grow their brand outside of search in an effort to boost branded search. Thirdly, they will have to build long-tail keyword targeting strategies to capture their audience at the 'awareness stage' of the conversion funnel to build their brand in an effort to drive direct traffic.
Conclusion
This latest SERP feature is just one example in a long line of Google's attempts to increase its share of the search market. Similar to its actions in the Your Money Your Life (YMYL) industries, Google's aim will be to reduce disinformation and centralise data sources for the benefit of its users.
However, the search engine giant is also set to benefit from users navigating either to its properties, where it will capture their data, or to the ads it has placed at the top of the SERPs. SEOs in the education sector and beyond should keep a close eye on the changing SERP landscape and adapt their strategies to remain competitive in the increasingly challenging world of search. As Rand Fishkin says, "Like global warming, it's the inevitable future whether we like it or not."
Keep an eye on the Google Schema page to see if your industry will be next!
---