Digital PR is an evolving discipline. Even since I jumped the traditional PR ship* into the digital world two years ago, I've seen the tactics, formats and best practises change a multitude of times.
*Any implications taken from that analogy of a sinking traditional PR ship is of your own doing
"Content marketing is the next big thing!"
..said just about everyone at Brighton SEO a few years ago. Now it's link-bait, fake products and offline feats, driven by the 'stunty' principles of more traditional PR. What's next? I have my own (typically controversial) opinions on that but I'll leave that for a whole new blog rant post.
What counts as digital PR?
Within the team here at Impression, you'll be glad to know that we're not usually fascist when it comes to what we define as Digital PR.
We share campaigns a lot with each other from a variety of industries (read: George, James and Laura consistently spamming my inbox), evaluating as a team what we think made that campaign a success. Sometimes it's the simplicity, sometimes it's the data, sometimes it's just a damn good idea.
We believe that there is a whole host of different formats which make up the link building spectrum. We tried to define this in this graphic below, but of course we're overtly aware that there are new formats developed all the time. It's never set in stone.
Some of these link building tricks range from the quicker, lower risk and lower reward tactics, whereas the larger interactive pieces are more intensive in time and resource. Ultimately these campaigns can produce a yield of tasty high DR results that are also intricately tied into the brands' values.
Our link building spectrum

But enough about our team, I wanted to speak to other industry professionals to find out what their favourite campaigns have been this year. It's a small, evolving community so the opinions from across the industry are in many ways what make up the discipline, in my opinion.
Not that I had an ulterior motive (PRs never do ?) but by asking other about their favourite campaigns, I subsequently could judge what other industry professional define as 'good digital PR'.
The good and the bad
Interestingly, I asked my network for examples of both their favourite and some failed campaigns they've seen this year. I only received positive responses. I have my own theory for why this is, but my initial intention of this blog post was the highlight that Digital PR is a variable, inconsistent and sometimes very difficult discipline. A top industry professional told me previously that only 1 in 4 of their campaigns are a success, so it surprised me that no one had any less successful campaigns to share.
Especially for newer members into the industry, I want to avoid whitewashing and making them feel like it's all sexy national placements all the time, which could ultimately put them off and feel disheartened about their own campaigns.
It is of course important to highlight what has worked across great campaigns, but we can learn as much, if not more, from our mistakes. Maybe I'm just trying to make myself feel better. I'm pretty sure it's fair to claim though that most of us have had a campaign that's failed, or not done as well as we expected. If you haven't, fancy a job?
In all seriousness, if you have anything that hasn't been as great as you thought it would be, feel free to share. On the plus side at least it'll get some coverage then… (New digital PR strategy idea; outreach your failed campaigns as 'worst campaigns of all time' and get all the links!)
Anyway, let's keep in mind the good stuff for now! I asked my network of Digital PRs and link-builders for some of the best digital PR campaigns they've seen this year, and why they think they are great. So let's see what the actual professionals have to say.
The real opinions
The World's Most Chilled Out Countries, Kaizen
Katheryn Watson, Digital PR Manager at Kaizen spoke to me about a campaign called 'The World's Most Chilled Out Countries', which was their first campaign at Kaizen for Lastminute.com. I expect the pressure was on then, and they certainly delivered. No surprise that this campaign already sits on our digital PR inspiration pinterest board.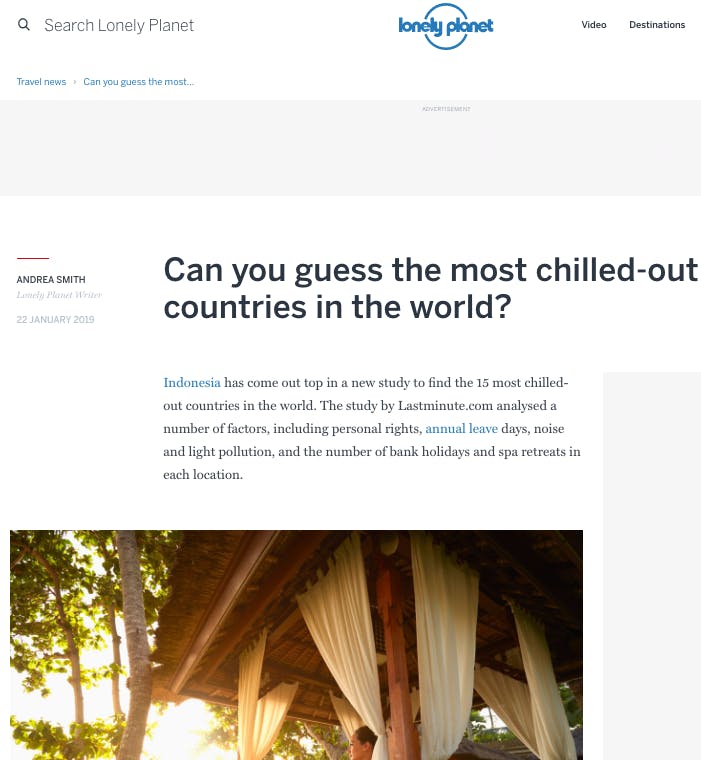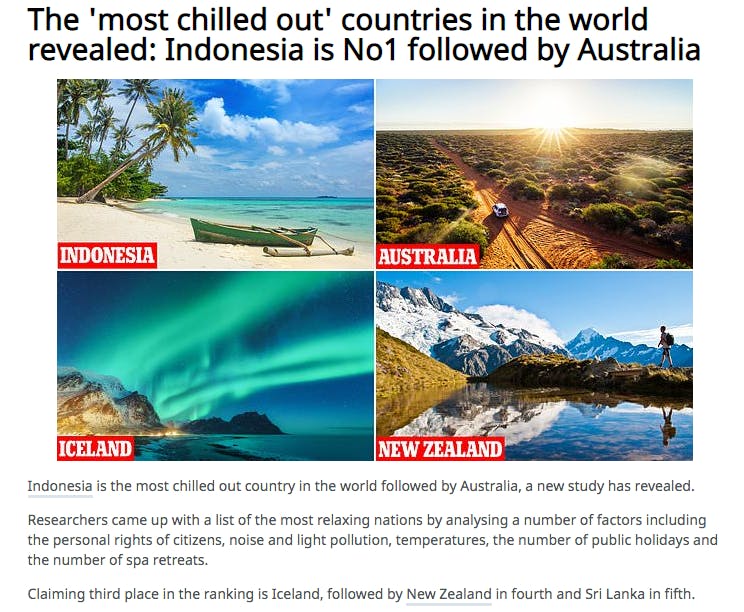 It was launched at the beginning of this year. You can view the piece here. They've also written up a case study on the Kaizen website.
"I think it was successful because the piece was a really simple idea with 3x different visualisations: data vis, photography and graphics," said Katheryn.
"This meant we could break it down and easily translate it to the audience, it wasn't too fussy. We also landed an exclusive with the travel team at the Daily Mail – always a great move to get the ball rolling. We kept our outreach international and our angles concise. We also tapped into the wellness trend and focused our outreach on the top countries."
Spa Seekers, Edit
Libby Masters, SEO Outreach Specialist at Mirafit is a big fan of Carrie Roses' campaign for her client Spa Seekers.
"The idea was to create the ideal dream summer job, looking for one lucky person to be a spa and hot tub tester," said Libby.
"A great idea worthy of all the links, right? Well, the reason why I think it's brilliant is the addition of a blog post on Spa Seekers website detailing the T&C's of the job. Users would need to know this information, so journalists HAD to link to it. Pure genius."
You can see the campaign here.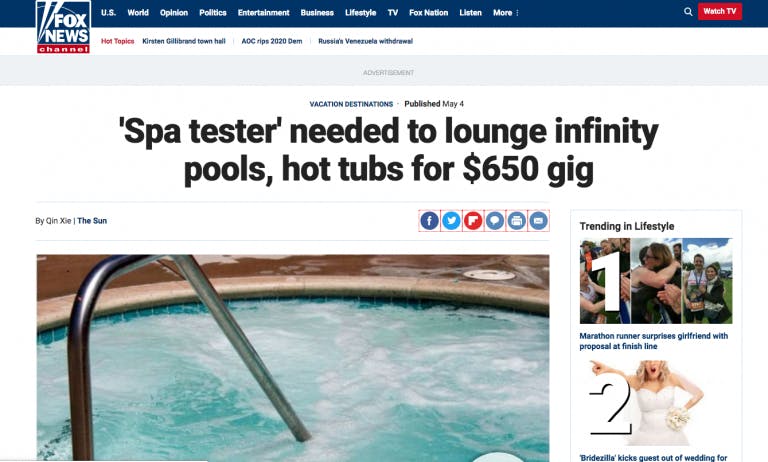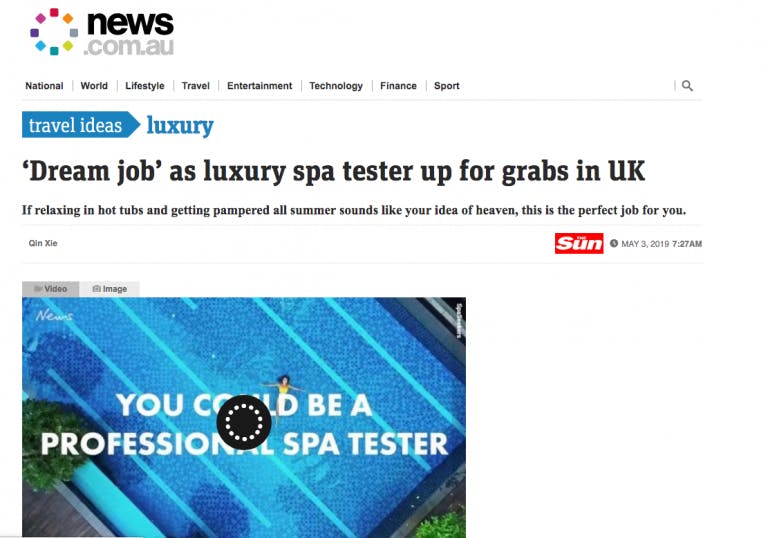 My colleague Laura Hampton agrees with Libby on this campaign.
"There were a number of factors that made this my top campaign this month," she says. "Firstly, it's totally on brand and tied into what the company actually sells. This can be challenging to achieve as journalists are often loathe to share content which directly promotes a business in this way, but because of the competition element and the social sharability, it was clearly going to be a popular story amongst light news audiences and journos pretty much had to share it.
Secondly, it's got a really clear reason to be linked. While some campaigns manage to achieve coverage without obtaining a link – usually because there is no reason to link audiences through to anything other than the info laid out in the original press release – in this case, journalists had to include the link, so audiences wouldn't be left asking "wait, how do I apply?".
Thirdly – and I'd be interested in data around this if Carrie Rose were to share it – you can see how it could generate new sales for Spa Seekers. Someone applies for the job as a spa tester and then thinks 'actually, I'll book a spa day'. I'd hope Spa Seekers included a discount voucher for applications, to encourage this behaviour – if they did, this voucher should be trackable and therefore give tangible ecommerce value to the campaign too."
IKEA, Iron Throne
Ric Rodriguez, SEO Consultant is a fan of the marketing wizardry of IKEA.
"When it comes to marketing (and getting talked about for all the right reasons), Ikea are a brand that frequently stands out from the crowd. They're already well known for their creativity – from changing the name of their products to 'describe what they're used for', to rebranding their blue carrier bags in response to a similar design from a luxury brand," says Ric.
"Their latest campaign – which has garnered coverage from industry press and popular media outlets alike – showcases their products in settings from popular tv shows – including a brilliant recreation of the Iron Throne (which is well timed to capture the hype around Game Of Thrones' final season). It's a simple, well executed idea – and one that delivers on many levels for them."
Teatime Takedown, Aldi
This campaign was actually scrapped, but George Driscoll, Digital PR Executive from the team here at Impression said he loved it despite its controversy.
You can read about the campaign here.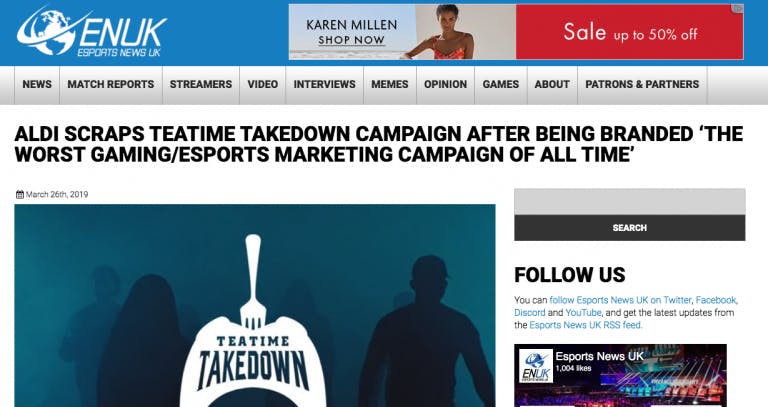 "Aldi's Teatime Takedown campaign by McCann is one of my favourite campaigns from 2019," says George.
"I think it was wrongly scrapped as it succeeded in its goal of getting families talking about gaming and how it can get in the way of family time. Claims saying it was akin to 'bullying' were too far. It was creative, controversial, and something unique that should be applauded."
Funnily enough, it's now had a load more press coverage because it was scrapped. Intentional? Flat earthers eat your heart out.
Name a cockroach after your ex, Hemsley Conservation Center
"There's nothing more I personally love than a simple, original idea that provokes a reaction," said Mark Rofe, creator of EditmyEx and freelance SEO.
Hemsley Conservation Center's 'name a cockroach after your ex' which launched ahead of Valentines day ticks all of those boxes, according to Mark.
"It worked well (firstly because it's hilarious), but also because it was one of those ideas you felt absolutely compelled to share with your friends," says Mark. "It was a smart move to push it out early (it launched mid Jan) to avoid the noise, and I believe this in part helped it to became hugely popular, evident by the fact it secured global coverage and over 450 linking root domains. I think we will be seeing similar versions of this one for years to come."
The Yorkshire Pudding Tester, Airtasker
Will Hobson, Digital PR Manager at Edit says that one of his favourite campaigns was by Airtasker – The Yorkshire Pudding Tester.
An example of a piece of their coverage can be found here.
"The reason I say this was one of my favourite is that is was such a simple idea executed well with limited budget," says Will.
"This shows it doesn't always have to be about a big design and build to generate links and social awareness. The content of the story should always be thought about first and in the end is going to be what enables you to generate links in high authority publications."
So what makes a successful campaign in 2019?
There's no set format, there's no set formula. However, I've outlined the key aspects that I have taken from the above examples, condensing them into main ingredients of a good digital campaign.
Let's have them:
Simplicity
New data or a new way of showing data
Something that taps into the buttons of 'buzz' (which my colleague Rebecca outlines in this post)
A compelling idea (okay, that one is a little vague)
Relevant to current culture
A topic that ties into the brand and their values
Great visuals or content
A solid outreach plan
A sprinkling of good luck (I'm not sure if I'm joking or not)
I know, I know, these things aren't groundbreaking, but it's always a good idea to recap and evaluate what is working and what's not. It's important to remember that sometimes your campaigns might not do great and sometimes you hit the nail on the head, because every single one is a unique creative challenge within itself.
What an exciting industry to be a part of.
---