Other than a seemingly pointless name change, Microsoft Advertising has a lot going for it that can easily be overlooked by people running PPC accounts. It can be very easy for account managers to give all of their attention to Google. But should we be giving Microsoft Advertising some more love? Here are 5 reasons that might make you think so.
Demographics
There is no denying that Google has a much larger audience than Bing. However targeting the right person is always more important than a scattergun approach. This is where Microsoft Advertising can have huge benefits for your PPC campaign.
The typical Bing user is older and more affluent than the average person searching on Google, spending on average 22% more than on other search engines.
Whilst this might not be huge for campaigns pushing low value products/services, it can have a dramatic impact on campaigns pushing high value products/services. Any account that is looking to push these high ticket items therefore needs to look at Microsoft Advertising as a necessity rather than an afterthought.
Targeting Options
With Microsoft acquiring LinkedIn in 2016, it has enabled Microsoft Ads to use targeting options which simply aren't available on Google. It is now possible to target users who work in specific industries, job functions and even at company level.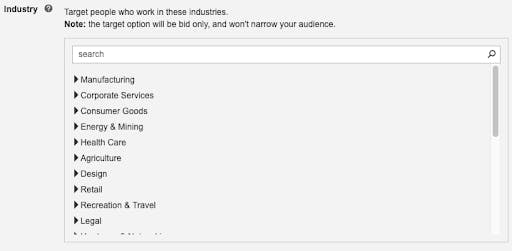 This is obviously beneficial for recruitment companies. However, it can also be a powerful tool for a variety of other verticals. Through targeting users of a certain job function it is possible to attribute a certain level of income and therefore a higher intent of purchase depending on the product/service.
Microsoft Search Partners & Syndication
Using Microsoft ads doesn't just enable you to appear on Bing, there are also a bunch of search partners that Microsoft Ads will give you access to including Gumtree, Amazon, Apple and Skype to name but a few.
It is possible to opt out of appearing on these websites. However, these partner placements account for 1 in 6 clicks generated on the Microsoft Advertising network and generate a CPC which is typically 21% lower than Bing itself.
Less competition & cheaper CPCs
As Microsoft Advertising is a less competitive platform that Google, advertising on Bing is often seen as optional luxury rather than an essential advertising platform. This means there is naturally less competition for impression share.
Less competition means that you are likely to see a cheaper CPC in comparison to Google. A case study carried out found that clicks can be anywhere between 32.5% and 59.2% cheaper.
Not only are the clicks cheaper, they are also seen as being more likely to convert. Studies have found that conversion rates are typically higher on Bing than Google. The reason for this can be explained by the typical demographic of the users (as mentioned earlier).
Easy to use
One big obstacle for many people is the perceived difficulty in getting to grips with a new platform and the time required to make it worthwhile. However this should not be seen as a problem.
Microsoft Advertising is set up in a way that purposely mimics Google Ads. So if you are using Google Ads there is no reason why you would struggle to manage your campaigns on the Microsoft Advertising platform. It's also incredibly simple to transfer campaigns you already have running in Google Ads across by simply using the 'import' function.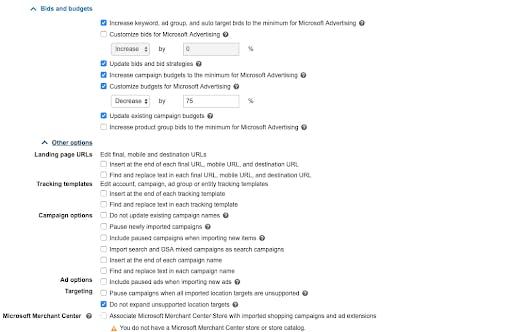 It's also very easy to manage an array of other options with the import function, which allows for wholesale changes to be made whilst importing campaigns over. Importantly, you are able to make adjustments to things like; budget, bids, tracking options and much more. With such a simple way of creating campaigns there has never been a better time to give Microsoft Ads a chance.
If you think Microsoft Advertising could be good for your business, why not get in touch to explore the benefits it can bring.
---