September has been a busy month in the world of PPC, with various updates and new features being rolled out across a number of platforms. We've put together a list of the most relevant updates and what they mean for us PPCers.
Google – New E-commerce Metrics in Google Ads
First up is a beta feature that Google have pushed into the accounts of select advertisers. Six new e-commerce metrics are now available in the conversions section of the columns modifier.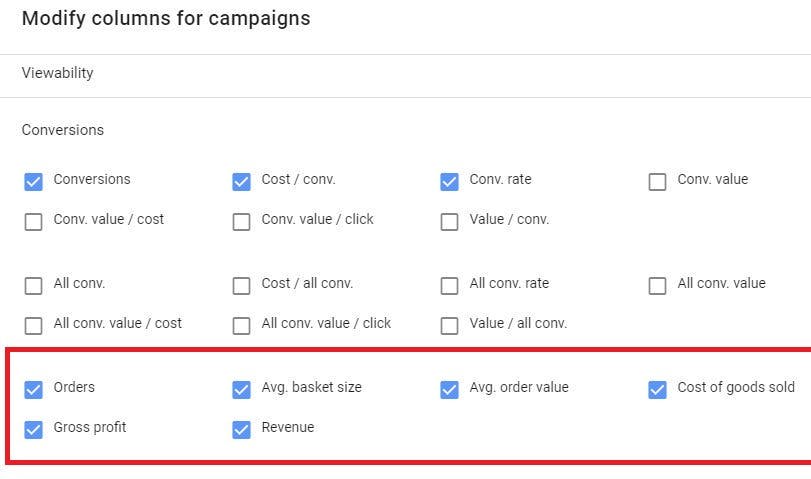 These metrics aren't currently populating and no full release date has been announced yet, but it's easy to see the potential value of them for advanced optimisation and reporting. Analysing average order value and gross profit at campaign level offers the potential to easily structure campaigns by margin, thereby pushing more budget through the campaigns which are most profitable for your or your client's business.
There are some question marks over how accurate this data will be though, especially for businesses whose profit margins change frequently. For instance, if profit margins change on a product during the period between a user's click and eventual conversion, the data will reflect profit on the day of the click, rather than the margin when the product was actually bought. How useful these metrics will actually be in practice remains to be seen.
Google – Auction-time Bidding In Search Ads 360
Auction-time smart bidding has been available in Google Ads for some time now, but recently Google have rolled the option out to Search Ads 360, allowing advertisers to take advantage of advanced automated bidding across all search platforms. Auction-time bidding will set bids at the moment of auction based on how likely users are to convert through Search Ads 360's Floodlights.
Another benefit of this is that the bid strategy and conversions from Search Ads 360 are imported into Google Ads itself in order to leverage auction-time bidding, so advertisers will be able to see all data in the Google Ads UI, rather than having to rely on Search Ads 360 for conversion data.
For more information on auction-time bidding in Search Ads 360 see this article.
Google – Academy For Ads is Now Skillshop
While not necessarily a PPC specific update, Academy For Ads relaunching as Skillshop is important to know for anyone new to PPC as well as those looking to refresh their skills. Skillshop has brought all of Google's product training programs under the same platform, making it easy for anyone to find courses and track their progress.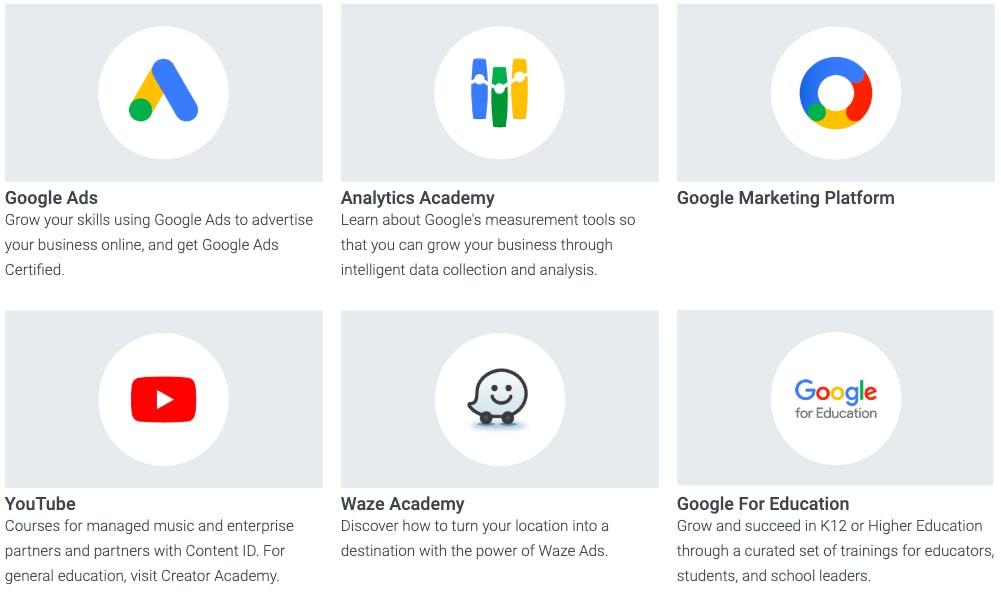 Google have also added several new courses as part of this launch to help people grow more proficient in managing the full range of campaign types. The platform also covers Analytics and Google Marketing Platform for those looking to advance their skills even further. Click here to go to Skillshop and check it out.
Google – Data Studio Optional Metrics
Again, the following new feature is not just relevant for PPC, but will certainly be of interest to anyone in digital marketing who uses Google Data Studio for their reporting. One problem we have frequently encountered with Data Studio here at Impression is that it can be difficult to report on a broad range of dimensions and metrics without making dashboards that are bloated and have a poor user experience.
Google have sought to tackle this problem by recently introducing 'optional metrics', which allow multiple metrics to be applied to a single scorecard, graph, or table without necessarily showing them all at once. This feature is especially useful for users or clients with multiple goal types, such as a specific number of newsletter sign ups as well as a revenue target in any given month. A single chart can show either metric on its own or both at the same time depending on the user's requirements.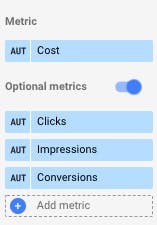 This becomes much more powerful when combined with some of Data Studio's older features. Using both drill-down dimensions and optional metrics on the same table essentially allows you to build a customisable dashboard which the end user can configure based on the parameters you set. For example, a single table set up to include all standard PPC metrics along with all relevant conversions as optional metrics, split out at dimension level by either campaign, keyword, match type, or device would display more or less all the information the end user could require in a single table. Combined with filter controls, this would be a highly powerful yet compact report. Data Studio may have its flaws, but updates such as this continue to make life easier for digital marketers.
For an excellent in-depth article on this topic, read Michael Howe-Ely's blog post available here.
Google – Check Your Display Remarketing Campaigns!
Those of you active in the PPC community on Twitter may have seen recently that many marketers are finding their older display remarketing campaigns have suddenly started spending much more than usual. After some digging, it was discovered that certain campaigns created before the audience expansion setting was introduced have automatically had this feature switched on. This significance of this is that audience expansion widens the pool of potential users beyond previous website visitors, meaning that any remarketing campaigns which this has happened to have essentially become prospecting campaigns. In some cases, the difference in spend resulting from this change has been shocking (see screenshot from Kirk Williams' Twitter below).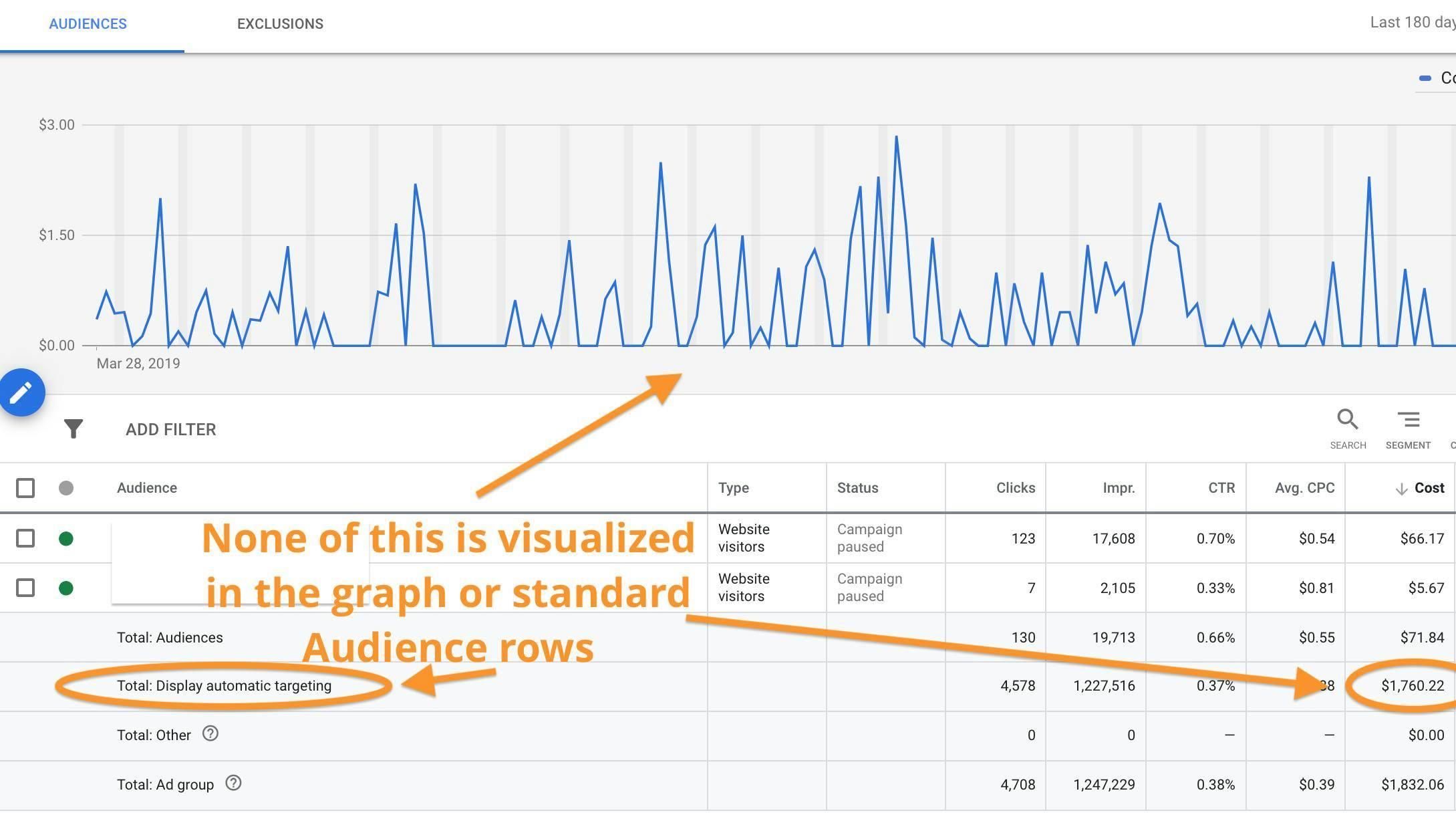 While Google haven't commented on whether this change was intentional or not as yet, it is definitely worth checking all of your display remarketing campaigns to ensure that you're not paying much more for your conversions than you need to be.
Facebook – New Interactive Ad Types
Over the last year, select advertisers have had early access to 3 new types of interactice ad across facebook which have been designed to drive higher levels of user engagement. With these ad types set to roll out as an open beta in the next few months, it's important to be aware of them before they arrive in your Ads Manager.
Poll Ads
After Instagram rolled out its poll sticker for Instagram stories earlier this year, Facebook has now announced poll video ads to be launched across both platforms. Essentially these will be traditional video ads but with a poll feature added on for the user to interact with. The expectation is that these will significantly increase clickthrough and conversion rates due to the more engaging nature of the ad type. Early trials suggest that these expectations are being met, with Warner Bros reporting 87.5% higher conversion rates when compared to normal video ad types.
Augmented Reality Ads
AR ads will work similarly to Facebook's current augmented reality offerings, such as the face filter feature available in Messenger. The ads will utilise the user's camera to add visual effects to the image, whatever these may be. For example, WeMakeUp trialled a version of the ad which allowed users to try on different shades of lipstick via AR, and reported a 53% higher clickthrough rate than the normal ads included in the campaign.
Playable Ads
Playable ads will essentially be ads which include games that users can play in one way or another. Uber India reported that its trial of this ad type to drive its 2019 Cricket World Cup promotion generated 10% higher clickthrough rates than conventional ad types in the same campaign.
While it may be some time before we see these new ad types become commonplace in our social media feeds, it's likely that large companies with enough budget to generate the content required for these kinds of ads will adopt them as early as possible. The importance of creating highly engaging ads to generate brand awareness is constantly growing and anyone managing paid social accounts should be prepared to manage these ads in the coming months.
Microsoft Advertising – Dash Premium
Some of us here at Impression believe that Bing and Microsoft Advertising don't get enough love from marketers, and the newly announced Dash Premium which will soon be available to select advertisers and agencies is yet another reason why.
Dash Premium is a curated monthly insights email sent to each advertiser within the program, and will intend to provide actionable next steps to help optimise the accounts the advertiser works on. If this is starting to sound all too similar to the Google Ads recommendations tab, don't worry – you're not about to be told to use maximise conversions on all of your campaigns. Dash Premium promises to offer reports such as feature adoption rate, impression share compared to competitors, budget restraint health-check, and seasonal or vertical insights within each of your accounts.
While Google may hold the majority of traffic for most industries, this new feature along with Microsoft's other benefits (LinkedIn integration, great competition prizes etc.) makes Bing expansion an enticing prospect for anyone involved in PPC.
---