Cheri opened her talk with a look back over her career, and the early days of her marketing working out in Paris for the not-for-profit sector.
She likes to think, she says, that most of us here at Search Love want to be do-gooders. We want to do well, and we;re willing to try new things. But what about digital change? How can we affect that change, regardless of what sector we're in?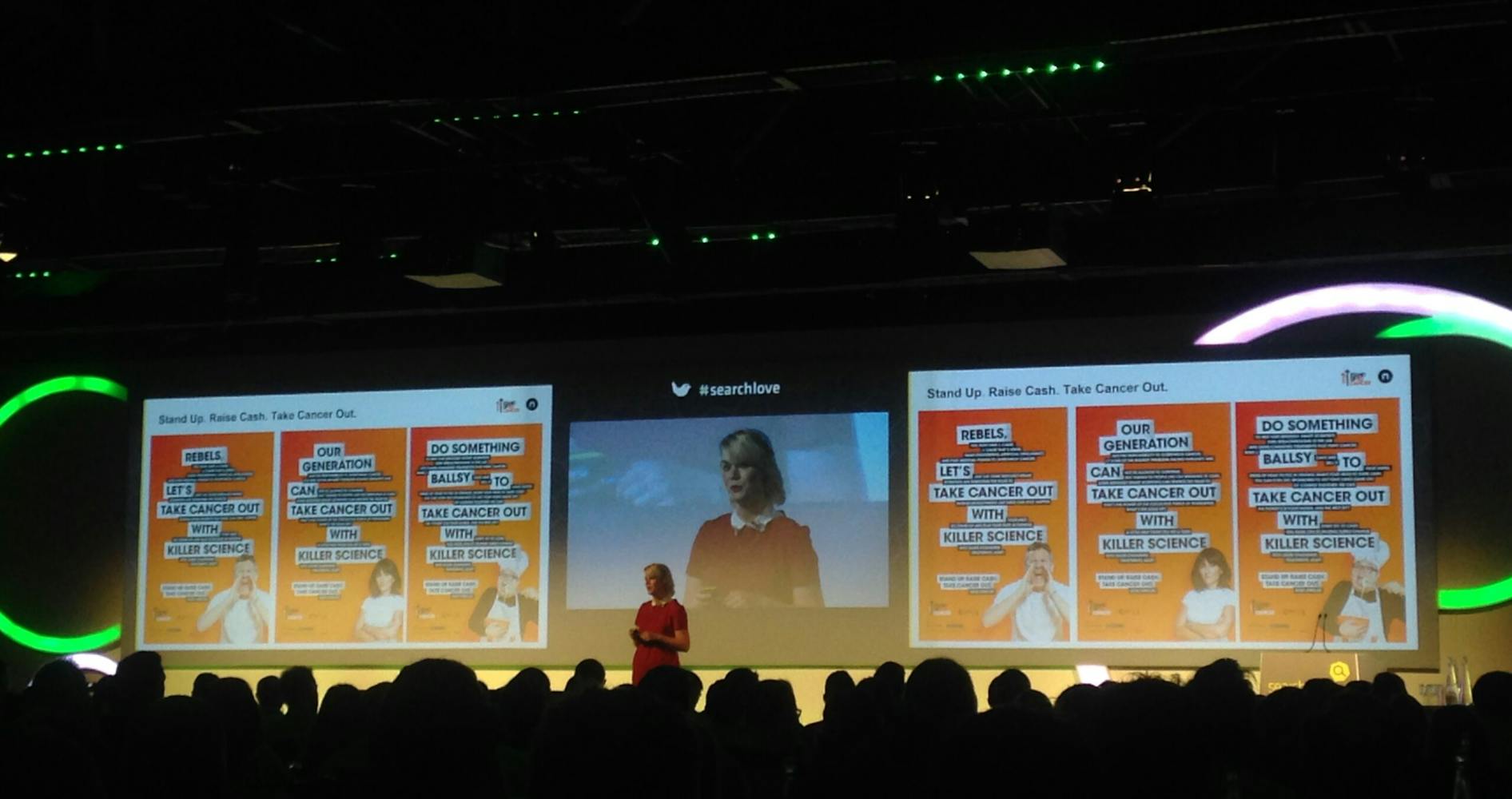 Cheri's change came when she worked for Distilled and she lost her sister to cancer at the age of 38. It meant Cheri was forced to recognise the chasm in her life and look for a way to do something different, something good. She started raising money through coffee mornings, sponsored walks and her first 5k run.
She's changing things, and can see the tangible results, motivated by the Just Giving totaliser.
The same goes for charities, she says. Earlier this year, Cheri joined agency Nonsense, working on their charity clients.
She's been working with Stand Up To Cancer, and wants to position it as the next cause to create a movement behind it, using the millenial mindset.
So, what's behind social change?
It's the power to kick the status quo. And here's how we can do that.
Aim at root causes, not symptoms. Cancer is one of the biggest challenges the human race will ever face, and it affects most people.
They decided they wanted to tap into the millenial mindset for change, and created a campaign encouraging people to start fundraising in any way they wanted. But it didn't do so well. People didn't know what to do.
So they changed their messages, to try to create groups. They encouraged people to get involved with existing fundraising, as a collective force. Their latest campaign utilises celebrities as a way of engaging people in the millenial age group.
You can see this tribal movement taking place across the charity sector – take This Girl Can as another example.
Cheri believes digital gives us the opportunity to affect change by mobilising groups.
She has more recently been applying this to Breast Cancer Care. They had been creating events content themselves, but much of it was lacking engagement and they thought about why. And they though hey, we're a support network, we should allow people to share their content within these pages. This led to much ore UGC and more engagement as a result.
Then they looked at their blog. They were creating content. But it wasn't considering the human being at the end of it. They started using SEO techniques to better understand what people were searching for, which led to a new blog post on myths about breast cancer, in response to organic search queries.
From there, they started investing into an event campaign, and used Facebook as a place to split test messaging with a warm audience. This insight became a powerful tool, which led to Cheri and her team engaging influencers to create visual assets around breast cancer awareness month. As well as generating awareness, they ask their bloggers to embed the Just Giving widget into their blogs – and this generated more than £3,000 for them. This is something they can implement in the future, too.
Split testing didn't stop on Facebook. The team have been split testing landing pages too, thinking more about the customer journey.
There were some surprises along the way, too.
A huge one was around retargeting. A large proportion of their donations came from retargeting and what they learned was that they needed to think about the long game. They needed to engage people before they wanted them to convert.
In one example. Cheri gave the example of them creating a 'what kind of walker are you' quiz using Qzzr. The women taking the quiz were really proud of what kind of walker they were, and shared it across their social platforms until it was taken more than 3,000 times. They were then able to set up a retargeting list of those people to get them involved in their Pink Ribbon Walk.
Digital change is important, as is digital culture. But there's some analog stuff along the way, too. Face to face meetings, in person events – they're still important, even as we try to make changes through our digital efforts. By taking small steps into that, we can make real change.
It's also not all about your digital team. You can empower your wider teams to get involved too.
Key takeaways
Find your root cause. Think about your mission and your value as a brand, and what you want to offer to people.
Keep calm and collaborate. Look to your supporters and customers for UGC.
Nurture loyalty.
Do good with digital.
---