Burger King shared a major Christmas confession this morning. The brand revealed that they have hidden a Big Mac product behind every Whopper advertisement in 2019. 
Thanks for having our back this year Maccy Ds #WhopperSecret pic.twitter.com/jgjufOHReU

— Burger King (@BurgerKingUK) December 23, 2019
The ad began with discussions of a "Whopper of a secret", where Burger King claims "everyone knows our burger is more generous than that other burger". This escalated to direct references to the Mcdonald's product, finishing with the quote "Thank you Maccy D's for having our back in 2019". 
Subtle. 
Since Burger King decided to finish the year off with a not-so-obvious comparative ad, what better way for us to evaluate the year than with a look through our favourite competitor campaigns of the decade…
Quick definition: what is comparative advertising? 
Comparative advertising is a marketing strategy used to position a company's product or service as superior to that of competitors. 
It can involve cost comparisons, value discussions or a side-by-side comparison of the products (or in Burger King's case, just pop the competitor product behind yours in every advertisement for 12 months). 
Break down of the biggest competitor shade moments of the decade
Microsoft vs Google Chrome
It is no surprise that long time rivals Microsoft and Google Chrome find themselves in this list. For this campaign, we go back to Google releasing their "Chrome: Now Everywhere" ad in 2013, in an attempt to promote their browser. 
In response, Microsoft released an ad campaign titled "Scroogled". This hinted (with Burger King style subtlety) to Chrome users that Google was tracking their moves and breaching their privacy. They even released anti-Google merchandise, a move Google responded to more maturely, simply commenting that they understood Microsoft's competitive moves since the market space was becoming increasingly competitive.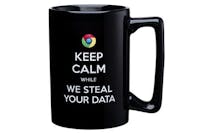 (image source: The Verge)
Costa Coffee Cup Misfire
Next up is one for the coffee lovers. 
Costa coffee launched the #CrimesAgainstCoffee campaign in 2017, a day-long stint to win over customers of rival coffee shops. Here, they handed out free coffee to those who had bought from another brand, offering to refill the competitor cup for free to promote eco-friendliness and their own coffee beans.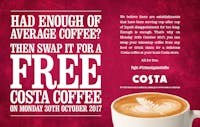 (image source: Costa Coffee)
Questions were proposed as to the logic of this campaign, since free coffee receivers were sent on their way with fresh costa coffee in a rival branded cup. Perhaps the smaller details of the campaign needed work, but we still applaud Costa for their effort to convert rival coffee drinkers. 
Mercedes-Benz chicken vs Jaguar 
Imagine being Mercedes-Benz. You spend months creating the perfect viral ad campaign, demonstrating the stability of your cars in a humorous and well received tone. You compare your product to a chicken, people love it, and your marketing team is pretty chuffed.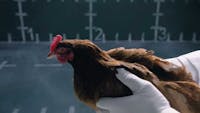 (image source: Youtube)
Then, along comes Jaguar.
They take your concept, reshoot the same video but in theirs, a Jaguar effectively eats your chicken, car and entire campaign.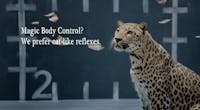 (image source: Cars)
Pretty devastating, right? 
Apple get what they deserve?
After watching Apple make fun of PC's for over 4 years with endless videos, it is quite ironic to see Samsung flip the tablet on Apple. 
Samsung has released numerous clips in the past decade, poking fun at their biggest competitor Apple. Demonstrating comparisons of the two products, Samsung point out some of our biggest annoyance with the latest Apple phones. From the headphone/charging issue to the poor battery life, they are more than happy to remind viewers of every last irritating one.  
Pepsi vs Coca-Cola
Despite Pepsi facing one of the biggest scandals of the decade with their Kendall Jenner advertisement, they have continued to throw shade at rival brand Coca-Cola in recent years. 
For us, however, our favourite attempt at shade throwing comes from this Pepsi campaign in 2013. 
In time for Halloween, Pepsi released an ad showing their can wearing a Coca-Cola cape as a costume. The tag time simply read "We wish you a scary Halloween".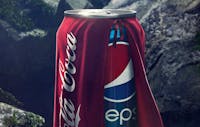 Unfortunately for Pepsi, fans on social media were not convinced by this campaign and "relaunched" the ad themselves with a tagline reading "Everybody wants to be a hero."
This demonstrated the power of consumers, showing how the narrative can easily be flipped back onto the original creator. This must have stung Pepsi, although if they knew the backlash they would receive for their Kendall Jenner campaign in 2017, perhaps this wouldn't have seemed so bad…
To round things up…
Poking fun at the competition can result in a storm of approval, as we are seeing with Burger King. However, get on the bad side of consumers and it can mean lost ownership of your work as you see it reclaimed by the force of social media. 
Comparative advertising is a fun way to gain traction to your product or service, but remember to tread carefully, as for every Pepsi fan there is always a Coca-Cola superfan right around the corner. 
---