PR is a valuable channel for any business looking to build awareness – and charities are no different.
The origins of PR lie with Edward Bernays, the nephew of Freud, who was really interested both in psychology and in advertising. Working in the cigarette industry, he was the first to create a PR campaign with his 'Torches of Freedom'; he took what was not a female activity and opened it up to that market.
So what made it successful? A few things…
It was controversial enough to gain press attention
It doesn't come across as self promotional
It highlights a strong stance from the brand
The formula of a perfect PR stunt
The formula of a successful PR stunt are:
Values; taps into the values of a brand
Buzz
Current; taps into current affairs
Sales; raises consumer belief in your brand and encourages conversions
The buttons of buzz
In PR, to make something newsworthy it has to tap into one of these areas:
Taboo – Tapping into controversial issues
Unusual – Not seen before
Outrageous – Something you'd talk about in the pub
Hilarious – Funny enough to share
Remarkable – Out of the ordinary
Secret – Letting people into something not everyone know
Low budget PR campaigns
You don't necessarily have to spend a fortune to make a successful PR campaign – and in the charity sector, it can be difficult to justify large spends in this area. Here are some low budget campaigns we've really enjoyed:
ASOS
The negative response a girl received to a photo she shared of herself wearing an ASOS dress on Tinder was indicative of the kind of abuse many women see daily online.
In this case, ASOS turned the negative comments on their head by using the girl's photo as the model photo for that particular dress on their website. It gained a huge amount of coverage, addressing the taboo and doing something remarkable.
Darren Stanton
What's interesting about Darren is that all he's done is reposition himself as a 'human lie detector'. By identifying his specific niche, he's managed to carve out a specialism and to become the expert advisor on some really prolific channels.
KFC
I really like how KFC have positioned themselves as a brand. Their ingredients are 11 herbs and spice, so it was a really nice idea when their social media account was shown to follow just 11 accounts – namely, all of the Spice Girls plus 6 men named Herb. Genius.
They also managed their crisis comms exceptionally well when they ran out of chicken. They wanted people to share it digitally so they actually avoided digital by only putting the following ad in three newspapers; it got a huge amount of shares and was very on brand, honest and cheeky.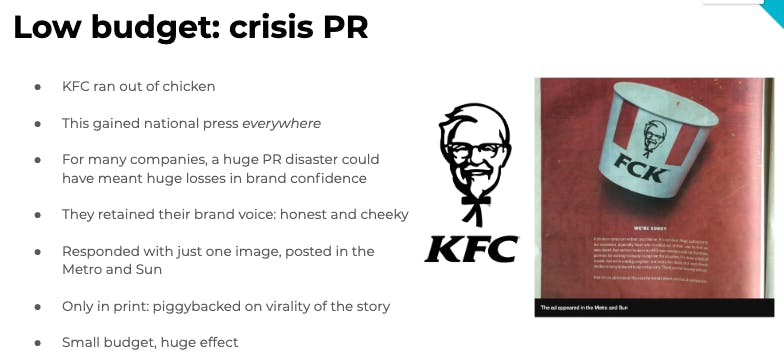 Not for profits leading the way
These PR campaigns show how not for profits and charities are leading the way in PR.
UNICEF
UNICEF has recently partnered with Dove, which does a lot around body confidence. This is a great example of how partnering with like minded brands can benefit both parties.
They run Soccer Aid, which uses celebrities to gain more interest.
Their Like Don't Save Lives campaign was a really nice social media campaign that also highlighted how social media isn't the answer to the issues faced in the world, contrary to many people's belief.
Rainforest Trust
What I really love about the Rainforest Trust is their use of visuals; whenever we see an image of a rainforest or big bright imagery, we think of the Rainforest Trust.
One of the things they really focus on is, rather than the negatives of deforestation, the positives of what they're achieving to raise awareness for what we can all achieve together. Their flow of case studies really shows the cadence with which progress is being made and how we're making a difference.
RSPCA
This was a really nice low budget campaign; the RSPCA looked at animals that look like Game of Throne characters. Really easy to do, low budget, certainly achievable for other charities.
Breast Cancer Awareness
A couple of years ago, women were encouraged to share the colour of their bra as their Facebook status. This tapped into the 'secret' button of buzz, creating interest and generating PR coverage.
They later repeated with 'I like it on…' which encouraged girls to state where they keep their handbag; the sexual connotations made this a bit taboo and also used that secrecy element of buzz.
Save the Children
No doubt most of us owns an ugly Christmas jumper. Last year, Save the Children partnered with Madame Tussauds to dress the Royal Family, including the corgis, in ugly Christmas jumpers.
What can you do?
The key thing about PR is that the press doesn't care about budgets, it just cares about strong narratives. Here are some ideas to inspire you:
Data led stories
Data led stories are used in the press all the time. If you have your own data, this is fantastic and can help gain coverage; looking at where in the country donations come from, who tends to donate, where there's a need, etc, can all form 'news'.
You can also ask for information or gain it from third parties, such as:
Visualisation of data
To make data newsworthy, you either need new data, or data presented in a new way.
You might consider:
An entirely new format
Comparisons of different data
Interesting visualisation
Easier for the audience to relate
Tapping into emotional appeal
Expertise
Another thing that's hugely pressworthy is expertise. For charities, the level of authority you have in your topic is already newsworthy, so consider how you might make more of this.
Thought leadership
Provide commentary on your core topic or those related to your values
Finding a niche in verticals related to your own
Providing opinions for upcoming articles
Tapping into current affairs
There are hundreds of opportunities to be featured in the press every day. There are various ways to get in:
Twitter #journorequest or #prrequest
Reaching out to the local press
Think about your values and your expertise and how they can tap into current affairs.
You can also keep an eye on national days, such as 'mental health week', or new legislation that we know is coming from the government for which we can prepare comments to pitch on the day.
Creating targeted content
Your audience is already active online. One of the beauties of the digital age is that we can reach most people online and have those conversations which would previously have been difficult to have.
You can monitor and connect with your audience for free, which means you can be inspired in your content by what's of interest to your audience. Watch them on Twitter, use Reddit, think about what's really resonating with them and how you can create content accordingly.
We use something called the Circles of Focus, where we consider what topics sit at the heart of what we sell, but also recognise the relates topics. Here's an example:
Key takeaways
You don't need loads of money to get top tier press coverage
Use data available
Visualise your data in a compelling way
Use your expertise
Leverage current affairs
Find topics and content that your audience is already engaging with
Keep the values at the heart of your campaign
---