Ranking highly in the search engine results pages (SERPs) comes down to a mix of on-page and off-page factors. The former is what most people think of when Search Engine Optimisation (SEO) is mentioned – optimising title tags and meta descriptions, using the page's target keywords in the copy and making sure the site's overall architecture is well-organised with sufficient internal linking. The latter, however, relates to a digital marketing field which is both connected and separate from it – digital PR.
This field works partly to support SEO efforts, as earning inbound links is seen as an important factor in Google's ranking algorithm. However, digital PR as a whole supports wider marketing strategies such as bringing in relevant referral traffic with high intent, as well as broader aspects of brand awareness often associated with traditional PR.
Link building through content marketing campaigns is perhaps the most important goal for Digital PR Specialists, as Google's algorithm sees inbound links (links to your website posted on other websites on the internet) as one of its most important factors when deciding SERP rankings. Inbound links are seen as a sign of authority and acquiring high-quality links from authoritative websites is the bread and butter of content marketing campaigns.
I mention 'high-quality' because not all links are created equal. At its core, search engines are document retrieval systems and their entire business rests on satisfying user search intent. If users had a poor search experience with Google, whereby the SERP did not offer them relevant pages to explore, users would switch to competitors like Bing and Yandex.
What makes one link better than another? For the most part, the quality of the linking page. Search engines see links from websites with high Domain Ratings as better than questionable websites with low Domain Ratings. Moreover, if the website linking out to your page is highly relevant to your business then search engines allocate even more ranking-boost potential to the link.
The anchor text of the link also contributes to the quality of a link. If the anchor text of the link pointing to your page contains the focus keyword that you're trying to rank for, you're onto a winner. One caveat – too many links with anchor text that is very specific to the keyword you're trying to rank for can look spammy to Google. Do not ask too many journalists to include a link to your website with the same anchor text. Leave it to them to decide so that it appears natural to Google.
When Google's algorithm was still in its infancy, there was no way to differentiate the quality of links, meaning that the website with the most links was therefore highly likely to sit in position 1 of the SERPs. People would abuse this by buying links or by posting spammy links across the internet on mass, a practice known as 'link farming'. Google decided that this had to stop and began to only consider unpaid links from relevant websites when deciding rankings.
This was known as the 'Penguin Update', and from April 2012 Google became much better at catching websites using spammy links to rank more highly. Therefore any content marketing campaign should focus on acquiring links from reputable websites (not link farms) that are related to your campaign. At Impression we like to organise our content marketing campaigns according to the 'Hero, Hub and Hygiene Content Pyramid' model: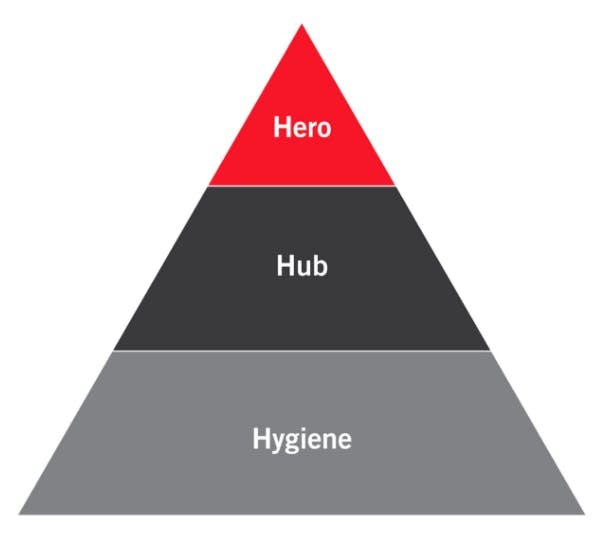 Hygiene

– the most basic form of content e.g. on-site copy (blogs), infographics and management of social media channels.

Hub –

content that is published on other sites e.g. thought leadership posts, press releases. This takes a bit more time than hygiene content, but has greater SEO value.

Hero

– viral content marketing campaigns. Can be very visual and interactive and aims to gain potentially dozens of inbound links. Requires the most time, and is not guaranteed to succeed.
My colleague Rebecca published a fantastic beginner's guide to digital marketing, in which she touches on this content marketing model. Read it here.
A good campaign strategy should have a tiered approach whereby all three are combined. Perhaps the most used of the three is hub content, as it often leads to a few valuable links and takes a moderate amount of time. Producing hub content has several stages, from ideation and planning to producing the content itself, but in this blog post I will focus solely on building a contact list and how to pitch an article to journalists, as this is often the first task given to newly-recruited digital marketers. Here are the steps you should consider.
Step 1: How To Build A Contact List
Once a content marketing campaign has been laid out, the first step is to build a list of potential websites to outreach to that will publish the content on their site. There are several tools available to help you do this. For example, Gorkana is a database of journalist and blogger contacts across a wide range of industries, allowing you to search for potential publications according to their country, format (online, broadcast, print), sector and sub-sector, such as music, motor or travel & tourism. If your content marketing campaign focuses on creating thought leadership pieces about environmentally-friendly practices, you could use Gorkana to find online publications that primarily publish articles about the environment.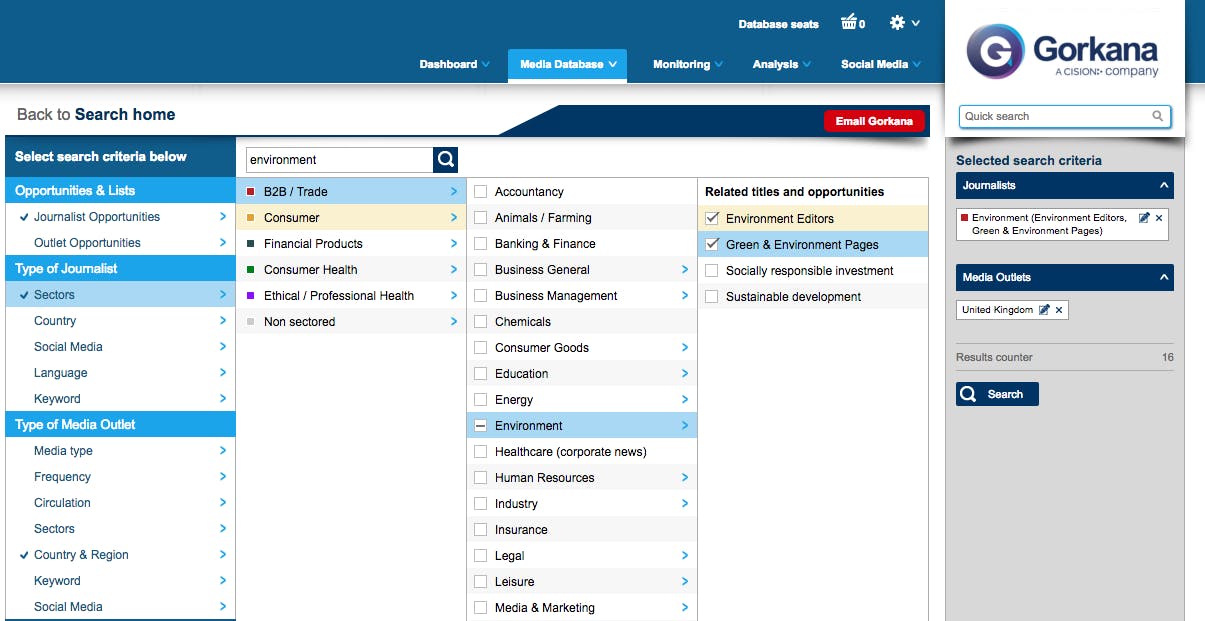 Once you find a publication with potential, it's important to see if they've ever created something similar to your potential piece of content. Finding a similar piece of content is a good sign because if they've touched on the subject before it's likely that they would consider doing so again, especially if the content you found is old and out of date. A quick and easy way of looking for similar content is by using a site search on Google. By placing site: + domain name ahead of your search term,  Google will only show results from a specific domain. In the example below, you can see that Google is only showing me results from Impression's site that include 'outreach'.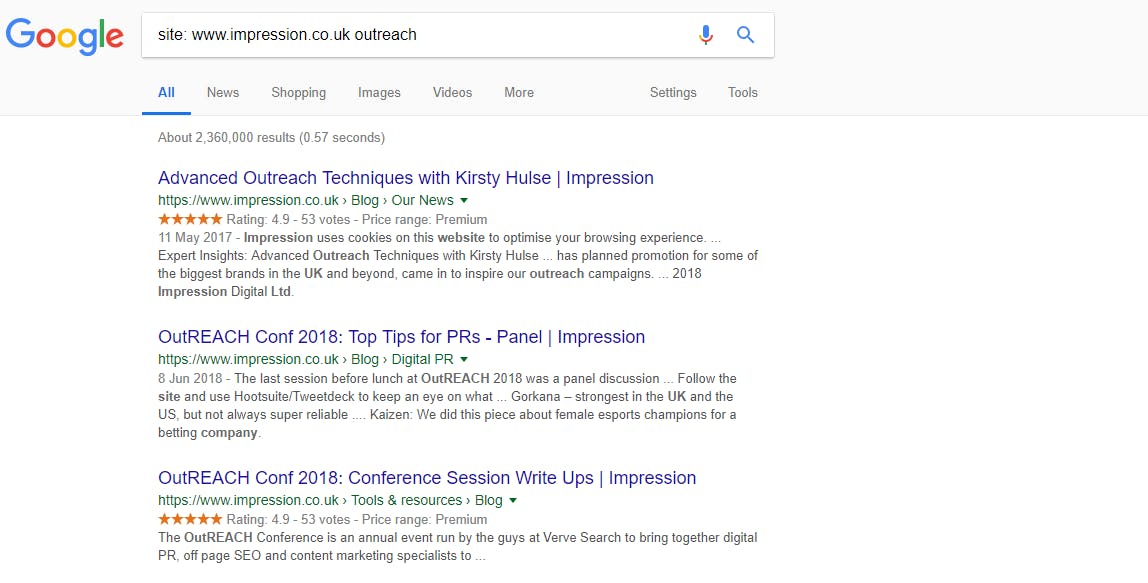 Once you've found some core publications that you would like to outreach to, a top tip is to expand your list by including their competitors. If one publication is interested, the rest are likely to be interested too. One of the tools that we like to use to do this is Ahrefs, a platform which gives insight into keyword volumes and which keywords your competitors are ranking for. One of Ahrefs' features is its 'competing domains' page, which provides you with a list of websites which are competing for the same keywords as a domain of your choice. Input a core target publication and you should receive a list of further opportunities for your campaign. Pretty neat, right?
Below is a list of domains that compete with http://uk.ign.com/ :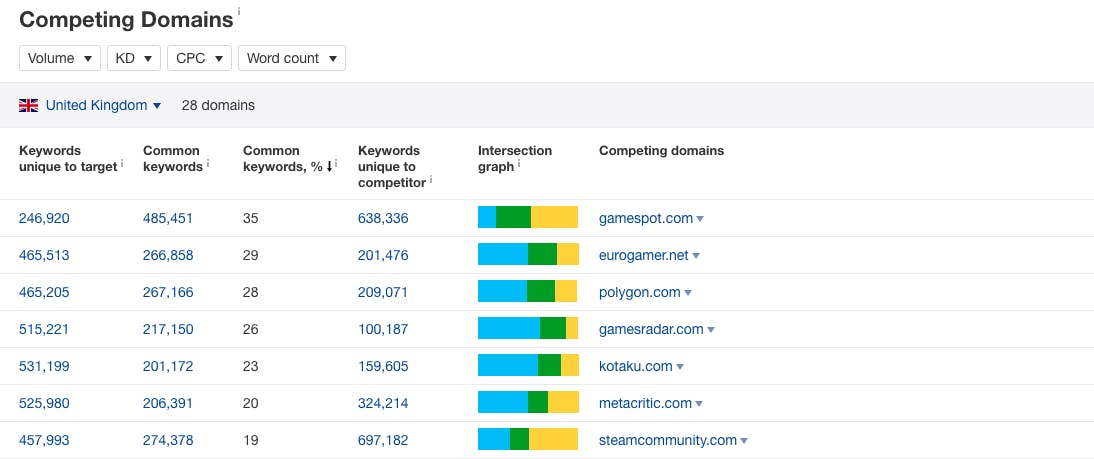 As you go through your list of publications, it's important to know which person you will pitch your idea to. Many content marketing campaigns have failed simply because of a pitch not being sent to the right inbox. One recommendation would be to find the email address for the journalist which published the similar article in the first place, as they've already shown that they are interested in that type of content. However, one caveat is that many journalists are freelancers and cannot make editorial decisions for specific online publications or commission pieces. Therefore, often a better way of reaching the right person is to find the contact details of journalist in charge of specific topics, such as health, sport or entertainment. This is usually listed on journalist databases such as Gorkana. If all else fails, contact the general editor of the publication.
Bear in mind that not all publications are willing to include a link in their articles. This is important to know beforehand, because there's nothing worse than getting an opportunity, producing a piece of content and sending it to the journalist only to find out that there will be little to no SEO benefit at the end of it. Creating a resource on your client's site can give the journalist a reason to link back to your domain, so consider this where appropriate.
Step 2: How To Pitch An Article
While sending pitch emails can often be a laborious and thankless task, it can also lead to significant rewards. As previously mentioned, building a strong backlink profile (the spread of inbound links to a website) is one of the most important ways, if not the most important way of ranking well in the SERPs. It is therefore imperative that a pitch email is well thought-out, concise and, crucially, personalised – nobody enjoys reading an email that sounds like it was written by a robot.
Start your email of by addressing the person by name. Never write 'Hi there' or 'To whom it may concern', as this will get you nowhere fast. Begin the body of your email by explaining why you're contacting them. Pitch your content marketing idea in a concise sentence, before explaining that you've seen something similar on their site which is either out-of-date or doesn't touch on a particular angle of the topic. This is important because it gives the journalist a reason to publish your article – you're focusing on how it would benefit them rather than how it would benefit you. Include a link to the content in question as a reminder.
Hi Sarah,
I'm writing to see if you would be interested in publishing an article on the benefits of using paper, rather than plastic, straws? I saw that Example Publication recently published an article about the dangers of throwing away plastic, but without going into depth about possible solutions to reducing plastic waste:
https://www.examplepublication.com/blog/plastic-waste-dangers/
The next step in how to pitch an article is to expand on your pitch, giving more reasons why their audience would be interested in reading it. A top tip is to include a statistic from a recent report that gives weight to the content being topical and interesting. Mention that the author will be your client, and provide a link to their website as a reference point. This will give your article pitch added authority, as you're telling the journalist that it will be overseen by an expert in that field.
I think your audience would be interested in reading a guide to paper straws and their many benefits. Given that this recent report by Greenpeace (insert a hyperlink to the report) found that paper straws reduce plastic waste by 20%, there has never been an easier way for ordinary people to do their bit for the environment, and John Smith, MD of Example Client, would be keen to provide his insight.
End your pitch email by giving one last reason why they should consider publishing your article, before signing off your email.
It's a topic that can be explored in some depth, as well as being a fresh take on how to make more environmentally-friendly decisions.
Would you be interested in this?
Kind Regards
Hugo  
The subject line of your email is crucial to your outreaching success. At Impression we like to do some A/B testing to see which email subject lines work best for different campaigns. For example, if you were sending the email above you could test out the following:
The Benefits of Paper Straws: A Comprehensive Guide

A Guide to How Paper Straws Could Reduce Plastic Waste by 20%

How To Fight Plastic Waste By Using Paper Straws
Try sending 5 emails for each of your test subject lines and see which ones were the most likely to be opened. Choose the most successful one for future emails related to the campaign. Hopefully you'll have some success with your initial emails, but if not it's important to follow up several days later. Prioritise contacts who have opened your emails but not responded, as it might be that they were interested but were simply too busy to respond at that time.
Step 3: How To Keep Track And Follow-Up
The final step to outreaching is keeping track of which journalists have read your email or responded. There are a variety of extensions available that give you real-time tracking updates when your emails are opened or clicked, such as Gmelius and Mailtrack. Make sure to install these before sending any emails so you can start getting a better idea of what times of day are best for outreach.
Follow all of these steps and you should be well on your way to getting some link building opportunities.
If you now know how to pitch an article but would like to see how we could help your business design a digital PR strategy, get in touch today. 
---