Earlier this year Google announced that they were to begin showing paid ads within the local search pack results.
Since the announcement there has been very little mention of the potential changes and how this could impact search marketing from both a paid and organic perspective. We wanted to give our insight into how this could impact search marketing and what advertisers can do to take advantage of the change.
What We Know About Local Pack Ads.
Officially not a lot of information has been released from Google on where paid ads will fit within the local pack. This however has not stopped the speculation into what form the ads might take when officially released. This initial image from SMX in June whilst blurry shows the 3 results in the local pack with one being a paid ad:
Credit: @JoyanneHawkins
Whilst Google have not given a launch date for the ads it appears that the ads are already beginning to appear within results as part of Google's ongoing testing: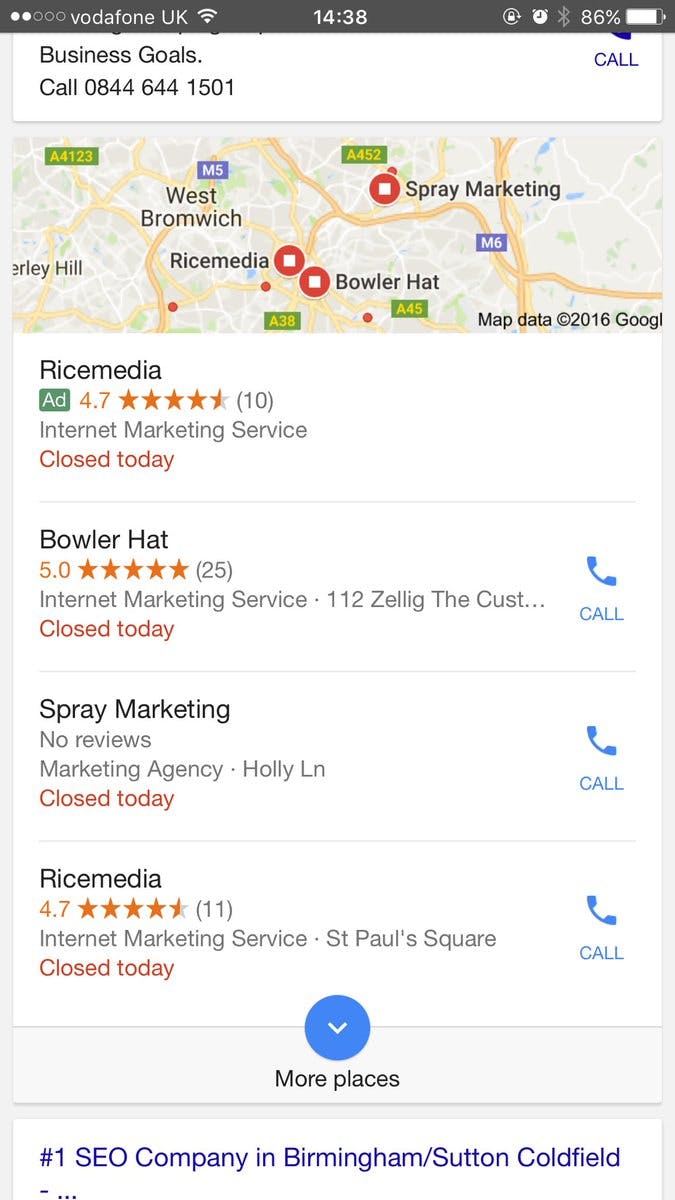 Credit: @ryanbowlerhat
In contrast to the initial speculation that the paid ads could replace the local pack ads this screen shot from earlier this month clearly shows 1 paid ad above 3 organic results.
Whilst there has been a lack of comment on how this will impact the local results, there has been plenty of speculation as to how it might impact local search marketing from a paid and organic perspective.
An SEO Perspective
I asked one of our Senior SEO executives Charlie Norledge to give his take on how this might impact local search marketing:
"It is a big step to have the first result in the mobile local pack as a paid advertisement, the local pack used to be natural results driven and the idea of introducing paid search into this changes the dynamic significantly. Although this does look bad for organic listings, it is saved by the fact that it retains the current 3 pack + 1 paid, rather than the 2-pack + 1 which was initially feared. Maybe the local pack could go back to having more results similar to this time last year.
It does follow the trend of Google trying to create as much ad space as possible, of course giving away any organic visibility to paid always makes SEO much more competitive and critical to have it at the forefront of your digital strategy."
From my perspective as a Paid advertiser, it is another step in Google ensuring that most businesses need a paid strategy to succeed within the results. That being said, it is a test and until we know the full extent to which the ads will be implemented it is hard to say what impact it will have on paid strategies.
How To Take Advantage Of The Changes:
Google has not released anything official to explain how advertisers can take advantage of the new local pack ads. We envision that the ads will use a combination of the keyword targeting in the account as well as the Google My Business information that is linked with the AdWords account. Which is a good reminder to ensure that your companies local pages are not only up to date but linked with your AdWords account.
It is currently unclear whether the local ads will have a separate bid option to normal search, it is likely it will fall into the mobile bid adjustment.
If you have any questions around how this will impact your search marketing strategy leave a comment below or get in touch.
---