Lexi Mills is Managing Partner from 
Shift6
 specialising in integrating PR and SEO. Her research work focuses on the opportunities, ethics and risks of machine learning and AI within the sector of internet search.
Lexi has worked across a variety of clients, managing to get some really high level coverage. Her talk is broken into four sections; consistent truths about successful stunts, Talking clients into stunts, Leveraging AI and making things easier.
Section 1: Consistent truths about stunts
Firstly, Lexi says, she wants to debunk the 'fun' clients myth. Lexi claims that coming up with ideas for boring clients is way more fun. What do you think?
Then she began by going over the main constituents of getting decent coverage in high level publications;
Speed
Remember this?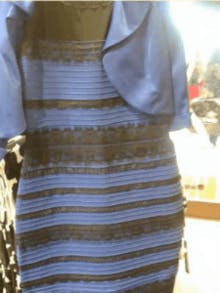 She talks about the blue and black dress stunt when she was working for Depop. Apparently, Lexi told her intern to 'go and get the dress or don't come back'. They ended up getting hold of the dress, walked it around and had instant coverage revealing it was in fact, blue. The key aspect to success here was speed, she claims.
Make the story believable
You need to be able to walk around the entire story, she says. The story needs to have substance.
Be concise
Lexi claims that Steven Spielberg says a good movie should be summed up in 25 words, and PR ideas should be the same. Her advice is go to the pub and talk about your idea – if the response isn't "that is amazing" – then stay there chatting until someone comes up with something amazing.
Section 2: Talking clients into stunts
Lexi goes over several tactics she has used in the past to get big ideas signed off from clients.
Fit stunts into the existing client's site
Ask the client for their consideration, not for a yes.
Start big and then move it to be more reasonable.
Don't put all your eggs in one basket
Break your launches up into a phased approach.
Case study: 'bathroom sweet stunt'
It was a tongue in cheek poke at how many people can't spell 'suite'. They bought the domain, and filled the content with images of bathrooms made of chocolate and other sweets. This picked up national media coverage, after being featured on MSN. Her top tip here was to keep going until you get that 'tipping' piece of coverage, she says.
Case study: Duckling stunt
Alongside this, she put a job ad in the paper looking for ducklings to test a bath. She then rang the metro and asked them to cover this in digital, and received local coverage.
Section 3: Leveraging AI
AI these days is telling journalists what is popular and what is trending. In fact 50% of content publications write, Lexi claims, comes from trends observed by AI. Her top tips on following and spotting trends are:
Read Kickstarter, as it has loads of upcoming ideas.
Use Google trends.
Go to conferences and listen, jotting down key words that you notice are being talked about.
Case study: the robotic handbag
She
created the iBag2
, which she launched internationally.  The bag was meant to prevent you from impulse spending. It was then taken to New York Fashion week, and received fashion coverage as well as international coverage.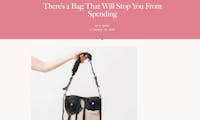 Section 4: making things easier
A few last points, she adds on how to make things easier
Get an academic expert to add authority to the story
Lexi talks about how she has a database of experts she can tap into.
If you're sure of your idea, then keep going. The Daily Mail told her twice that an idea wasn't right for them, but they sent it again.
No idea comes from one person
Be kind and talk to people, ideas will come from discussing and exploring ideas.
---