We all know the struggles of capturing the attention of journalists that receive hundreds of press releases every single day. As PRs we are often known by many reporters and editors for clogging up their inboxes with spammy, poorly written press releases and features. No doubt this is still the case, but only when it's done badly.
Sian Elvin is a local news journalist who out of the hundreds of emails she receives a day, reckons that just 5% of those are genuinely useful (as these are usually from her own colleagues). In this session she explains how to make email pitches stand out – for both good reasons and bad – and offered some practical tips on what to do (and what not to do) to nail your pitches and get the media coverage you want. She is currently the social media editor at MyLondon but also writes and commissions her own pieces.
On a day to day basis Sian explained that while a lot of her day is spent managing the site's social channels, a large portion of her day is spent writing stories, liaising with PRs, commissioning articles and researching new opportunities and events. She's very busy so has limited time to review each and every individual email she receives.
Sian spoke about some of the red flags synonymous with bad pitches:
 Receives a lot of adverts / marketing style press releases
 Clearly not looked at website or publication – irrelevant stories for the topic or location
 Cringe subject lines
 Subject lines that are clearly over-thought
 The dreaded <INSERT NAME>
How to avoid doing this:
 Take time on your outreach to avoid making mistake
 Watch your

fonts

and

colours

– ensure it's standardised
 Don't lie… avoid the use of URGENT when it's not
 Don't send the wrong press release – or one that's not approved or the latest version – proofreading is key
 No pleasantries – avoid 'hope you're well' – get to the point
Some phrases to avoid….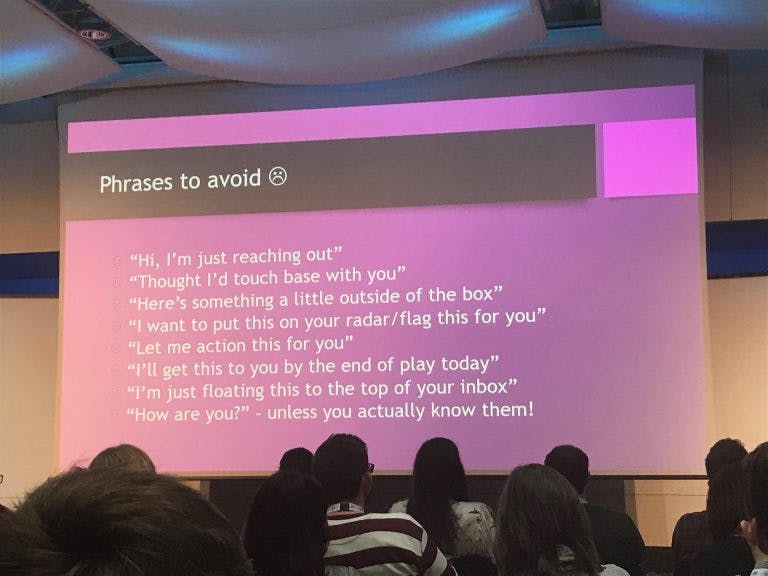 She also provided some insight into some of the pitches that did make the cut and offered some suggestions to drafting the perfect pitch email and when pulling together a press release:
 Make sure your story is easy to understand
 To the point
 Relevant to local area you are pitching to
 Ideally give the reader or journalist something to try
 Email instead of call when pitching to a journalist
 Text straight into an email – avoid the use of attachments where possible
 Include case studies if relevant 
 Include hi-res imagery (but not so large that it clogs up their inbox!)
When it comes to drafting the story itself, Sian suggested that the key for PRs was to imagine themselves reading the publication they were pitching to – could you realistically see your story fitting in with the rest of the content and with the publication's target audience? Some of things she suggested you can do to review this before you send is as follows:
 Be specific and detailed when drafting your copy – it's easier to cut than add
 Be careful with puns – journalists only tend to add these in for print
 Do your research into the people and titles you are pitching to – ensure it's the kind of topics they cover
 Think about multimedia? Video content is becoming more and more sought after
 Ensure the data you provide fits the publication's audience – for stats about London for example, try and break it down for different boroughs if you can
 Remember that journalists are busy – a couple of follow ups are fine 
 Think about if you would read it?
When questioned about the warranty of links within a piece, the consensus was that publications should link out to a client's website if it requires or deserves a link. For PRs it's crucial that when outreach is done for the purposes of link building that thought it put into the reasons why the journalist should have to link out. This could be for further information or data to support the piece.
The bombshell that wasn't taken so well by the conference? That some news sites are beginning to employ CMS that automatically update all its links to NoFollow….sigh.
---