Optimising For Mobile With Instant Experience Facebook Ads
Facebook is an essential part of many businesses advertising armoury, with a huge variety of ad types to choose from. The most common and traditional ad formats are suitable for both desktop and mobile experiences. However with mobile accounting for a whopping 94% of Facebook's advertising revenue. It's clear paid media specialists focus should be towards mobile users.  
Thankfully, Facebook provides us with several ad formats tailored towards mobile users called Instant Experience ads. These ads enable us to create an immersive full-screen experience without a user leaving the Facebook platform. They are also incredibly quick to load compared to standard ads making the experience very engaging for the user.
Within Facebook there are five easy to use Instant Experience ad templates available;
Instant Storefront
The Instant Storefront template is a useful tool for a business which has a selection of products to sell. It allows an advertiser to display both single image and video content to push the brand or a particular product. However, in addition, it allows you to display a selection of products below. Instant Storefront also enables the advertiser to tailor which products it shows. This is achieved by creating a product set in the Facebook catalogue.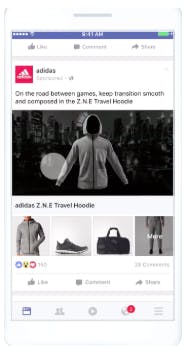 Instant Form
The Instant Form template consists of a full-screen experience which is geared towards lead generation. The user will be encouraged to fill out basic details within the Facebook interface. These leads can then be accessed through the Facebook ads manager platform. This is especially useful for businesses who focus on generating leads rather than product sales. An advantage of using Instant Form is that users are able to leave their details without a long user journey.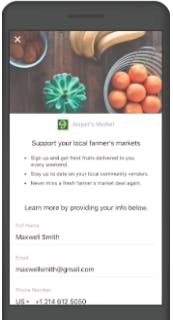 Instant Customer Acquisition
The Instant Customer Acquisition template allows advertisers to create an ad which aims to drive action. The template essentially acts as a website within the Facebook platform. It encourages the user to follow a particular path which showcases the businesses products/services and the benefits of purchasing them before ending on a clear call to action. The huge advantage of this is that a lead/sale can be driven by a user that previously wasn't aware of the business. This type of ad is especially useful for businesses which offer a low-value product or service as the decision-making process is quick and simple.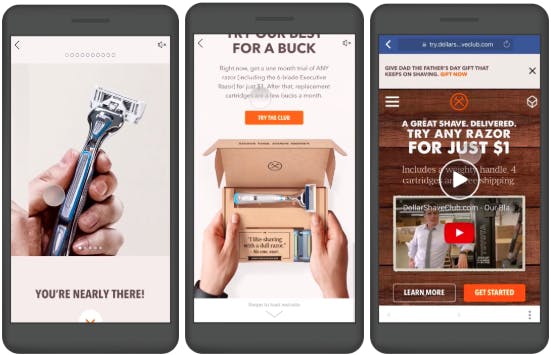 Instant Storytelling
The Instant Storytelling template is a useful tool for building brand recognition. This ad type aims to make users aware of what a business has to offer. This is done by showcasing a variety of different videos and imagery. This in turn then helps highlight the different services or products available alongside useful descriptions. A business selling high-value products/services would typically benefit from this type of ad, as it aims to instil confidence in a brand before they make it a purchase.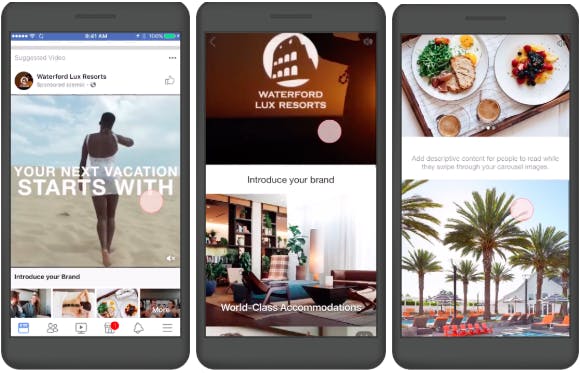 Instant Lookbook
The Instant Lookbook template is an instant experience which uses interactive photos of products being used in lifestyle images. For instance, a fashion business may wish to set up a campaign which shows some of its items being worn by models. The user is then able to click on the items in the image and be taken to a page displaying that specific product.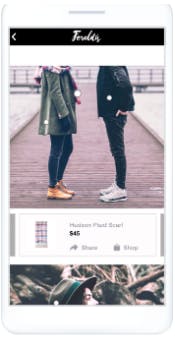 Within Facebook, there is also the option to create a custom instant experience, which allows the advertiser to pick certain aspects from each template and create an ad that is tailored for more specific business needs. 
In summary, instant experience ads give advertisers another option for their Facebook campaigns. However, as with any form of digital advertising, it's important to test the effectiveness of these ads vs the more traditional image and video formats that are available.
At Impression we are always looking to incorporate fresh ad types into our campaigns to maximise a campaign's performance, why not contact us today to see what we could do for your business.
---