Rob has worked in SEO for 12 years and is here to talk to us about the biggest challenges he's faced of running SEO for a well known travel brand. He also will give viable solutions to each challenge, and will discuss how they approach it within his team.
Rob Kingdom is the Senior SEO Manager at TravelSupermarket.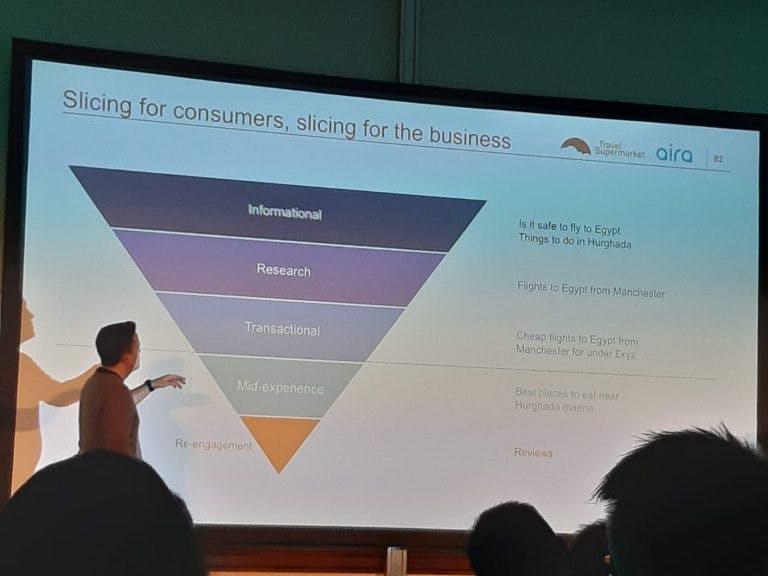 Challenge 1: Getting things done.
The biggest mistake people make when trying to get things done is by start with 'the thing they want', and they ask for 'the thing they want', claims Rob. This is not great for technical people: they want to know why!
The solution: bring people on the journey with you

Rob says the best way to do this is through following this journey: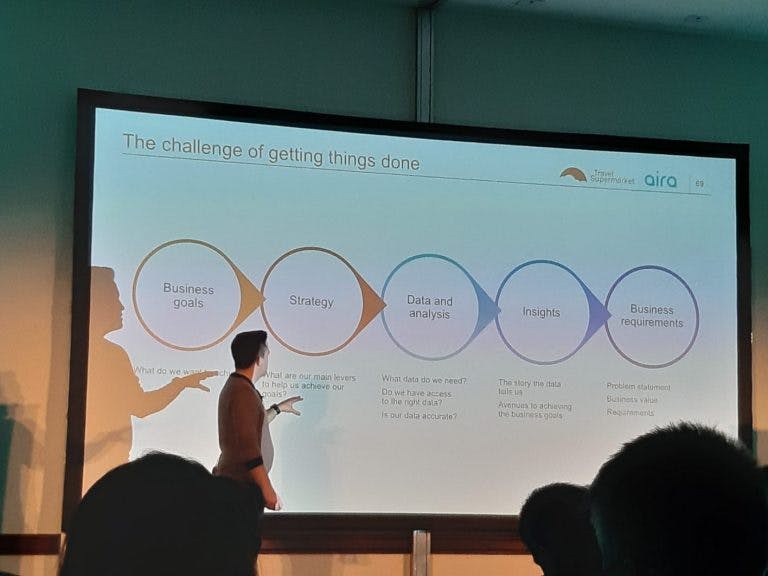 Use data and insights
Ultimately drive it back to a KPI and business goals
Challenge 2: Google
There are always a number of challenges with Google, says Rob. But right now, the most pressing for the travel industry is how Google is rendering a load of new and different formats in the SERPs, which in turn monopolises the search results.
As an example, Rob talks about Google flights product which has allegedly received numerous penalties for monopolising the market.
What's the issue here?
The problem for travel industry here is that the top positions are no longer visible, which makes it inevitably harder to gain traffic.
The solution? Look closely at the SERP formats per industry.
You need experimentation, says Rob. For example, when it comes to care hire, TravelSupermarket now writes more specifically about brands which has broken their content into ranking in position 0.
Similarly for their flights channel: they created a small resource on site which listed out cheap flights to Thailand, which now ranks as a featured snippet.
You just need to adjust your content accordingly.
Challenge 3: Market behaviours
How people are looking for travel content online is changing, says Rob, especially in the travel industry. How is it changing?
60% of searches for destination are on now mobile
People are using it for research purposes
People are only booking through desktop
This means there are loads more mobile customers but these are not converting!
Challenge 4: Brexit
Brexit has had a huge impact on consumer confidence, especially in the travel industry. No one knows what will happen, and that's the issue. Consumers in general are simply less willing to book travel
The solution? Their PR team put a positive spin on it to drive a different agenda: in fact TravelSupermakret has tonnes of their own data which they then used to push out to the press to give consumers some confidence back

You have to interrupt the conversation with your own content. In fact, TravelSupermarket did exactly this, by creating an article which ranked it in the SERPs for longtail terms around uncertainty in the travel sector post-Brexit.
Also, consider reactive PR: they actively involve themselves in reactive events internationally to jump on various country trends.
Challenge 5: managing data at scale
The pool of keywords we're looking to track for a large brand in the travel sector is enormous, says Rob.
The solution: they use ahrefs to show keywords of competitors to see keyword gaps
Despite this, Travel Supermarket did this and ended up with half a million keywords!
So.. another solution?
Slice the information. Break it down into segments, such as via the conversion funnel: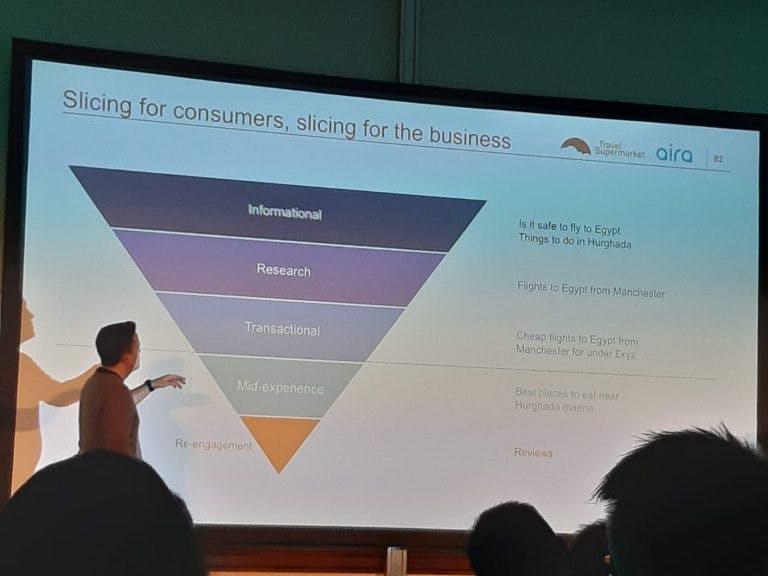 Or alternatively, they also slice it down into holiday types. To do this, they work closely with the commercial team: all inclusive/city break etc – with this commercial understanding in mind, it means they can assign value to each and know which to prioritise.
Or thirdly: slicing it down into personas!
Challenge 6: how can we measure, test and learn
The solution: distilled ODN
This new tool they have invested in allows them to complete SEO testing, which works very separately to more traditional CRO testing
You can read more about the tool here.
Questions?
Is there anything you're doing with AI?

Rob's answer: "Yes, we are keen to understand quality of content so one of the things we use AI for is to look at our content. We use a tool called Clearscope, which crawls language across all sites in top 30 positions for keywords you want to rank for – it looks at the semantic meaning between words/also looks for info that your competitors are talking about which you aren't"
You can read more about Clearscope here.
---