In July 2022, we got to see further developments to Google's algorithm updates. Notably, the product review update. There were also updates related to Google Search Console linked to video index reports due to the increased popularity of TikTok videos and Instagram Reels as a method of search. Google has added a "Discover" feature to bring these videos into the SERPs. In this post, we'll explore:
The usual traffic light system is in place to differentiate the updates that need immediate attention from those that are less pressing.
Red light updates are major changes that should be factored in straight away.
Amber is for updates that you should take note of, but won't need urgent action.
Green updates are still worth knowing about, yet less critical than the others.
Keen to know more about any of these changes and what they mean for your SEO? Get in touch or visit our SEO agency page to find out how we can help.
Google released a new product review update that is currently being rolled out. It was announced at the end of July (27th) and should conclude within two to three weeks.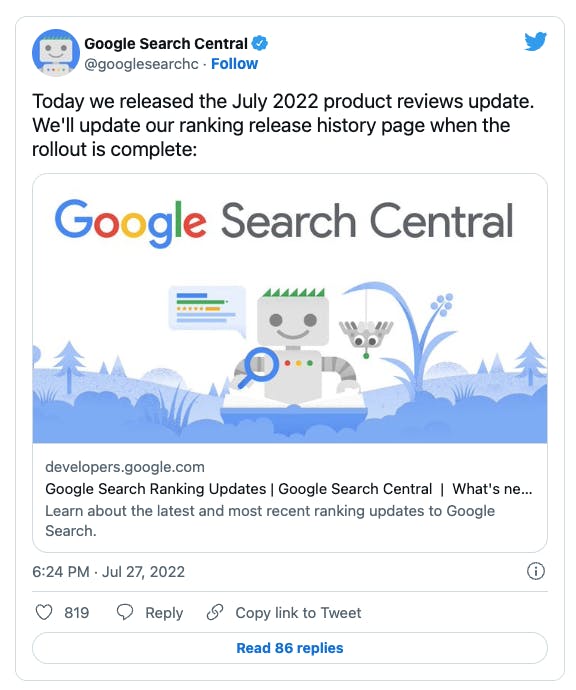 What's new with the July Google product review update?
This update will "reward" reviews that share detailed research rather than concise content that appears on a manufacturer's website. Some examples of the criteria that Google is looking for are:
Explaining expert knowledge about the products where necessary.
How your product differentiates itself from its competitors.
How the product has improved and how it can address issues from previous models.
In summary, Google wants to know first-hand information about your product. This means that rewriting the content that is already available online will not work. Google is looking for unique content, even down to the photos you provide.
This isn't a core update and only applies to websites that publish product reviews, this doesn't include websites where customers can leave reviews on your page. This only applies to websites that publish comprehensive reviews. We'll be monitoring any volatility in the next few weeks, so keep an eye out in our next algorithm update article.
Google has recently added a page that catalogues all of their most recent algorithm updates, dating back to January 2020. It gives us a really clear overview of all of the recent algorithm updates, with links to the changes and the impact each individual update has had.
Google has already released 4 ranking updates this year as of (July 2022) it would be reasonable to expect to see a few more before year's end, based on the 10 ranking updates that were implemented in 2021. The most recent update was the product review update released July 27th.
Google has made further updates to its Search Quality Rater Guidelines. The most prominent changes have occured with YMYL and E-A-T, and gives us new guidance on exactly what Google aims to achieve with their algorithm.
YMYL (Your Money, Your Life)
Google has completely reframed YMYL (Your Money, Your Life) sections of the Search Quality Rater Guidelines. Previously, they were broken down into the following areas:
News and current events
Civics, government and law
Finance
Shopping
Health and safety
Groups of people
Other
Google has since removed these categories and changed them to the categories of:
Health or Safety
Financial Security
Society
Other
Topics that all under these are ones are violent extremism, harmful and misinformed. The full breakdown is shown below: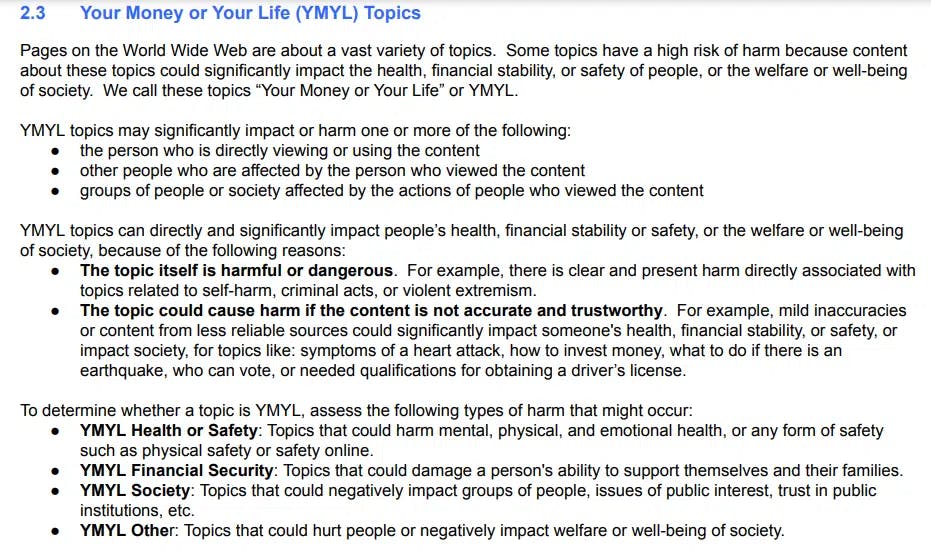 Other sections added to Google include:
Section 6.1. E-A-T (Expertise, Authoritativeness or Trustworthiness) surrounding content that is also misleading.
Section 7.0 Lowest Quality pages discusses that even those with expert sources can still display harmful content.
Google also added a document about how the Search Quality Rater Guidelines work, how it improves search and the process of it.
These changes are important as Google is considering the extent of how YMYL goes beyond content but also how it can affect harm to users. They also reiterated that E-A-T has the utmost importance when it comes to content that's defined as YMYL. We certainly think these changes to the Search Quality Rater Guidelines will have an impact in how YMYL content is approached in the future, so it's important you read and understand the changes.
Video SEO is quickly becoming one of the most important forms of content marketing, with the likes of TikTok and Instagram changing the way that people search. Just as Google's bots search and index images, they index millions of videos on people's sites too.
To help SEOs and website owners understand the performance of their videos, and find potential areas to improve, Google is launching a Video indexing report in Search Console. You will only see the report if you have videos indexed on your site, and it will help you answer a number of questions:
In how many pages has Google identified a video?
Which videos were indexed successfully?
What are the issues preventing videos from being indexed?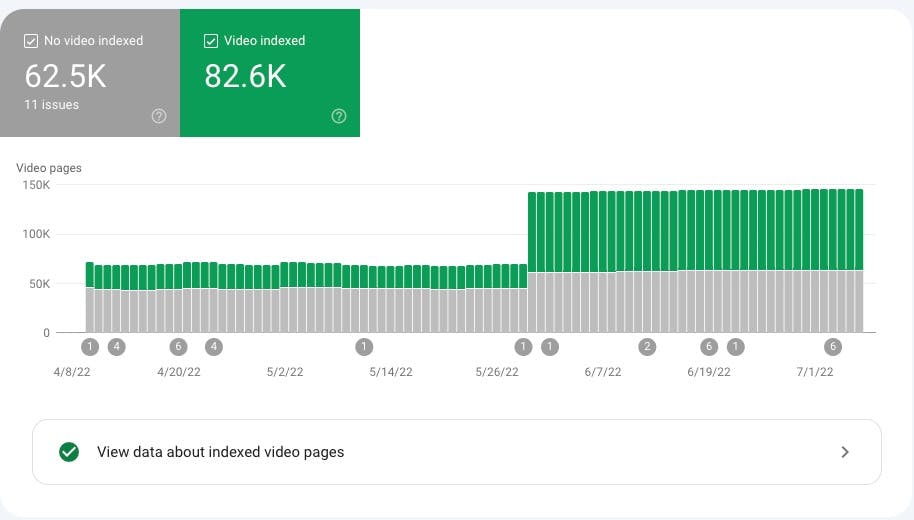 These changes will be rolling out in the next coming months, along with the enhancement of the URL inspection tool to allow you to check the video indexing status of a specific page.
Between the Google Core May Update and the recent Product Review update, summer 2022 has seen a lot of volatility for SEOs. And July was particularly volatile, with a number of unconfirmed reports of Google search ranking updates over the past month. In this article, Barry Schwartz highlights that he documented changes around July 11, July 16 and July 18 on his personal blog.
This article pulls a lot of data from different sources, but there was no clear niche specifically impacted based on the data they pulled. Here is a chart that Search Engine Land pulled from SEMRush, showing the volatility: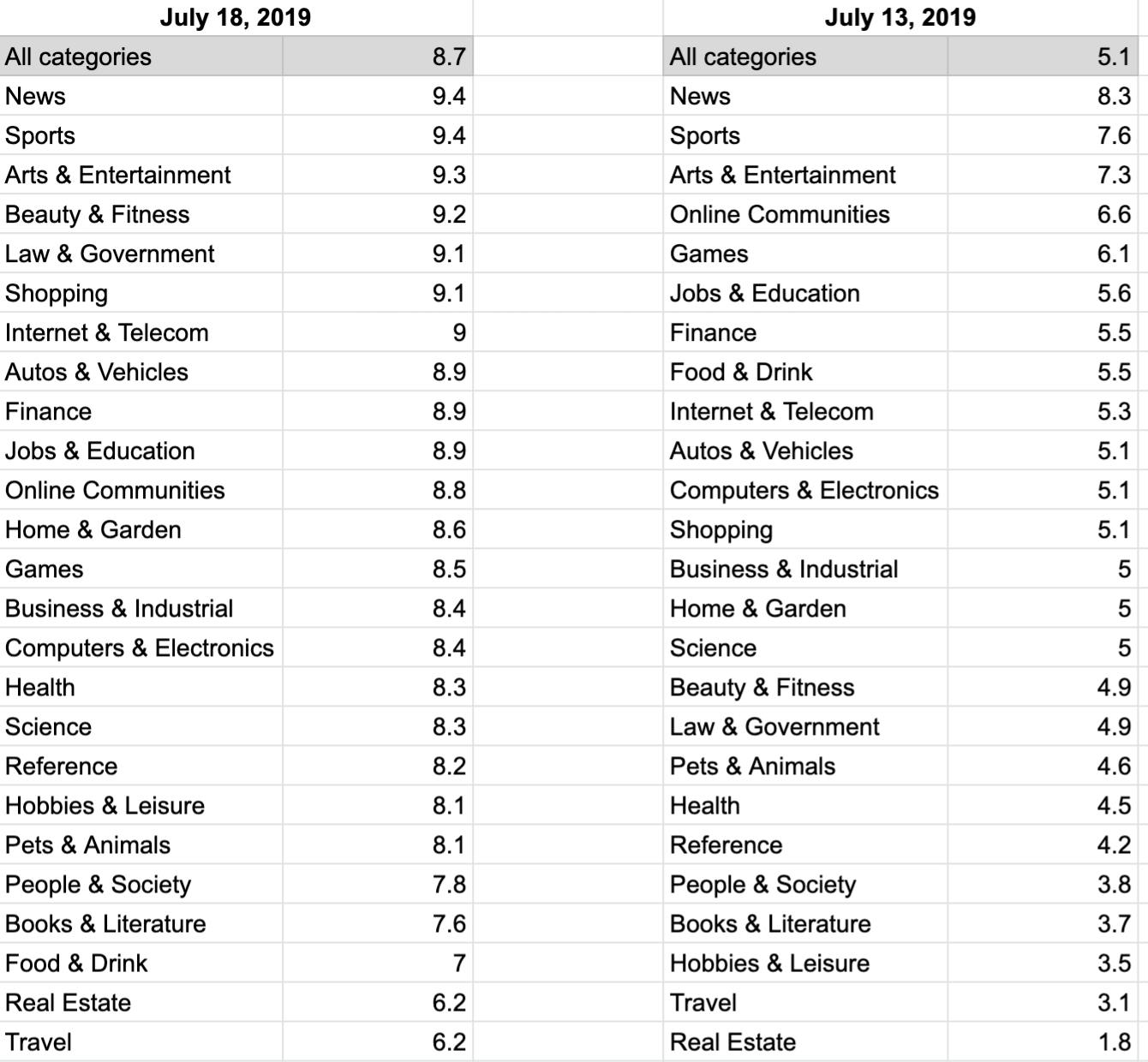 Although Google didn't confirm the presence of a major update, it's still good to know that it could be an unconfirmed update that has impacted your website's recent rankings. It's also helpful, on an emotional level, knowing you are not alone when an update hits your website.
A twitter user encountered a "discover" section on the mobile version of Google showing videos from various platforms such as Tiktok, YouTube and Facebook. The examples shown for this seem to be for broad search intent terms e.g. the screenshot below comes from the query "Santa monica, California".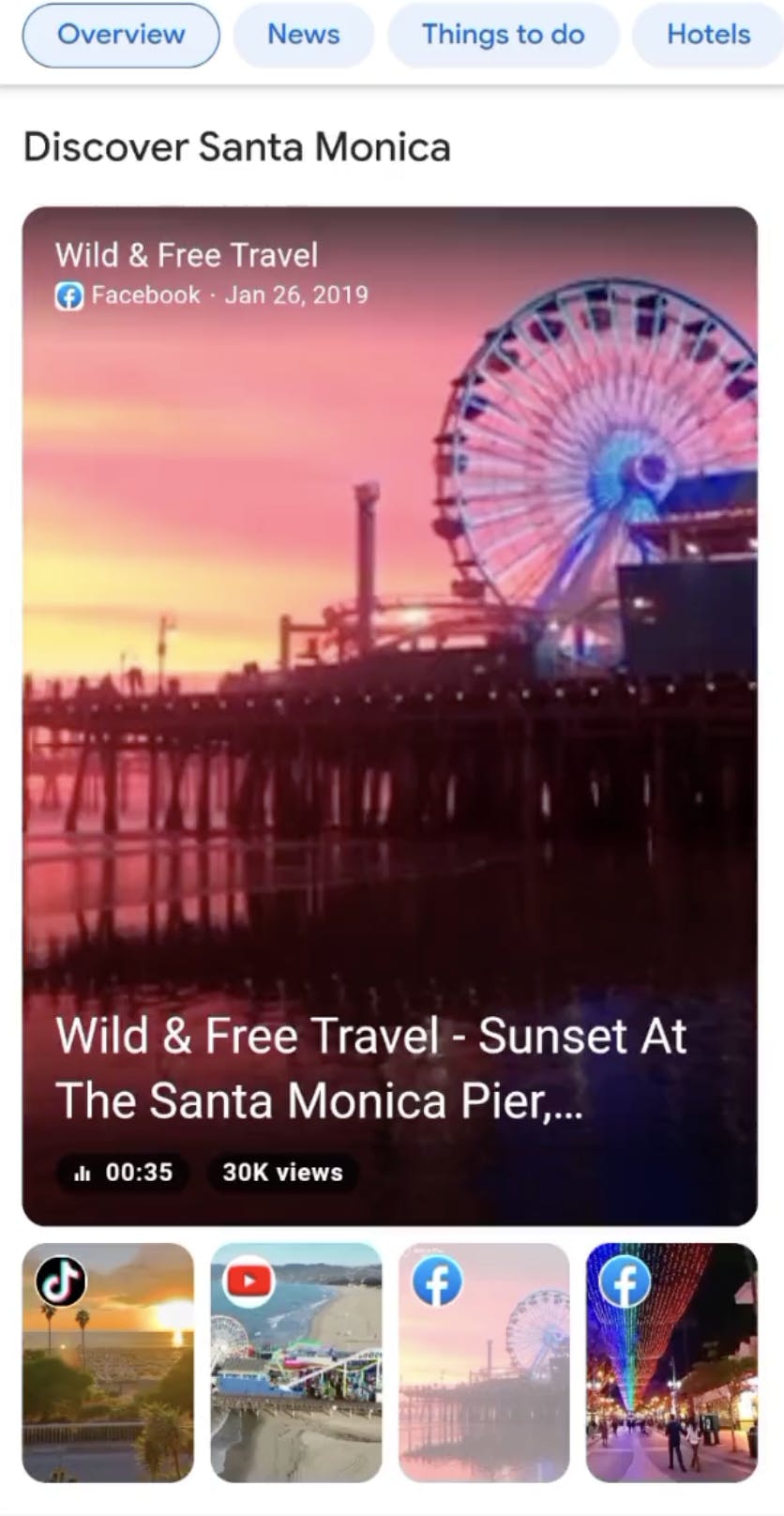 This exemplifies how search is changing from activity from the younger generations as they are using video based platforms like Tiktok and Youtube that have search engines within them. This TechCrunch article digs into this change in video search much further, highlighting that 'according to their research 40% of young people (18-24) used Instagram and Tiktok when looking for a place for lunch instead of Google search.'
He further explains how search may adapt in the future, to factors like maps and how they could be adapted to younger audiences as the 'paper-like' map isn't something they'll necessarily recognise. All these factors show how search is adapting to video search preferences, and help that belief that richer results and changes are likely to come in the future.
---
For any further insights into what has been covered in this blog – or to learn how we can support your SEO – get in touch today.
---