For businesses to remain competitive online, they must recognise that their largest competitor is no longer their industry rivals, but rather Google itself. In recent years, the search engine giant has progressively increased its market share in various heavily feed-based verticals, including hotel bookings, flights, and more recently recruitment.
In 2017, Google introduced Google For Jobs, an enhanced search feature that aggregates listings from job boards and career sites and displays them prominently in Google Search. The image below shows job listings in the Nottingham area.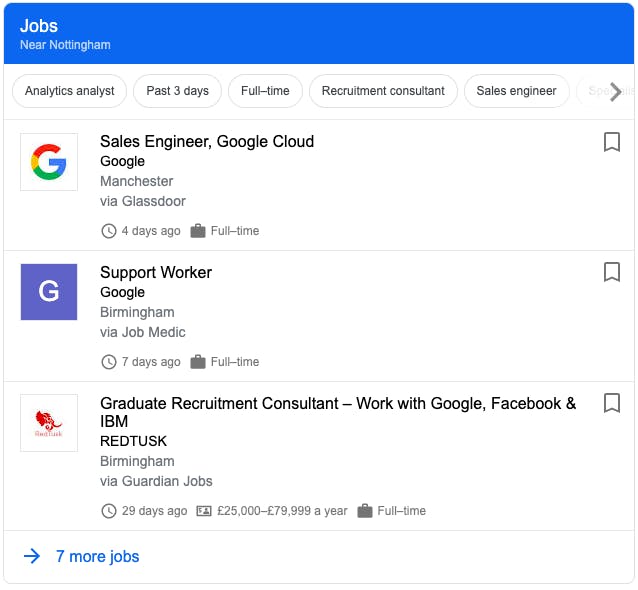 By introducing this new search feature, Google has quietly placed itself as the second largest job platform in the UK according to SEO tool Sistrix.
People searching for roles are now able to access job descriptions and even apply to positions from the Search Engine Results Page (SERP) itself. Google is able to pull in job roles from correctly marked-up schema data from job sites like Monster, LinkedIn and Glassdoor and give job seekers the option to filter by category, city, date posted and company type.
Google's reasoning behind the update was that it sought to improve the candidate experience and counteract the saturation of job boards in its search results. However, the more cynical amongst us believe that Google was simply trying to protect and grow its market share. With LinkedIn and Indeed becoming increasingly dominant, Google may have introduced the search feature to avoid people navigating to these sites directly and thereby not share their data with the search engine giant.
Moreover, LinkedIn is owned by Microsoft, who use LinkedIn data to improve targeting options on Bing search ads. Google may have also taken this into consideration, as reducing LinkedIn's market share consequently reduces the competitiveness of Bing, its primary competitor.
Google has also extended its reach into other industries, most notably holiday bookings. Google Flights was integrated into the Google search results in March 2018 and immediately took the SERP real estate that competitors such as Expedia and Kayak had previously enjoyed. The image below shows the search results for 'flights to New York', and it is immediately clear that Google wants users to click on Google-provided results, whether ads or Google Flights.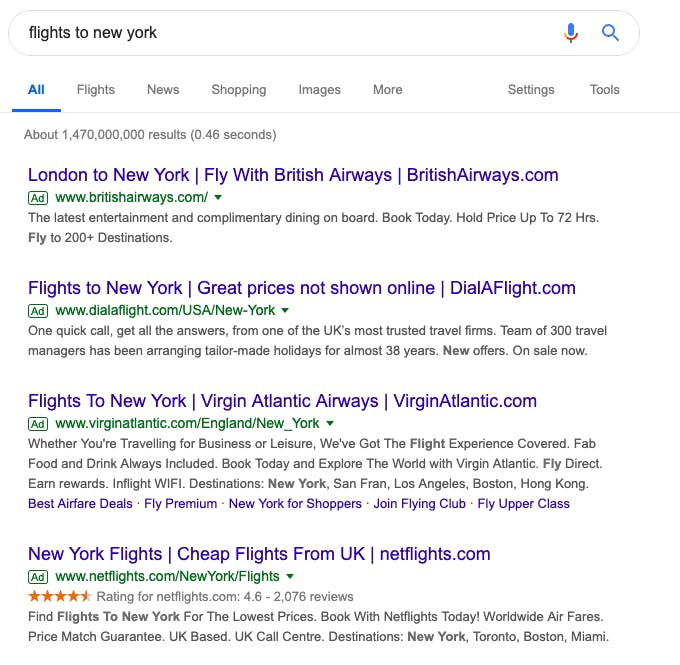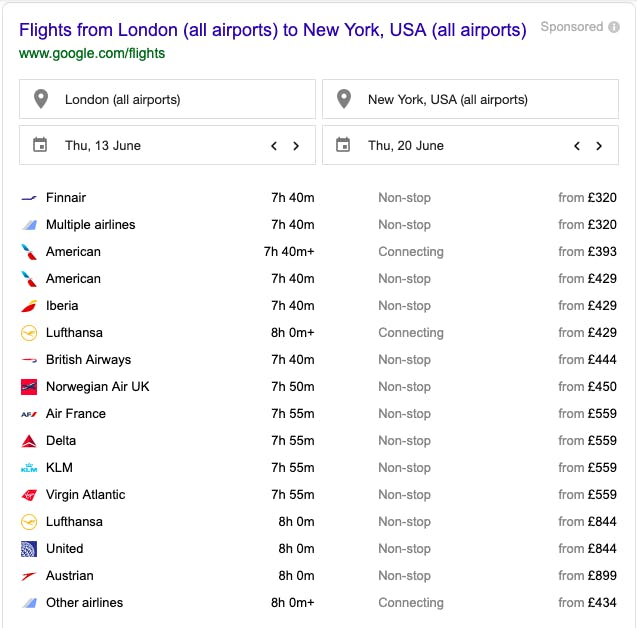 In March 2019, Google launched Google Hotels. Similarly to Google Flights, this new website is integrated with Google search results and even Google Maps, allowing them to increase their online market share of the travel industry. The image below shows the results for 'hotels New York'.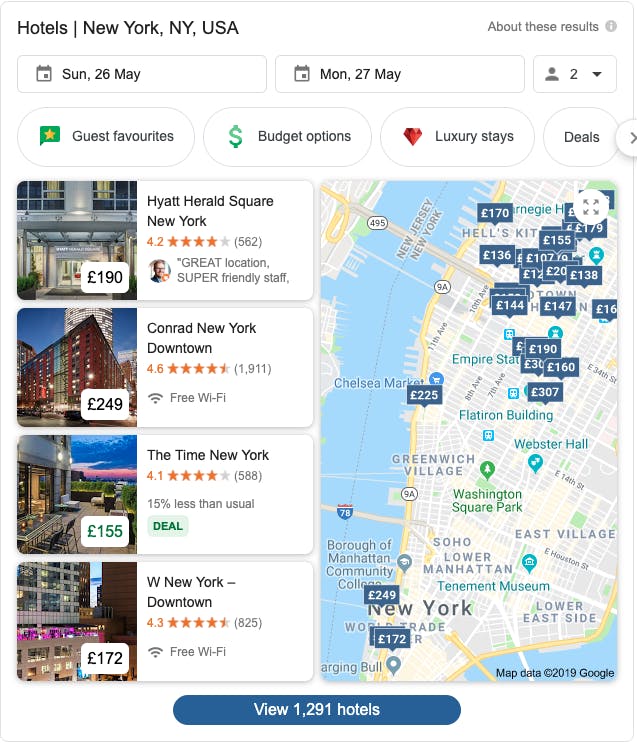 With Google implementing these industry-changing features to their search results on a seemingly yearly basis, how long until we see a similar update in another feed-based vertical?
In my opinion, not long at all. And there's a specific industry that I have in mind: real estate.
Why? The real estate industry holds many similarities with the verticals that Google has already targeted; it utilises local search, runs from scraped or feed-based content, and is easy to monetise.
Local search
The SERPs for real estate cater to local search, as shown in the image below for 'flats to rent'.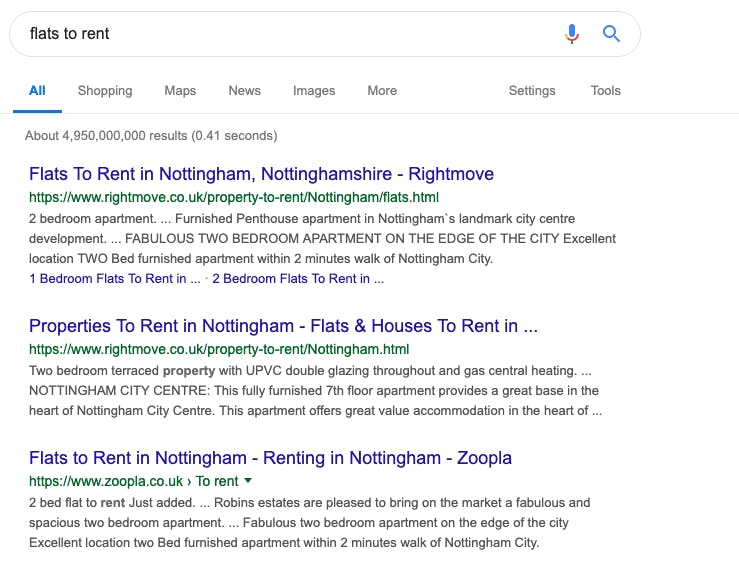 Real estate revolves entirely around locations, and Google will serve users with the results it deems most relevant to either their geolocation or to geo-targeting keywords such as 'flats to rent London'.
Data Sources
Google has a tendency to make big plays into spaces which are feed-based or easily scraped, and easily aggregatable, if even through Machine Learning (ML). While third-party property sites like Rightmove and Zoopla provide existing sources for property data, Google could gather data straight from feeds provided by industry property sales/letting software, thereby 'cutting out the middle man'.
There are several reasons why Google would do this. Firstly, it would allow estate agents to advertise their properties without paying fees charged by more established job portals, consequently cutting their costs and increasing their exposure.
Secondly, being able to promote their properties at reduced costs would allow more agents to allocate money to paid advertising opportunities. Google Ads, Google's online advertising platform, could be the perfect place for real estate agencies to spend their remaining budget. Given the sheer size of the real estate industry, which is currently valued at 250 billion euros in the UK alone, Google would be set to generate a huge amount of new revenue.
Google would not even necessarily need feeds, as they could simply scrape content from various websites and reward those websites with the best on-site schema markup. Nevertheless, feeds are likely to be the method of choice, as the dominance of Zoopla and Rightmove means that real estate already primarily operates in this way.
Additionally, many property companies already pay specialist web agencies to use platforms which come with Zoopla & Rightmove integrated into the codebase. If a property feed were to be introduced, these companies could eventually take a similar route with Google in the future.
Better User Experience
Similarly to job postings, real estate is an extremely saturated, feed-based market. Zoopla, Rightmove and On The Market are all dominant players in the industry, and many of their house and flat adverts are duplicated across the different property portals. This represents a very real reason for Google to step in and create a more streamlined service that will help users make a more informed decision.
Opportunity for display and sponsored listings
Google has made it no secret that on-SERP advertising will play a big part in the search engine's future. It is estimated that Google generated $136 billion dollars in 2018, $116 billion of which was made through its advertising platform. The search engine giant relies heavily on its adverts, which is why we've seen a large increase in the real estate granted to adverts in recent years.
The image below shows how search ads have increased in size in just two years (Source: Sparktoro).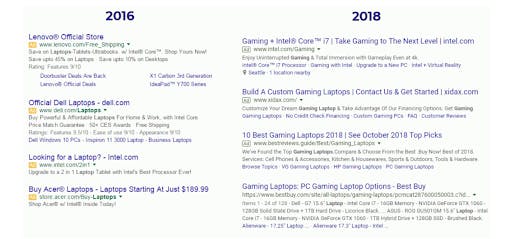 Google has not only increased the amount of text advertisers can use for their products, but has also made ads more subtle by switching from the yellow block to the current green version. It, therefore, makes sense that Google would look to build out further advertising channels.
We could see a similar business model for real estate SERPs, especially given the increased interest around property search terms in recent years.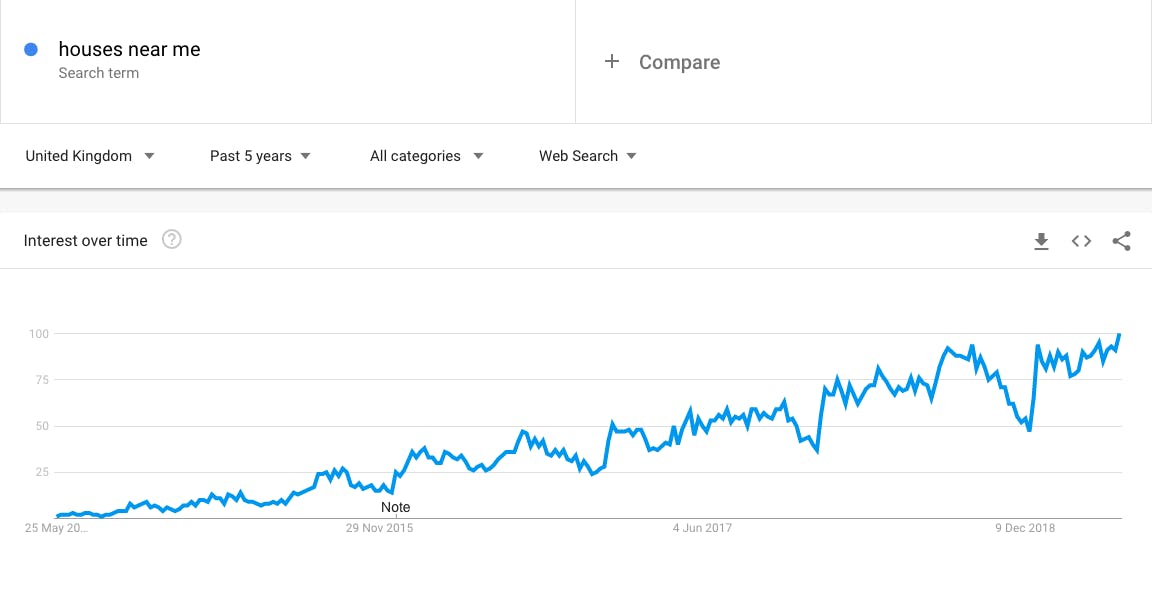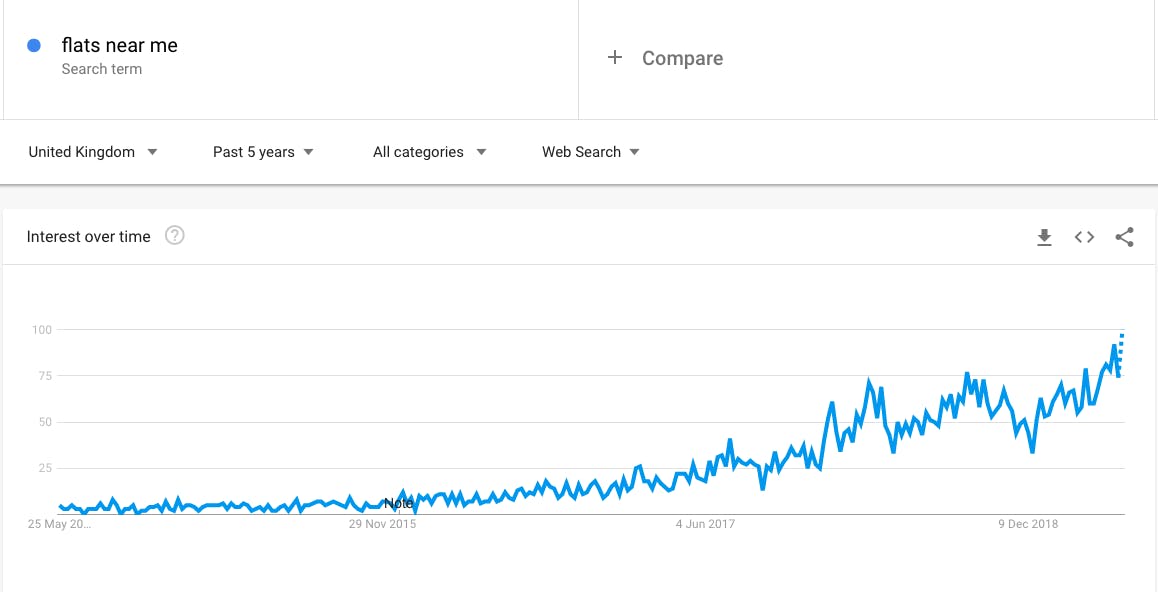 Below is a mockup of what a future 'Real Estate' search listing could look like.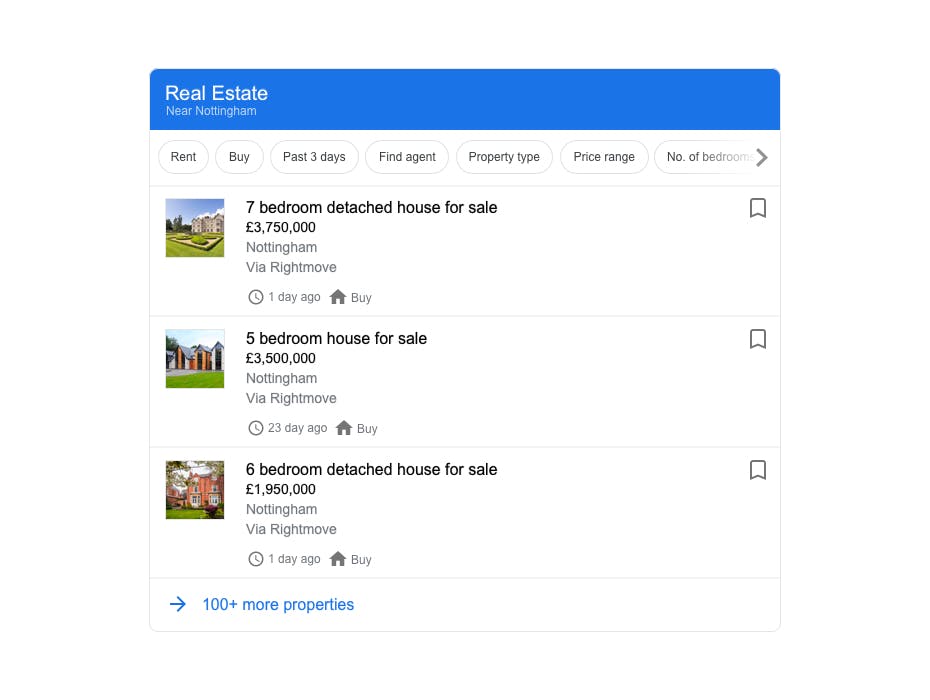 As you can see, users would have the ability to filter results by 'Rent' or 'Buy, as well as the type of property and its price range. Given that this information is already available in property portals, Google should have no issue in collecting and presenting it to users.
Conclusion
The launch of Google Jobs should not have come as a surprise to anyone, and neither should its potential foray into real estate. Google will want to diversify its income channels as much as possible, and any market that allows it to do so is under threat. It is no longer a matter of if they succeed, but when.
---