We all want to reach customers where they spend most of their time. And that's on mobile. In 2015, one in every five minutes spent using a mobile phone was on Facebook or Instagram.
So how do you go about putting your business on the small screens of those that matter the most? If Instagram isn't already a high-priority in your social media marketing strategy, now is the time to take the plunge.
Instagram Algorithm
The announcement of Instagram's new algorithmic feed has been causing a stir (as well as collective groans from the Instagram community) for a while now.
In short, Instagram will soon be working just like Facebook – displaying content it believes is most relevant to the user at the top of their feed.
Speculation is rife about how this will affect brands and businesses sharing content (both paid and organic), but it's not all bad…
The average Instagram user misses out on 70 percent of content posted by those they follow. Kevin Systrom, co-founder and CEO of Instagram said the move to algorithm is about making sure the 30 percent users see is the best 30 percent possible – and that includes content shared by businesses.
For international brands, the update can pose the advantage of their organic content appearing at the top of their customer's news feed, no matter what time zone they're waking up in.
The Future of Instagram for Brands
The algorithm update does have some silver linings, but have no doubt this move is all about monetisation. Instagram has slowly but surely ramped up its advertising game this year, including video and overlays (we'll get to that shortly).
The photo sharing platform (the fourth most downloaded app of all time) is expected to follow in Facebook's footsteps and limit organic reach. It's optimistic to think that creating beautiful and highly engaging content will be enough to secure the top spot in your customer's feeds – and after all, we're not all Nike or John Lewis.
That's not to say brands should stop trying, but the days in which business' organic Instagram posts receive 308% more engagement that Facebook are over.
Customer acquisition will no longer be about getting that X-Pro filter just right, it will be about creating and implementing a carefully thought-out Instagram advertising strategy.
Video
Last week Instagram launched the new 60-second video format (who didn't see that Apple & Taylor Swift vid?!).
In that last six months the amount of time spent watching video on Instagram has increased 40%. Just like big brother Facebook, Instagram highly values video content. In February, video view counts were introduced (replacing 'likes' as the primary metric for advertisers) to encourage more video content on the platform.
Low cost-per-view make it an economical way to advertise on the platform – and who's betting video content will receive higher organic reach once the algorithm is launched? We've seen that one play out before.
Think of video content as the Hollywood trailer your landing page has always wanted. With 400 million monthly active Instagram users (and let's not forget the 1.6 billion on Facebook), promoting video should be at the forefront of digital marketer's minds in 2016, with time and budget set aside for creating the perfect content.
Overlay Update
When Instagram first launched advertising in September 2013 it was the first time users were able to click off-app with action-driven ads. Instagram recognised a little education was needed and so ad overlays were introduced.
Basically, when a user single taps on an organic photo post it display additional information such as photo tags (or in the case of video enables sound). But when an ad is single-tapped it blurs the image and displays an action for the user, i.e Go To Website or Go To App Store.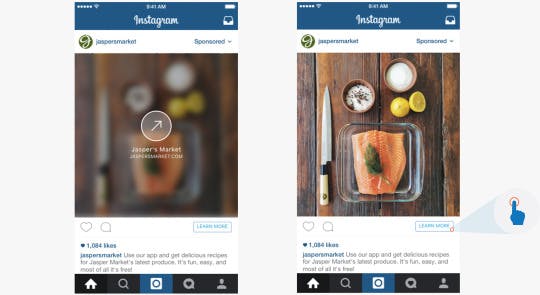 With the update advertisers will be able to provide richer messages including selected information from their Facebook page and display URLs in combination with existing call-to-action buttons.
This further confirms the user's intent, ensuring high-quality traffic and more accurate measurements of campaign success. Results are already encouraging, with businesses trialling the update reporting an increase of 36% return on ad spend.
---