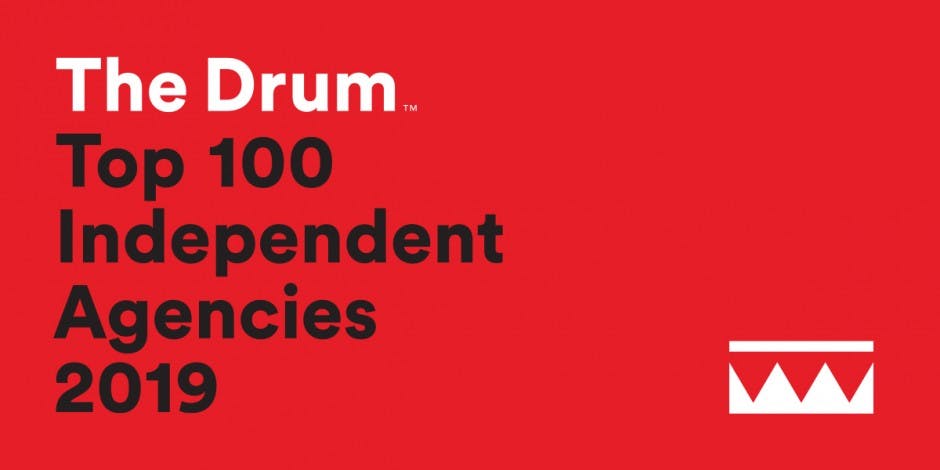 IMPRESSION NAMED IN THE DRUM'S TOP 100 INDEPENDENT AGENCIES
We're delighted to announce that Impression has been listed in The Drum Top 100 Agencies for 2019.
The list celebrates the best-run independent agencies across the UK, based on performance across financial metrics, including turnover, gross profit and overall agency growth. 
With more than 200 agencies participating in the census, we're incredibly proud to have performed well enough to appear in the list. We're even prouder of the fact that we are one of only three agencies in the East Midlands featured! 
It's the third year that Impression has featured in the rankings and our 60th position ranking is our best to date; up 20 places on 2018's showing. This is as a result of our continued growth in both client and financial performance, particularly with the agency landscape becoming increasingly competitive all the time. 
Founder Aaron Dicks, said:
"Appearing in the top 60 UK independent agencies is a real triumph for Impression and is a real testament to the hard work and development of both our organic and paid teams in the past 12 months that have continued to surpass client goals and deliver commercial growth for them as a result.
"Nottingham is becoming a real hotbed of digital marketing excellence and this results shows that you don't necessarily need to be based in London to work with some of the UK's biggest national brands and deliver award winning work. As well as working with brands across the UK and internationally, a big part of our aims for the future will be to invest in the digital marketing skills gap in Nottingham to continue attracting young people to this exciting sector.
"We have a lot of exciting plans for 2020 with the launch of a number of new services in the pipeline, with continued team growth to support this. If you're looking for your next role in digital marketing please get in touch or if you're graduating in 2020, our training scheme is now open for applicants!"
Impression is a multi-award-winning agency that specialises in performance marketing campaigns through owned and earned media. Its team includes experienced SEO, PPC, Digital PR, CRO and analytics professionals and its clients list include global names such as Gill Marine and Cancer Research UK, alongside growing businesses like Cuckooland, Harvey Water Softeners and Giant Bicycles. 
Impression was named the Best Large SEO Agency in Europe and in the UK at the European Search Awards and UK Search Awards. Its team members are regular contributors to conference including Brighton SEO, SMX, MeasureFest and HeroConf and they regularly share best practice on the company blog.
Find out more about our awards, check out our portfolio page and see what events we are speaking at in 2020. 
---