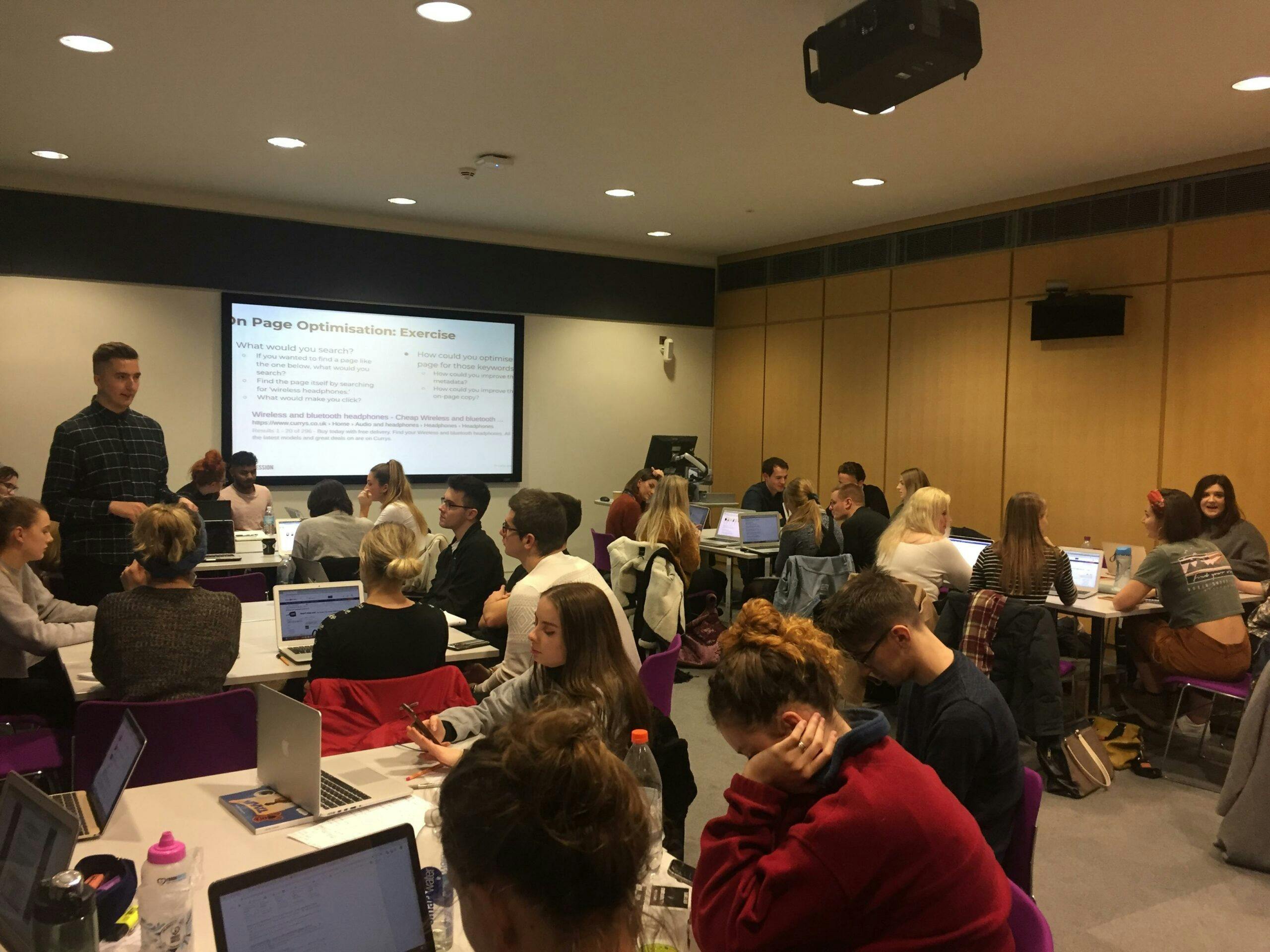 Impression and Nottingham Trent University are joining forces to run the brand-new Digital Marketing 360. The programme kicked off yesterday with a two-hour workshop focusing on SEO and Digital PR, giving students the chance to learn more about digital marketing and get advice about how to enter the field.
The Digital Marketing 360 is a scheme designed to inspire students to learn more about digital marketing, earn relevant qualifications and gain first-hand experience through attending an insight day at Impression's offices. The scheme will involve two talks, one on SEO/Digital PR and the other on PPC, both of which are designed to give students a deeper understanding of what a career in digital marketing might look like. Students are also expected to complete two qualifications in their spare time; the Google Digital Garage and Google Analytics For Beginners. If the students attend one of the talks and complete both of the qualifications before Wednesday 20th March they will be invited to an insight day, where they will complete a series of tasks. Alternatively, students can undertake some relevant work experience or create their own blog for example to also try and gain an insight day at Impression.
Yesterday's event was the first of the talks, focusing on SEO and Digital PR. Hugo Whittaker, SEO Analyst, and George Driscoll, Digital PR Executive, opened the event by discussing their background and how they secured graduate jobs in the field. Neither of them had studied marketing at university, yet their enthusiasm and relevant work experience outside of their studies helped them take their first step into the industry.
Hugo spoke about SEO, focusing on the key differences between paid and organic online visibility. He then introduced students to the three main 'pillars' of organic marketing:
Technical SEO
Content Creation
Link Acquisition
Finally, Hugo spoke about the basic process search engines like Google and Bing use to discover, process and present websites to users.
George then shared his experience of Digital PR and the most important things people should understand before applying to roles in the field. He began by discussing the SEO benefits of acquiring coverage online, touching on link equity and rankings. He then spoke about the different way Digital PRs achieve coverage for their clients, deploying strategies like 'news hacking', surveys and creative content campaigns. He ended his talk by explaining some of his daily activities, such as managing clients, running ideation sessions for new campaigns and liaising with journalists.
Rachael van Oudheusden, founder of PR agency Big Old House, also took part, delivering a fantastic talk on traditional PR practices and offering practical advice for students looking to gain PR experience either in-house or for an agency.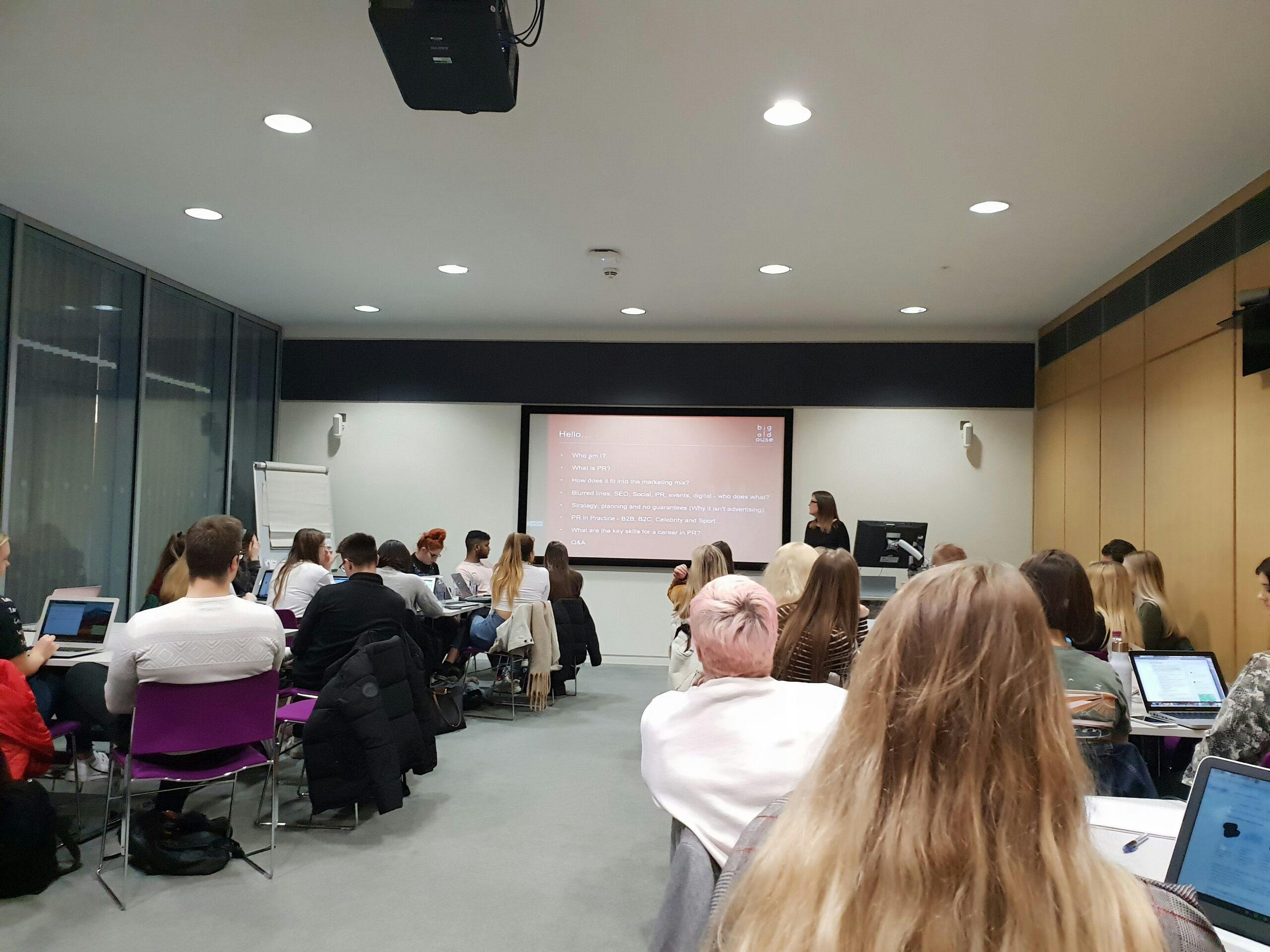 The workshop ended with Impression giving the students an on-page optimisation exercise, where they were asked to think critically about what makes users click through to a website, as well as the things they would expect to find on a website if they were looking to make a purchase.
The event was a great success and students were encouraged to attend the next workshop on PPC, as well as complete the relevant Google qualifications to join the insight day. Students often cite lack of tangible experience in their chosen field as the reason they struggle to start their careers after graduating. The Digital Marketing 360 scheme is just one initiative we are involved in to help local students gain the experience and industry-recognised qualifications they need to become future digital marketers.
---