Google welcomed in the new decade with a string of important updates that SEOs across the world should take note of. On January 13, a Broad Core Algorithm Update was announced, with SERPs across the globe seeing fluctuations. The search engine giant also launched an SOS Alert for searches related to the Coronavirus in an effort to make emergency information from authoritative sites more accessible. Additionally, Google rolled out the de-duplication of URLs in Featured Snippets and announced that it would no longer recognise Data-Vocabulary markup from April 6th.
Google January 2020 Core Update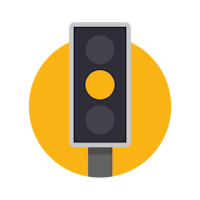 The January 2020 Broad Core Update was announced on January 13th. Because it is a broad core update, it was reported to have impacted all search results on a worldwide scale. A few days later, Danny Sullivan from Google confirmed that this is a global core update. In fact, Sullivan said that all releases (unless stated otherwise) are rolled out globally.
It's a global update. It has (and does always unless we say otherwise) rolled out globally.

— Danny Sullivan (@dannysullivan) January 16, 2020
Third-party data companies, such as RankRanger, observed that YMYL (Your Money, Your Life) sites were hit the worst. According to RankRanger, SEMRush and SearchMetrics, the following niches were hit the worst:
Health & Finance niches
Sports and news
Online communities
Gaming
Arts & Entertainment
As is always the case with broad core algorithm updates, it's important not to panic if your site sees a decrease in rankings and undertake a huge overhaul in your content strategies. We recommend taking time to monitor the performance of your key landing pages over several weeks, and look at what is now ranking ahead of your content and consider how you can provide an even more comprehensive solution for searchers.
Google Launches SOS Alert For Searches Related to Coronavirus
In response to the Coronavirus virus outbreak from Wuhan in China, first reported on the 31st December 2019, Google is activated an SOS alert in the search results in partnership with the World Health Organisation.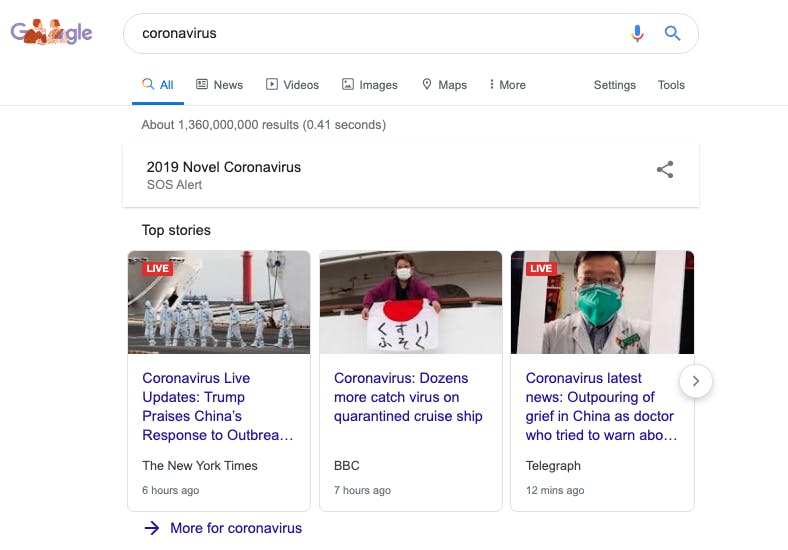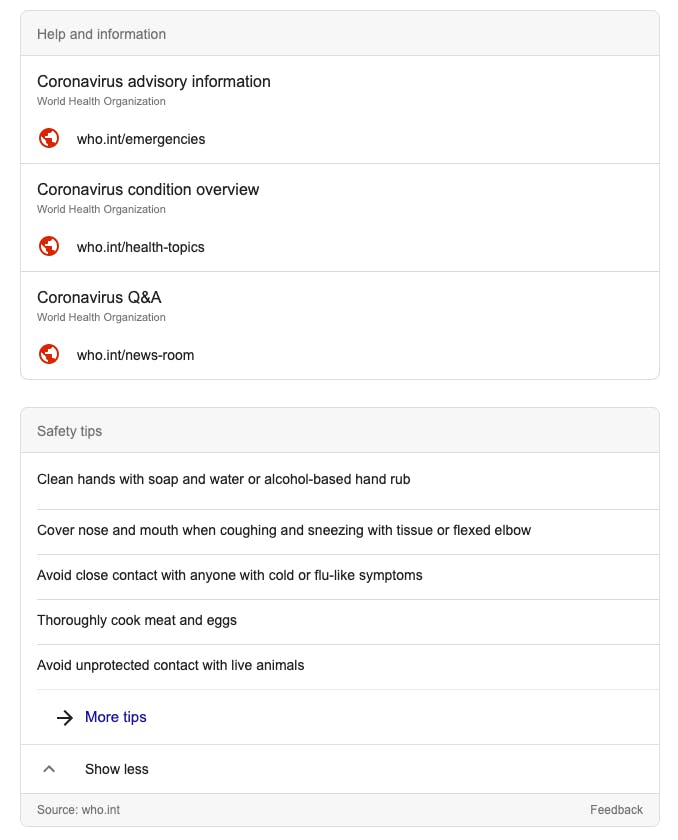 Google launched SOS Alerts back in 2017 with the aim to make emergency information a lot more accessible within the SERPs for users during a natural or human-caused crisis. Google prioritises and aggregates content from authoritative bodies, such as governmental agencies, NGOs and first responders to deliver trusted and accurate alerts to the public. When these SOS alerts are rolled out, the SERPs are completely ad-free to make it easier for users to view the resources and read over any preventative safety tips.
Google is currently showing the same results for the Coronavirus globally, but it notes that results could be more localised in the future if need be.
Google Featured Snippet Deduplication
On January 22nd 2020, Google announced a significant update that de-duplication of URLs across the SERPs. Prior to this, websites were able to rank organically, as well as featured snippet positions. With Google's latest update the only instance that the URL will rank will be the Featured Snippet and counted as the first position on the SERPs.
Further rich results, such as advanced featured snippets with filters, People Also Ask boxes, Top Stories, Image Carousels and local listings are not de-duplicated as of yet.
During this transition in the SERPs, there were minor traffic fluctuations reported across all industries. However, it's worth dating this back within your keyword tracking tools and Google Search Console as a precaution.
Google: Schema Markup Won't Get Any Easier; Will Get Harder
Google spokesperson, and general SEO Wizard, John Mueller said in a recent webmaster hangout video that he believes schema markup will become more difficult in the short-term, not easier. His reasoning was that Google will continue to introduce new types of schema markup for improving a site's visibility in organic search, which presumably will mean new types of formatting the code. He did concede, however, that further down the line machine learning will likely be able to understand schema markup much more easily, perhaps by only needing to read a text file of the markup.
John said "I think in the future, at least in a near-term future, we will have more types of structured data markup and it will continue to to get more complicated probably." Later on in the video he said "But purely from a markup point of view, I don't see this getting any easier unfortunately."
Google To Drop Recognition of Data-Vocabulary
In other schema-related news, Google announced that it will no longer support the data-vocabulary markup for rich results. Instead, Google will only recognise Schema.org from April 6th, saying "with the increasing usage and popularity of Schema.org we decided to focus our development on a single SD scheme."
Websites with data-vocabulary implemented received a warning message on Jan 21st about the deprecation of the schema language. SEOs working on affected sites need to update the schema markup ahead of April 6th to ensure that the site continues to benefit from rich results.
Fortunately, the two schema types are not too dissimilar.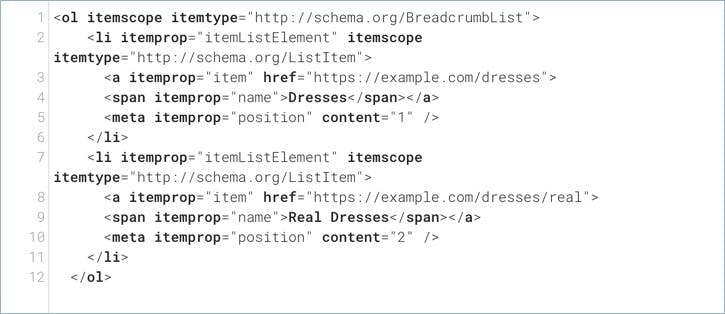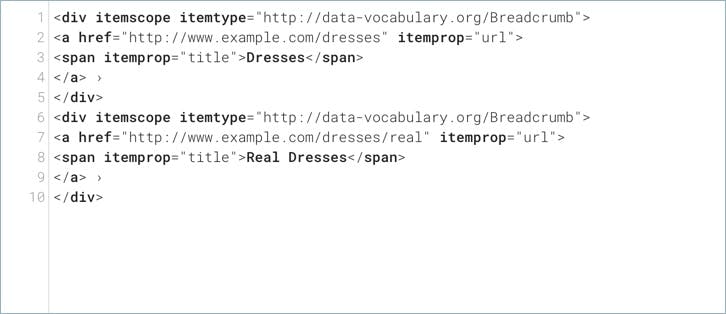 ---