As the year 0f 2019 draws to a close, we have reviewed notable December Google algorithm and SEO industry updates before we enter the next decade. December itself appear to be a relatively quiet month in terms of broad algorithmic updates – we would suspect that this would be the case during the global holiday season. Tracking tools have picked up some fluctuations within the search landscape, but it appears that Google is doing a lot more testing in the SERPs than anything else.
Within this search industry updates article, we'll cover a couple of unconfirmed updates this month, BERT unexpectedly rolling out in 70+ languages, crawl-delay responses from Google and Bing representatives, Google Analytics bug that may affect your reporting and finally testing within rich snippets.
December Algorithm Updates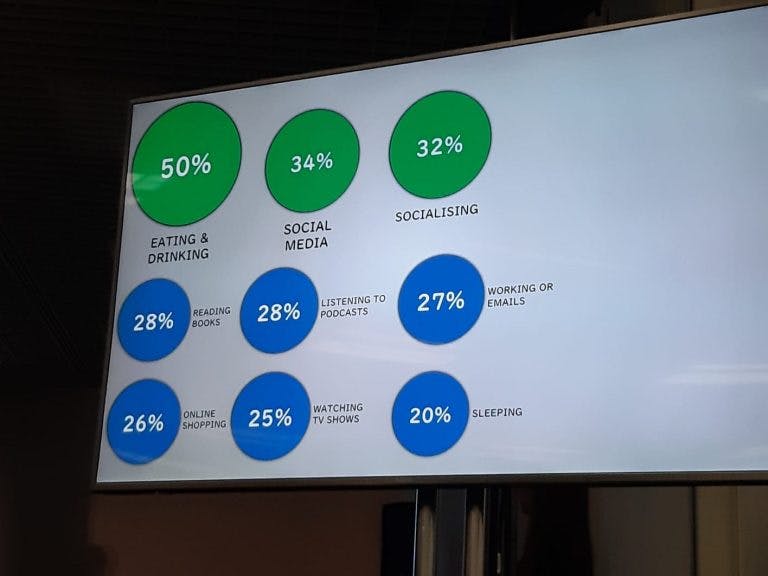 Many tracking tools around December 3rd and 4th flagged spikes within search volatility, particularly within the Arts & Entertainment, News and Sports. Although this is considered an unannounced algorithm update, many websites saw fluctuations during this period. 
Automated tracking signals and industry chatter started on late December 10th through until December 12th predicted an update to be rolling out. Many categories saw a very high range with large tremors on the SERPs, including Computer & Electronics, Finance, News, Online Communities, Sports and many more. Again, this was not confirmed by Google, however, the industry itself saw large fluctuations.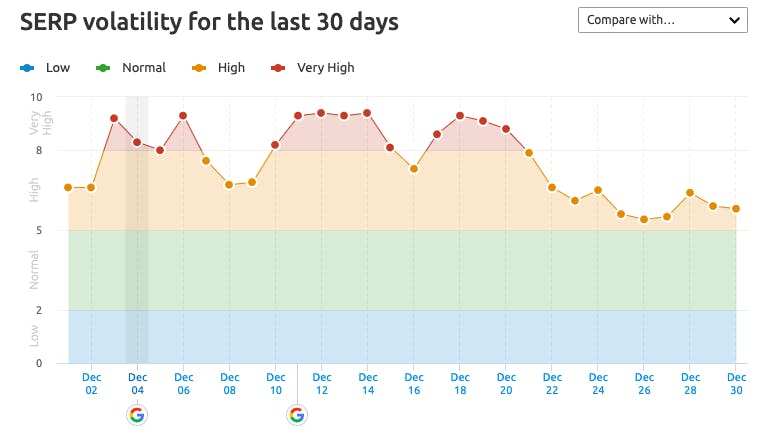 SEMrush Sensor displaying SERP volatility
Industry Updates
BERT Rolling Out In 70+ Languages
Google's BERT algorithm update launch towards the end of October 2019 was rolled out in over 70 languages worldwide on December 10th. This international launch was a lot earlier than expected with John Mueller predicting this would take over 6-months at SMX Paris during November.
It's worth noting that BERT is still only impacting 10% of all search queries, but now over 70 languages. The majority outlines within the Search Liaison tweet below.  
BERT is rolling out for: Afrikaans, Albanian, Amharic, Arabic, Armenian, Azeri, Basque, Belarusian, Bulgarian, Catalan, Chinese (Simplified & Taiwan), Croatian, Czech, Danish, Dutch, English, Estonian, Farsi, Finnish, French, Galician, Georgian, German, Greek, Gujarati…. (MORE)

— Google SearchLiaison (@searchliaison) December 9, 2019
As outlined within our initial BERT algorithm update blog post, you cannot optimise for BERT as such. The most effective solution is to write clearly and create useful content to give both the readers and Googlebot the full context into the contents of the article. 
Crawl-Delay In Robots.txt
On the 12th December, John Mueller helped out a fellow SEO within the industry with a query regarding Google supporting crawl delays in robots.txt. John was quick to confirm that Google has never supported crawl-delay as the "numbers given there tend to be unrealistic for the most part," despite the crawl rate setting still being available in the legacy search console. 
For reference, crawl-rate determines the amount of time taken between separate requests that bots make towards your website, in turn suggesting how long it'll take to crawl your site. By having a crawl-delay setting, this will allow you to suggest to certain crawlers, such as Google, Bing, Yandex, how long to wait between distinct requests.
The same thread saw Bing's Web Ranking PM Lead, Frédéric Dubut, state that Bingbot does indeed support crawl-delay.
Google Analytics Bug
During December 12th many digital marketers reported Google Analytics reporting to display signals of it being 'broken' and not presenting accurate and fresh data. Search Engine Land reported that during the period of December 8th and December 13th, Google Discover impression and clicks may have not been reported on corrected, and as a result likely to see a data drop in the Performance report over this period. 
Google announced on Monday 16th that the issue had been solved, and going forward you should not see this issue after the 13th of December. 
Featured Snippet Testing
Recent SERP landscapes are showing that Google is testing out a new featured snippet section titled See What Others Say". Emily Perry queried this new feature when searching for 'testing for allergies'. 
@rustybrick have you ever seen a featured snippet with the "see what others say" drop downs before? query is "testing for allergies" i'm seeing this, then PAA boxes, then organic listings. "see what others say" wasn't present in serps for this query yesterday, so it's new/a test. pic.twitter.com/mo5ZXOTbph

— Emily Perry (@emilyatsylvane) December 17, 2019
This is an interesting test as at current, Google only displays one primary source for a featured snippet. The test shows that Google is reviewing providing the user with various relevant sources to consider more useful for their query. Only a few users once tested have been able to view this within the SERPs, but this is definitely something to look out for and is likely to be helpful for different landscapes.
Have we missed anything out during December? Let us know in the comments.
Read further algorithmic updates from the team, or get in touch with our team of specialists today.  
---