Have you ever been told that content is king? In fact, I know you have and you're pretty sick of it, right? Because let's face it, it's a lazy statement. I'm going to be talking about content with purpose, content with hustle. Whether you're a brand or a business, the content you're producing needs to have an aim on a more personal level which comes before how you plan on displaying this content in front of an audience.
What is 'good content'?
Let's start with the basics. Dan Barker currently hosts #ecomchat on Twitter and one of these sessions involved discussing "What is 'good content'?" These were some of the best answers:
Content that…
Answers questions

Is visible at the right point in the user journey

Aids navigation

Encourages users to stay on site

Matches brand ethos

Informs or entertains

Removes doubt

Can be scaled

Is readable across devices

Is delivered quickly
We create 'good content' (in fact, we create great content!) for a range of clients across a variety of sectors and for a number of purposes. We've identified 4 common 'content roles'; by selecting the 'role' your content will have prior to even starting to plan what that content is, you'll be able to make better assessments of the content ideas you have and to promote it more effectively too.
The Content Roles
The Playmaker
The playmaker is one of my favourite roles. Why? Because no-one really appreciates it until they analyse the process. Everyone likes the idea of it but they fail to see how it will work, however the playmaker role is one of the roles which can easily be tracked and monitored for ROI.
Content which can be classified as a 'playmaker' has the aim of assisting with conversions on your website. The format of this content can vary – anything from videos to tools to guides that help your customers make a decision or complete a purchase. The playmaker has 3 objectives:
Assist the customer in their purchase consideration

Make the proposition of the product/service that it promotes appeal to the target audience

Play a vital role in the customer journey
One my favourite pieces of playmaker content is eBay's selling hub. The eBay hub contains content to promote the benefits of selling your items on eBay, and they have used real eBay users to explain their journey of selling through eBay (I see you, influencer).

Another example of playmaker content from eBay is their piece on the average value of unwanted items in the home. They have collated the average price of items around the home that are sold on eBay and presented this within the hub area, providing users with an interesting piece of content to read but also inspiring them into action – perhaps they too have £4,000 of unwanted items they can sell on eBay…
eBay could improve this by interlinking the areas of the hub to the category pages (e.g home furniture, garden & patio), which would not only help the user experience but would also improve the crawling of the website and the keyword relation, but nonetheless these are excellent examples of playmaker content that has the specific purpose, or role, of inspiring potential customers to action.
The Crowd pleaser
In the age of media 'going viral', the crowd pleaser role is a popular option for most brand/companies when it comes to content marketing. But many fail to create successful crowd pleaser content and this is mainly due to a misconception that certain types of content are more likely to please the crowds than others and simply producing content in that format and expecting it to do well. Infographics do not always equal success!
Crowd pleaser content has 3 main objectives:
Entertaining the target audience whilst following the brand ethos

Appealing to websites that cover the content topic

Building brand awareness through online publications and social media
Concert Hotels execute crowd pleaser content really well because they create content that aligns perfectly with their offering and their brand. Their recently published 'Got Rhythm' piece is such a simple idea which has performed really well and gained over 50,000 shares across social media. They have also previously created 'The world's greatest singers' (which gained 203 root domain links) along with being suited for promotion across social media which can be seen on facebook for targeted content promotion.
The crowd pleaser role is more focused towards brand awareness rather than being the driving force for conversions.
The Influencer
The influencer role is a CEO's best friend, because it's essentially selling the service or product to your audience, and goes back to the roots of traditional marketing. The influencer's main role is to highlight the benefits of the audience using the product or service and has 3 main objectives:
Promoting the service/product to the target audience

Building trust with your audience and promoting the benefits of the service/product

Direct visitors to pages within the website
It's important that content taking the influencer role should be authentic and not try to portray a level of expertise you don't have or pass off the ideas of another as your own. You'll be trying to catch eyeballs and the internet audience with this content and, in the age of social click bait, they are able to spot duds easily.
One of my favourite pieces of content that fits within the influencer role is AirBnB's economic impact piece, where they've focused on creating content which shows how their service is working for the greater good, thus influencing people to want to buy from them. 
The piece displays AirBnB's positive contribution to cities around the world. They highlight this by sharing data (I see you, researcher) of spending trends. AirBnB have built out this campaign by analysing 12 different areas and creating a page dedicated to the economic impact of each one.
Now, the great thing that AirBnB has done, which eBay didn't in their previously discussed content piece, is the internal linking factor. On each economic impact page, they have internally linked towards each neighbourhood page on the AirBnB website. You're the real MVP, AirBnB.
The Researcher
The researcher role aims to educate the audience on a topic related to the brand or business. This role also focuses on appealing to authors and influential people who will appreciate interesting research and new and exciting information. The 3 main objectives of the researcher role are:
Displaying new information which is easy to analyse

Appealing to Authors within the industry

Combining your offering with the research

Hotpads, an apartment rental business, created a great piece on how the length of a commute affects rental prices. In this piece, they worked which city residents pay the highest and the lowest prices for their commutes. Hotpads have focused on a core part of their business with rental prices, and looked towards educating their audience on the impact of this.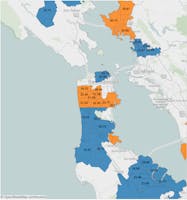 This research is a digital marketeer's dream as they can promote this to city websites that are featured in this piece, as shown by Curbed Los Angeles covering the content with it's own unique subject. This could be easily promoted to Philadelphia online media to highlight the price difference for people commuting in the area.
Summary
A great thing about these roles is that they can combine with each other which allows the marketeer to focus on more than one objective. Content marketing has become one of the most discussed topics in the digital marketing, but it should not be done for the sake of it. Deciding on content objectives is critical for the ROI of content marketing and these roles help the marketeer focus on authentic methods and real stories that companies and brands are able to share online with their audience. For further reading, there are loads more guides outlaying content marketing in four steps, even Forbes is now getting on board, but as mentioned above we'd recommend checking out whether it's right for your business, Moz's guide is good for this. 
---