'Years to make, moments to break'; the cliche holds true in all the most high-profile, schadenfreude-inducing cases of company reputation disasters (think Ratners, BP Deepwater Horizon, horsemeat scandals and many more). For most businesses though, the danger of reputation damage lies in months or years spent neglecting the simple things, online or offline. Like a frog in a pan of boiling water.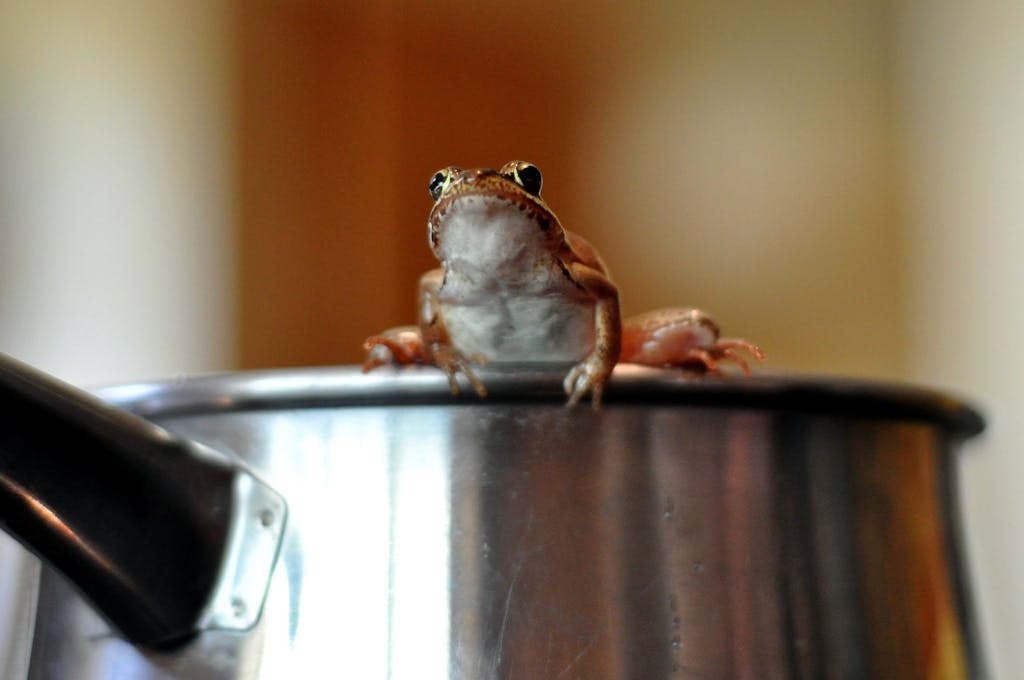 (Flickr/ James Lee)
With Google's focus on consumer sentiment cranking up when it comes to ranking factors, online reputation management can't be overlooked either. Turn your back for a second, and (maybe) nothing will go wrong, but turn it for too long, and you could find yourself scratching your head, wondering where all the leads have gone.
So consider this post a starting point; a quick checklist of the essential bits to help your business understand, improve and then maintain its company reputation.
Monitor and measure – know where you are (and where you want to be)
Find out how and where people are already talking about your business online. Doing this will help you to understand what state your reputation is in right now. There might be very little being said, or there might be plenty, but it's important to know where you stand.
Good tools for this include Gorkana, Hootsuite, Majestic, Meltwater and Mention – there's no one right choice, it all comes down to your needs (and your budget). If you're a small business owner or in the early stages of reputation management, opting for a combination of Mention email alerts, Hootsuite streams and online might give you everything you need initially to find historical mentions and then catch new ones as they appear.
Once you know how people are currently talking about you, you can set out your plans for improving or maintaining your company's reputation. To get the best results, split your aims out to include actionable steps and measurements of success. 
Take the lead (for better or worse)
Acknowledge any failings, and respond fairly to unfair criticism
Dealing with criticism is never easy, but if your firm's made mistakes in the past and has taken a hit to its company reputation as a result, the best way to repair the damage (and draw a line under it) is to acknowledge the issue head on as soon as you can. Make it clear how you've put things right and learned lessons, and how your business is now better for it. If you believe any criticism of your business is unfair, from a negative news story or tweet to a 1-star Google review, responding with a fair but firm defence will show how you're always willing to engage with your audience.
Be proactive with your positive news
The best way to ensure your company is being talked about positively is to lead the news agenda and get your good news out there for your customers to read. Don't wait for journalists to come to you. From the blogs you write or social updates you post to the press releases, features and interviews you write or line up, blow your own trumpet.
Prepare for the worst
Does the nature of your business warrant a crisis comms strategy? Before you answer that, take a good look again at your business, your supply-chain and any potential risk factors or scenarios, internally or externally, that could inadvertently cause your reputation harm. There's probably at least one that gives you pause for thought. No need to overdo it, but just consider the possible things that could go wrong, then make a plan for how best to communicate with your stakeholders to protect your reputation should the worst happen.
Crisis comms essentials
Pre-prepared holding statements for different audiences

Regular, proactive media communication – don't hide away

Have an agreed spokesperson, briefed in advance.

(Flickr/ SparkCBC)
Build your trust signals and local SEO
Especially important if you're running an ecommerce business, but any firm can benefit from implementing extra trust signals on its website. Together, they validate your business, boost your local SEO and make ecommerce customers more likely to convert on your site.
Five essentials to consider:
Blog
Unless you put it to good use, a blog is just taking up valuable real estate. A badly executed one could even be doing your reputation damage. So make a plan, build your editorial calendar and then stick to it. Please! Regular posts around your business's areas of expertise build trust in your company and help to widen the sales funnel. They can also provide extra PR opportunities and improve your company's local search visibility. My guide to growing a company blog has some more pointers to getting this going.
Imagery
For your customers, whether they're visiting your website, engaging with your through social or reading about you in the news, what they see is just as important for your reputation as what they're reading. A good image can even make the difference between PR success or failure. Spend the money to get professional shots of your team, your site and your products or services. Then give them prominence on your site, especially on conversion pages.
Reviews
Google reviews, TripAdvisor, Reviews.co.uk; TrustedShops; there are plenty of reputable peer review platforms to choose from. The right ones to choose depend on the nature of your business. Google reviews especially make a difference if you want your business to be found locally through Google. You can even create custom URLs to share with your customers through social or email marketing which take them straight to your Google reviews page (this great guide talks you through the process).
Local phone number and contact details
Wherever you're based, get that local area code on the homepage and your contact page. It proves you're based where you claim you are – good for business, good for reputation and good for local SEO; none of those old school 'black hat' doorway pages.
Google My Business
Check that your Google My Business profile is complete, then keep it regularly updated with company details, opening hours and good photography, to get your Knowledge Graph appearing as strongly as possible in the search results (see below). Linked up to your Google reviews, this is a powerful extra mark of validity.
Further reading
To help you decide where to focus your efforts when it comes to local SEO, check out Impression's Petar Jovetic's recent post for BrightLocal five local SEO tactics you need to stop doing today.
---