LADbible's Head of Comms, Peter Heneghan discussed how we can avoid 'zombified' content and also how PRs can best work with large social publishers like LADbible.
Some quick intro points included telling the audience that Joyride is LADbible's in-house agency and they've won the Cannes Lion Grand Prix for PR and are now reaching more than 1 in 2 millennials in the UK on Facebook. Absolutely huge flex from Peter but ok.
Peter describes the current state of storytelling and media and being entangled in a 'crazy web of influence' as you can in the image below. Peter warned the audience that the rise of social publishers is only going to continue and the audience needs to understand how to work with them. Objectively, as Head of Comms at social publisher: LADbible he probably would say they are on the rise, nonetheless I think it's an area many PRs aren't as versed in as they could be.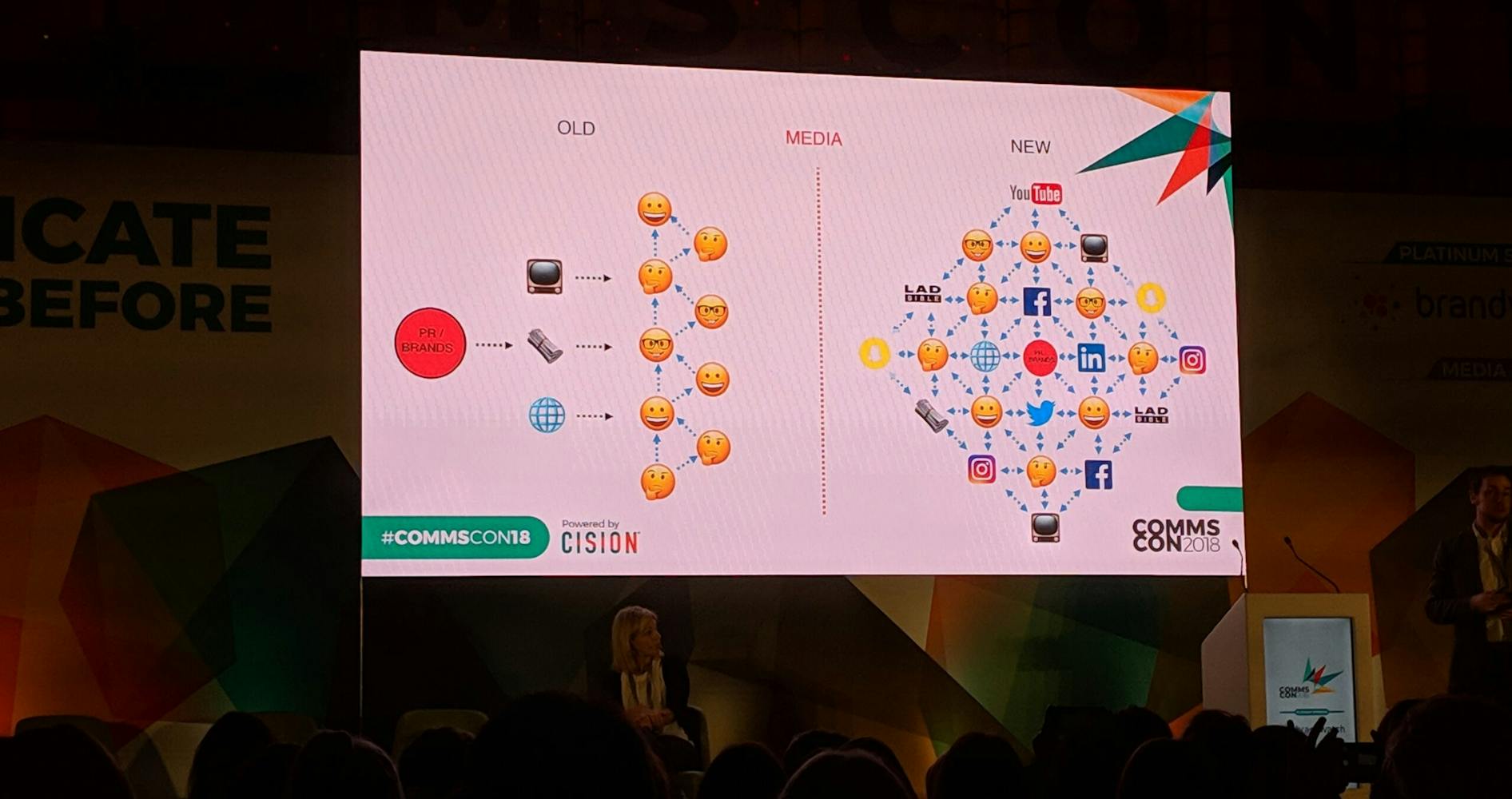 Continuing his warnings, Peter discussed how the industry of communicators is lagging behind, especially on video storytelling, a core component of their Facebook strategy. Social publishers are stuned into the algorithm and utilising data science to find out what people care most about, then create that content. Many audience questions at the end asked how LADbible had moved away from it's previous content 6 years ago, which did include content that was perceived as sexist and out of touch.
LADbible are now more concentrated on social issues than ever as young people care a lot about mental health, politics and the environment. They have evolved with the generation to allow for more social change, and this is something they encourage PRs to focus on in their campaigns. As to how you test whether your idea is a good one, LADbible are a strong advocate of the age old pub test – would you talk about this campaign down the pub?
In comes, the Trash Isles campaign. This saw LADbible team up with their creative agency AMV BBDO and charity: Plastic Oceans. They wanted to encourage people to become part of the experience which was achieved through people becoming citizens of their new fake country, as well as getting a whole host of celebs to get behind it. The things they state people can takeaway from this success at any level of campaign is the following:
Have a creative idea for the social good.
Use a respected publisher with mass scale and reach to get the story out.
Work with an enabler, brand or respected expert.
---