One of our core values is to make a positive impact every day.
That means many things; we deliver positive impacts to our clients' bottom lines, we make a positive difference to our colleagues by providing training and support, we do good for the environment by recycling, and we do a lot of charity work to give back to causes that really need it.
When we found out about the Penguin Awards, we loved the tongue-in-cheek approach to raising money for a good cause and, of course, we wanted to get involved!
That's why we're proud to sponsor the Penguin Awards 2019. In doing so, we've donated £500 to Martin House Hospice to sponsor our own award category Best Beard in the Digital Industry.
The Penguin Awards are intended to be a bit of fun in an industry where awards are rife and, as you'll see from the awards categories, no one's taking themselves too seriously here. But the support of charities like Martin House is serious.
You can support the charity too, by entering the awards; entries are £10 each. Last year, the Penguin Awards raised £10,000 and this year, they aim to double that.
Good luck everyone! Find out more about the Penguin Awards here: https://www.penguinawards.com/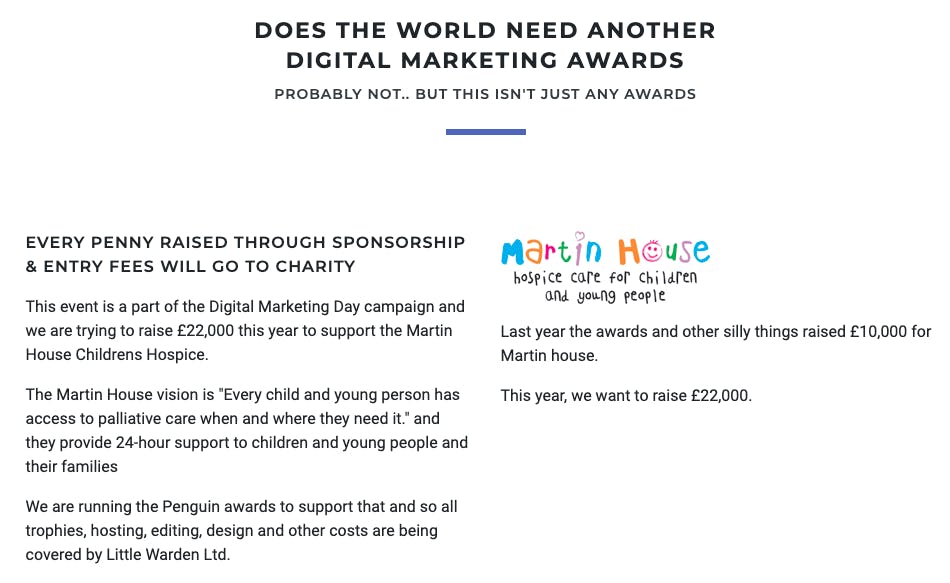 ---