"Use machine learning for data heavy lifting in order to increase efficiency at multiple stages of the outreach lifecycle. Gareth will share how his agency is scaling their outreach activities, allowing them to have more conversations with the right people, and ultimately win more links. All of this is already possible with readily-available technologies: most of these tactics aren't as far-fetched as you might think…"
Read more about Gareth on the Brighton SEO site here.
Gareth Simpson is co-founder of Seeker Digital, an outreach, linkbuilding and Digital PR agency who focus on campaigns. Follow him on Twitter here.
Gareth says they have been using these AI technologies themselves to automate their outreach process at Seeker Digital, so wants to share some top tips.
What is machine learning?
Machine learning makes data more accessible. What is it specifically?
It is the simplest form of AI
the best type of machine learning is supervised machine learning
this can be implemented across a variety of disciplines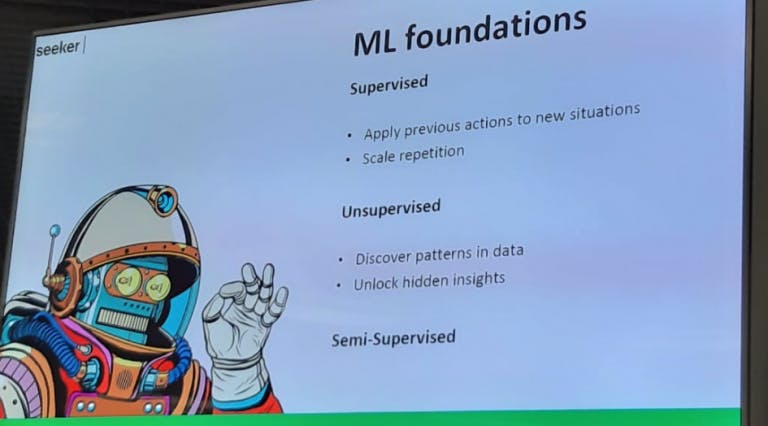 What can supervised machine learning do?
ML helps us to classify data
Understand information embedded within it without a human looking at it
Once we've done that, we can then take the next action
Perform actions without instruction
We can use it to improve its own performance
A basic example is from Facebook: the alt attribute. Facebook uses machine learning to identify what is in an image
So as content marketers and outreach specialists, how can we apply this to our own work?
within the industry as a whole: the google assistant uses ML through use of a voice interface
this conversational technology – so how can we implement this into outreach?
Firstly what are the barriers?
with ML, often the assumptions are incorrect
there is a resistance in society and how it fits in
it raises ethical questions
The key point to remember here is that transparency is key.
One thing he'd really like to champion is that we don't want to go fully automatic – outreach is still about relationships and human interaction. However, we can use this to speed up the work that we do.
The outreach process
The outreach process at Seeker looks like this: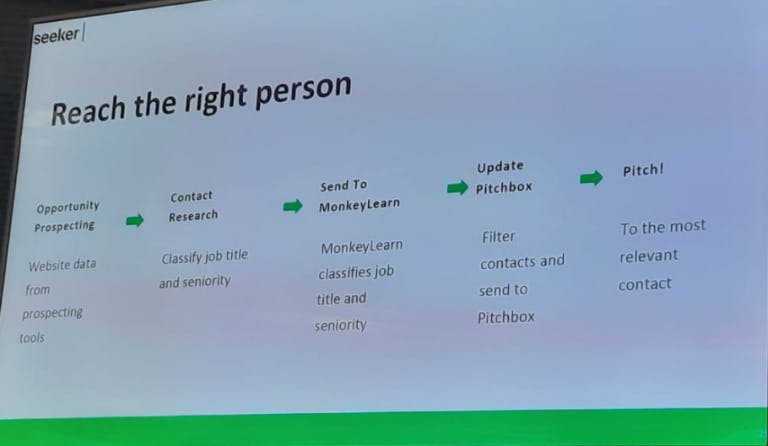 However, claims Gareth, doing this at scale means the following issues:
sometimes low quality
speed inefficient
unfulfilling work for employees
limited insight
How does AI tech help us reach new heights?
So using an AI solution within this process actually allows:
automation of repetitive tasks
can emulate human decision
content classification
helps us to concentrate on the human interactions
What does it look like and how does it work?
There are a variety of platforms that you can gather data from to use within their Machine learning, including PitchBox which Seeker use for their outreach purposes. Once you have the data, you need to then take a few steps.
1.Data
Firstly, we take the data. This might include emails or SEO data from a variety of SEO tools that we use on a daily basis. Whatever tools you use within your agency, you can take the data from within it. The data can also be taken from social media.
2. Process
Secondly, we need to process the data. We can put it through ML models that already exist and text codifiers. This analyses the semantics behind your data.
3. Output
Finally, the output. This includes improvements, actions and routing.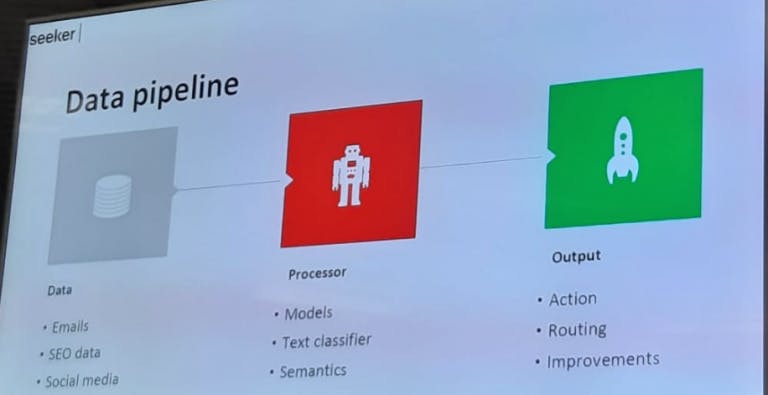 What does the supervised ML process look like?
Firstly, you first need to train the data. The process of training data looks like this:
human processed data
features and tags
good data in > good data out
refine over time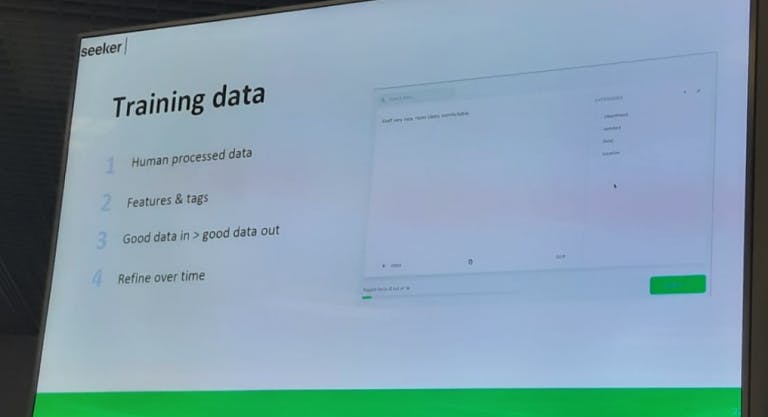 For example, you can train model using email conversations
classify inbound email and route to team member
there are a variety of tools and platforms you can use here to train your data
Contact filtering and enrichment
You can use machine learning to filter contacts and enrich your database.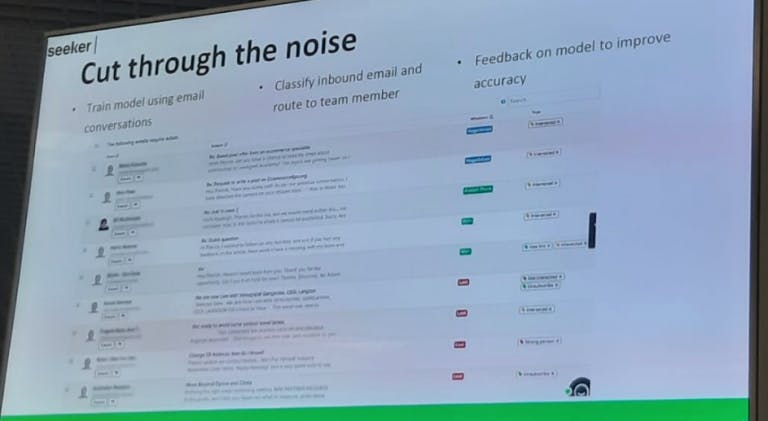 #JournoRequest
You can use ML to classify data on journorequest. As we know, journorequest is a powerful tool in outreach, however filtering the data takes so long because there is too much. Using text classification, using prebuilt ML models, Seeker now have tags and filters which are connected to their keywords which are relevant to their clients.
You can apply this to response source, HARO and Talkwalker alerts as well.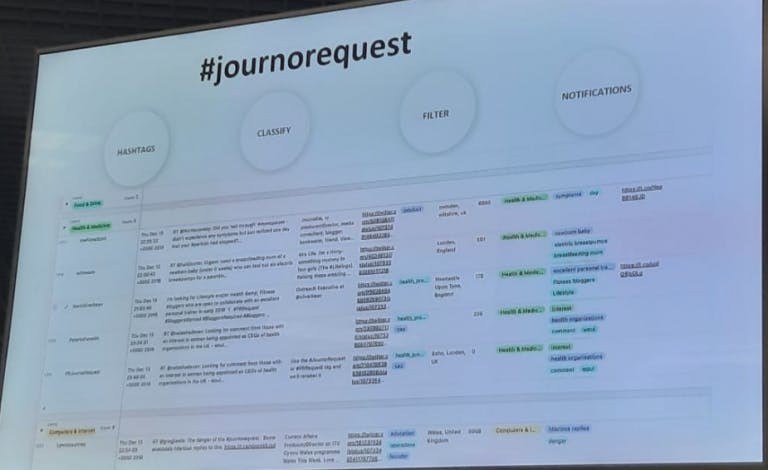 Pitch optimisation
They use a tool call phrasee– this uses ML to write better subject lines based on whats popular, learning from previous campaigns.
This is the future
There are many grassroots applications – not just for the big tech companies
There is exponential growth in this area
It will give you a competitive edge in your campaigns
---