After Microsoft bought LinkedIn in June 2016, there was much speculation in the Digital Marketing community of if and how, Microsoft would incorporate this wealth of data into their search advertising platform, Bing Ads.
With the war between Google Ads, and Bing Ads very much ongoing, it was thought that this $26 Billion acquisition would put Bing on the front foot in terms of targeting capabilities. Adding this tool to Bing Ads arsenal would also allow them to separate themselves from being a alternative to Google, and provide a valuable unique selling point.
A little over 2 years after the deal, there was a sign that this was becoming a reality. Earlier this year, Microsoft's David Pann announced that there would be an incorporation of LinkedIn's powerful B2B targeting capabilities into the Bing Ads platform, it has now materialised and (for me at least) is present in the platform.
This targeting comes in the form of LinkedIn Profile Targeting.
How Does It Work?
This feature can be found under the Demographics tab in Bing Ads. For the time being it features three targeting capabilities; Company, Industry, and Job Function.  

The data is sourced from the database of LinkedIn accounts, and is matched to the data shared by the user. In this case matching the company, industry, and job function data a user shares to the LinkedIn platform.
So if you were to run a search campaign with the intention of targeting HR workings in a particular industry. This targeting method allows for a higher bid to be applied to those users using both the Job Function, and Industry tabs within Demographics.
Targeting Options
Company

Allows you to target the employees of over 80,000 companies.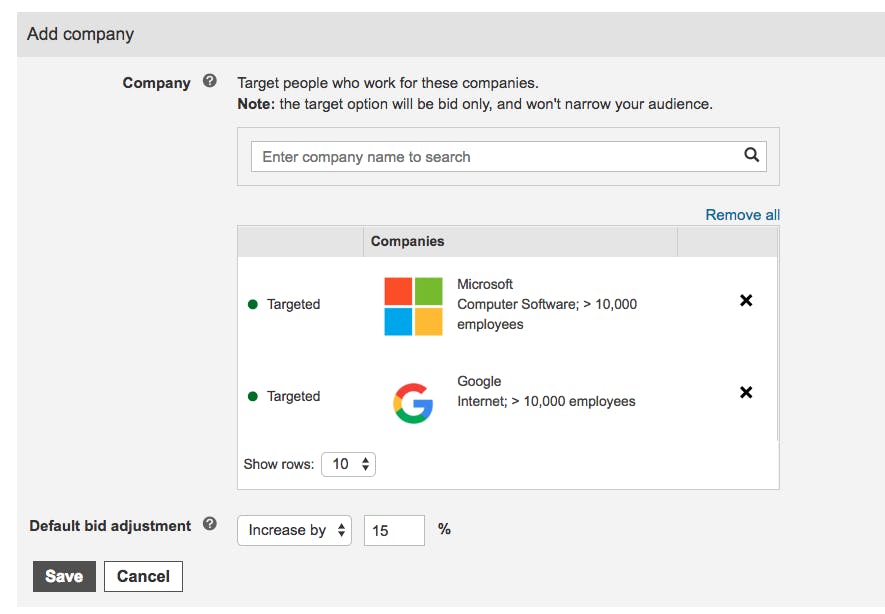 Industry

145 Industries. Including Marketing & Advertising, Financial Services, and Higher Education.
Job Function

There are 26 Job Functions to target such as the ones should below.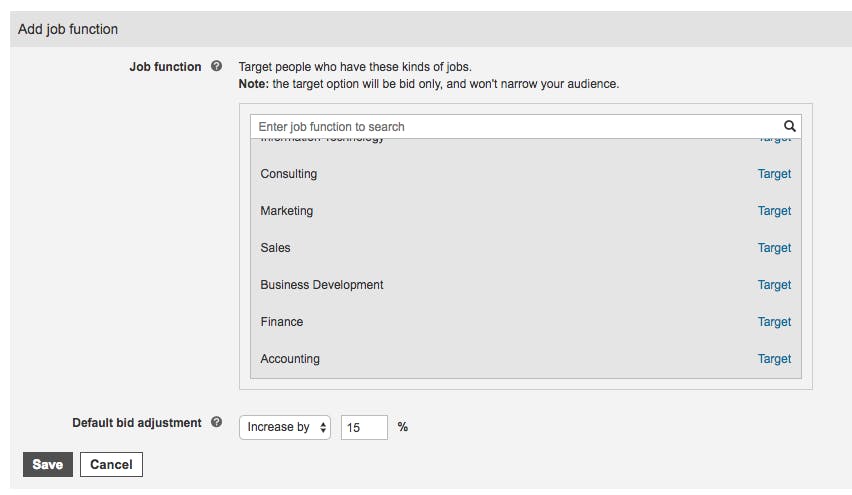 As you can see this functionality offers powerful targeting capabilities that incorporates some of LinkedIn more desirable features.
This addition to Bing Ads is particularly appealing, as it allows for the benefits of LinkedIn targeting at a highly reduced CPC, compared to the notoriously high costs of LinkedIn Ads.
The Demographic targeting can be applied at Campaign, and Ad Group level. For the time being this targeting option only supports Bid Only, so will not narrow your audience, but increase your bid for users who match the targeting.
The targeting can also be applied to all of the Bing Ads campaign types; Search, Shopping, Dynamic Search Ads, and Audience Specific campaigns.
Limitations
Although we welcome unique functionality like this for the Bing Ads platform, there are some notable limitations with LinkedIn Profile Targeting.
Job Function not Job Title?
Fans of LinkedIn Ads targeting capabilities will be fully aware of the power that comes with being able to target specific people within a company or industry
The option of targeting a CMO within an industry or company, will likely deliver more granular results than targeting the job function, Marketing.    
Due to this, we were a little disappointed that this functionality is not included with Profile Targeting on Bing Ads.
Only, Bid Only
Fans of broad keyword targeting, and Targeted strategies to narrow your audience, will have been disappointed to see that the LinkedIn Profile Targeting currently only supports Bid Only.
It is likely that this option will be supported later down the road, and is something that a lot of digital marketers will be keen to see in the platform. The ability to exclude Industries, or Job Functions would also be a desired addition to the targeting options.
LinkedIn Data
The last point here relates to the data that is used to inform the targeting. As this data is based on the information users upload to their LinkedIn Profiles. This data is only as accurate as the data that is supplied.
This is a clear distinction to targeting such as In-Market audiences, or Intent Audiences, which uses data supplied by users, such as search queries, but is coupled with advanced algorithms to analyse and group this data.
Although this feature is currently in closed beta testing, if you're interested in getting this functionality for your business's Bing Ads account, contact your Bing Ads representative, or Bing Agency Partner, such as Impression.
---