Good SEO tools can streamline almost every aspect of a digital marketer's daily activity, from technical performance analysis, to keyword ranking, to backlink audits.
It's not surprising that these tools are plentiful, given the sheer number of niches that need filling. But if you have a limited digital marketing budget, how do you decide which tools to invest in?
Impression is in the fortunate position of having the resources to invest in multiple SEO tools that do similar things. One of the areas in which we have the biggest tool overlap is on-page SEO. Specifically, these are tools that help us to assess a site's ranking performance and identify opportunities for growth.
The point of this post is to help you make that decision by comparing the three on-page research tools that Impression invests in: Moz Keyword Explorer (part of the Moz Pro package), Ahrefs and SEMRush. In theory, any one of these tools has the functionality to be your primary SEO software investment. I'm going to compare them based on how well they achieve site performance analysis, keyword research and competitor analysis to help you decide where to spend your money.
Why these three tools?
Ahrefs, Moz and SEMRush are all leading SEO software creators. You may have come across them before in your research or digital marketing activity. Each one has the ability to do (at least) the following three things:
Assess a site's current SEO performance with a number of metrics
Provide a platform for keyword research
Provide insight into the backlinks pointing to a site
I'm going to focus on the first two points in this blog post. Backlink auditing is an important and powerful part of these tools' capabilities but a proper treatment of their usefulness in this area deserves a full blog post of its own.
All three of these tools are respected across the SEO industry, used by agencies and in-house teams to make some of the most successful digital marketing activities possible. It's fair to say that any one of these tools would be a good investment if you have the budget.
Finally, I've chosen these tools because they're three that we have invested in for years. In my time at Impression I've used all of them on multiple occasions, as have the rest of the SEO team. It's this experience that lets me comment on how useful I've found them all and where their strengths and weaknesses lie.
Site performance
Each one of these tools lets you enter any website you like and see stats for their organic performance. In Ahrefs and SEMRush you can see headline keyword metrics alongside backlink metrics, whilst Moz splits these two areas into their Keyword Explorer and Link Explorer. I'm using the Keyword Explorer for the purposes of this analysis.
I've also chosen one of my favourite high street retailers, Waterstones, as the site that I'm inputting across these tools. The fact that I can do this highlights one of the strengths of all three: they're not limited to the sites you own.
Ahrefs
Ahrefs' main site performance dashboard is full of information but easy enough to navigate, with helpful info symbols that explain the different metrics when hovered over.
From the dashboard, it's easy to navigate to the tool's keyword and backlink reports, which contain much more data. However, another useful feature on the main dashboard is the graphs. One of these in particular – the keyword keywords graph – is especially helpful.
It's easy to see the trend in the site's performance, along with a clear break down of how they're ranking keywords have shifted. Toggling off the lower positions is a great way to see how the top ranking keywords have changed over time. This graph is normally the first place I look if I want to get an overview of a site's organic health.
The organic keywords report is the place to go for more granular performance data. I like to exclude the brand name with the filter so that the site's performance for more competitive keywords comes through more clearly.

Ahrefs' filters are easy to use and incredibly helpful. These, coupled with their clear data presentation, mean that performance research through the tool is quick. The only issue I have with it is the repetition of keywords for which multiple pages from the same site rank. This feature isn't pointless, but I find that it obscures the more useful information a lot of the time.
Moz
The Keyword Explorer's summary page is more streamlined than the other tools we're looking at because the backlink data is kept separate. The Top Positions box is a highlight here, showing at a glance how many keywords the site has in high-value organic positions.
Moz's Keyword Explorer falls behind Ahrefs and SEMRush in the lack of trend visualisation. The one graph that's readily available shows the distribution of ranking positions; there is no way to see ranking trends over time.
Moz's keyword data is as clearly presented as everything else but isn't quite as useful as the other tools. They present their keyword volume in ranges rather than absolute values, which may make it more accurate in a broad sense, but also makes it harder to compare keywords directly. 2.9k-4.3k monthly searches is a reasonably narrow range, but 300k to 1.5m is too broad to be truly useful in most circumstances. They have reasons for this but if you want to be able to collate data to compare and contrast quickly, it's not as helpful.
SEMRush
The SEMRush dashboard is similar to Ahrefs', presenting both organic search information and backlink information in an accessible panel. Paid performance is more prominent on SEMRush than Ahrefs, as it markets itself as a complete digital marketing tool.
SEMRush's organic keywords trend graph, visible in full detail in the organic performance tab, is the most useful graph across all three tools. The data it presents is similar to Ahrefs, but the addition of Google algorithm update markers makes it easier to identify possible causes for rises and falls in performance.
The verdict
Ahrefs and SEMRush are very similar in the site performance data they give and both provide more details than Moz. I find it easier to get the data I need on Ahrefs and a quick poll of others in our SEO and business development teams showed the same inclination. When the functionality is nearly identical, as with SEMRush and Ahrefs, personal preference is the only way I can choose between them.
Keyword research
Before jumping into the tools' keyword research capabilities I want to make a quick note on keyword volume accuracy. This post is not intended to compare the tools' accuracy in detail but the issue can't be ignored.
In short, the keyword volume that each tool gives for a range of keywords will be different. Sometimes the differences are negligible; other times they're significant. Rather than explaining everything myself, I thought I would link to a handful of blog posts from the providers themselves regarding their keyword volume calculations:
In my experience, Ahrefs' keyword data is the most useful and accurate. But, even if the exact figure isn't 100% accurate, all the tools are well-suited to comparing the relative opportunity for new keywords.
To compare the tools further, I'm going to continue with the Waterstones theme by using 'books' as the starting point for my keyword research.
Moz
The Moz Keyword Explorer boasts some of the most interesting features of the three tools. The first, shown in the main keyword overview, is the priority score. This is a score between 0 and 100 that aggregates the information from the other three metrics and spits out one easily digestible number. If you're dealing with a lot of keywords in one go and don't know where to start, the priority score is a great indicator.

Moz's keyword overview is good, but the real gold is in the keyword suggestions portion of the tool. Moz has filtering options that differ significantly from Ahrefs and SEMRush, making it one of the best tools out there for topical research.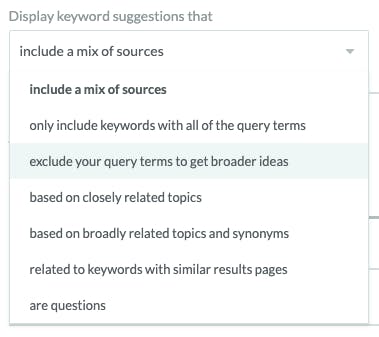 First up is the option to filter the tool's keyword ideas (generated from the seed keyword) based on lexical content. You can see phrases that only include the seed keyword, that don't include it at all, that have similar results pages, are based on similar topics, and more. Depending on the goal of your research – whether you're looking for broad ideas or similar keyword variants – you can tweak the ideas you see.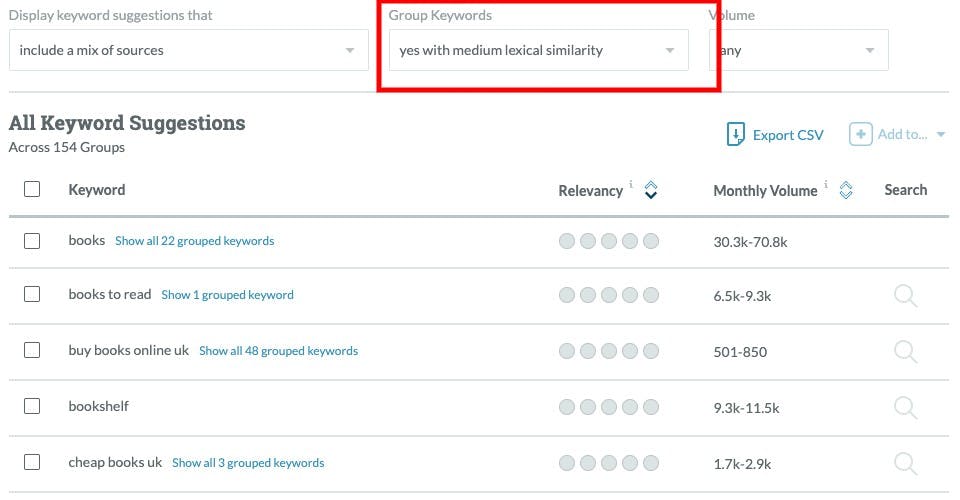 My favourite function of the tool is not the filtering, but the lexical grouping. Moz Keyword Explorer is able to group similar keywords into topics based on low, medium and high lexical similarity (i.e. how similar the wording of each group is).
If you want to find all the different aspects of a subject area beyond your seed keyword, filter 'exclude query terms' with 'group with low lexical similarity' and you'll be presented with a list of topics that's perfect for idea generation. Moz's Dr Pete has written a fantastic blog post on the topic.
Ahrefs
The strength of Ahrefs' keyword overview dashboard is its presentation of difficulty and click data. No other tool that I know of estimates the number of links needed to rank on page 1 for a particular keyword (though I'm not sure that it's accurate all the time). The granularity of the click data is impressive, showing trends, percentage of clicks and non-clicks and the percentage of clicks shared between organic and paid clicks.
The wider keyword research options are similarly impressive. Ahrefs allows users to sort through keyword ideas by those that include the seed keyword, questions, those the same sites rank for and newly discovered keywords. These options allow you to find informational content opportunities, keyword variants, emerging trends in your topic area and more.
The questions tab – a relatively recent addition to the tool at the time of writing – is a goldmine for FAQ and blog content. It displays keyword ideas that contain typical question words, though it can be tripped up by some more complex phrases (see below). I'm yet to come across another tool that presents questions with as much data as Ahrefs does here.
Finally, Ahrefs offers users good filtering options within the different lists. The most interesting of these features is the ability to sort by SERP feature, which lets you narrow down a keyword's intent. To find keywords with purchase intent, simply choose the "Shopping results" option, or choose "Featured snippet" and "People also ask" to find informational keywords. For those that aren't familiar with SERP features, these are the extra bits that appear on search results pages alongside regular organic results.
Ahrefs is the keyword research tool I use most frequently, thanks to how easy it is to access different kinds of keywords. It doesn't give you the level of control that Moz does, but it gives you more than enough functionality for the majority of everyday SEO tasks.
SEMRush
I'll be upfront about it, SEMRush is my least favourite keyword research tool of these three and, as a result, I haven't used it very much. It's more geared towards PPC than Moz and Ahrefs so if you want to use your keyword data across your SEO and PPC campaigns, it's likely to be a good choice.
As you can see, the trend data from SEMRush is serviceable but contains nothing like the level of data that you get with Ahrefs. The other information in the main overview panel is geared towards PPC, with a small amount of organic insight.
The actual ideas and data that SEMRush provides are reasonable but lack the easy sorting of Ahrefs or the fine control of Moz. In addition, keyword research has to be conducted in lists, which makes it slightly less intuitive than the other tools.
Advanced filtering options are available, giving many of the same options as Ahrefs and more choice than Moz. However, in the absence of ready-sorted groups like Ahrefs' Questions and Also Rank For, there is a limit to how useful the filters can be in separating out different groups of keywords.
SEMRush lags behind the other tools in terms of the usefulness of its keyword functionality. It does a job but doesn't excel in specific areas in the same way as Ahrefs and Moz. I will reiterate that it's the best tool for paid research in terms of the information on offer, so it certainly has a place in the market.
The verdict
If you want your keyword research tool to be a good all-rounder, it's hard to look past Ahrefs. The breadth of functionality and ease of use make it my favourite keyword tool for daily use.
There is a lot to commend about Moz, too. If you want a fine level of control in your research and your primary activity is looking for keyword ideas, Moz is excellent. Its priority feature is also a great way to organise a large keyword targeting strategy.
Competitor research
The final bit of functionality we're going to look at in this post is the options the tools offer for on-page competitor research. The advantage of using tools like these over Google's offerings, like Search Console, is the ability to look at any website, including your competitors'. Using Waterstones as an example once more, let's see what each tool has to offer.
SEMRush
SEMRush's competitor research tool was my go-to for a long time. It has a great competitive positioning map that shows the number of keywords for which a site ranks and the traffic it can expect from those, based on volume and rankings. It's helpful as a way to identify search competitors, which can be especially useful when researching a new client in an agency setting.

Slightly more information is available in the 'organic competitors' tab, which shows the number of ranking keywords, estimated traffic and the overlap between your site and competitors.
Unfortunately, SEMRush is let down by the usability of the rest of its data. It has a competitive comparison tool which is, in theory, quite powerful, but it's difficult to use in comparison to the other tools.

The keywords for up to five domains can be compared and contrasted, but there's no easy way to access one key group of keywords: those for which the competitors rank and your site doesn't. This single omission seriously reduces SEMRush's usefulness, especially when compared with Ahrefs. The tool is also slow to use with unintuitive filtering, making the whole experience frustrating.
Ahrefs
Ahrefs' competitive insights, on the other hand, are excellent. While there is no slick overview, it's still possible to see a list of competitors with a clear presentation of information when you hover over them.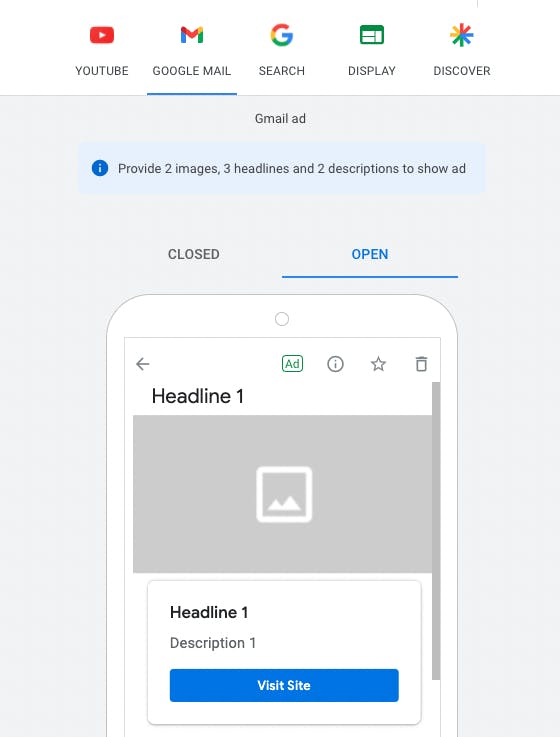 Ahrefs' competitive analysis power is in its Content Gap tool. This lets you compare your site and up to three competitors in order to see where they're performing better than you. With easily toggled options, the tool allows you to exclude keywords for which your site already ranks and allows you to only see keywords for which one of the competitors ranks on page 1. You can zero in on the biggest missed opportunities straight away.
The data that you get is easy to interpret, with clear signals as to which competitor performs the best for a given keyword. All of Ahrefs' standard keyword data is also available, including their handy SERP feature drop-down.
Ahrefs' content gap tool certainly favours function over form. It lacks the nice graphics of SEMRush and Moz (as we'll see) but presents all the data you need in an intuitive, easy-to-interpret format.
Moz
On-page competitor analysis in Moz is split between the Site Overview and Ranking Keyword tabs. Site Overview is where you see the headline statistics. Unfortunately, Moz doesn't give you any way to discover competitors, but it has some great features if you have some in mind already. The initial overview that you get is a great starting point, giving you an indication of keyword coverage with a focus on top performing keywords.
A competitive distribution graph is also available on the Site Overview tab. This graph shows the comparative distribution of keywords for your target site and up to two competitors. The data doesn't get any more detailed in this section, but it's a solid start for analysing differences in search coverage and working out where you need to focus.

More detailed information is found in the Ranking Performance tab. Annoyingly, I haven't found an easy way to carry data over from one to the other. You have to switch to the new tab from the overview and enter the competitors again. This is a minor gripe, however, as the data you can see is great.
One nice feature is the overlap visualisation: a scaled Venn diagram that shows up to three sites' relative organic coverage and shared keywords. When you need to work out which competitors are competing for the most keywords with you, this is a great starting point.
Individual keywords are listed below in a format very similar to Ahrefs and SEMRush. The data is more limited than the other tools and advanced filtering isn't available, but the keywords are still much easier to sort than on SEMRush and include all of the key information. Clicking into a keyword opens that phrase's overview in a new tab, which is a small but helpful usability feature.
Moz lacks the detail of Ahrefs but excels in graphics and the presentation of its data. It trumps SEMRush on usability and does a great job of giving users information at a glance.
The verdict
Once again, Ahrefs is the most complete tool that I can use for competitor analysis. Its options in data presentation and filtering are unparalleled, giving you everything you need in a few simple clicks.
Moz is worth bearing in mind, too, especially if you want access to good graphics for presentations and proposals. The data isn't as granular or as easy to filter as Ahrefs, but it still has a lot of great information available at a glance.
Final thoughts
I haven't made any attempt to hide the fact that I think Ahrefs is the best all-round on-page optimisation tool. It is the tool that I, and the majority of my colleagues, use most frequently for the activities described above. If you're looking for a single on-page tool, I would struggle to recommend anything above it.
When compared to Ahrefs, SEMRush is difficult to recommend (unless you want its PPC features). It's core data offering is great but it has nothing on Ahrefs' usability, a theme that I kept returning to when writing this post. It's also hard to get away from the fact that its keyword research capabilities lag behind both Ahrefs and Moz. It's not a bad SEO tool by any stretch, but I can't recommend it as the best.
Finally, the Moz Keyword Explorer has its own strengths and unique features. It's topical research capabilities are excellent and some of its graphics are very useful visualisations of the data. As an addition to Ahrefs it has a lot of potential, though I would struggle to recommend it as the primary investment for a smaller business. If you work for an agency or a business with budget for multiple tools, I think it's definitely worth a closer look.
---