Many companies come to Impression wanting to rank for national and even international keywords. At the same time, we also get plenty of businesses looking to put their website in front of people closer to home.
For instance, you might come across a company that has several locations across the country, all of which aim to service people in each respective area. Alternatively, a local independent coffee shop might want to rank for terms such as 'coffee near me' or 'coffee Nottingham', as their clientele will be primarily searching with terms similar to these.
Enter Local SEO: a subsection of SEO that encompasses strategies to promote products and services solely to local customers. There are several fundamental things to consider when developing a local SEO strategy. But first, let's discuss the history of Google's local SEO algorithm.
Google Pigeon
Google introduced an algorithm change in July 2014 that sought to provide more useful and relevant results for people whose search intent was to find local businesses nearby. Small and medium-sized enterprises (SMEs) with brick-and-mortar shops who had optimised their sites well were rewarded with a stronger organic presence in the Search Engine Result Pages (SERPs), regardless of their size. This algorithm update became known as the Pigeon update.
The algorithm change looked at hundreds of ranking signals for Google Search and Google Maps, tying local ranking factors much more closely with 'traditional' ranking factors, including content quality and link-based metrics.
Google had already been trying to help local businesses rank before the Pigeon update. In 2012, Google Venice was introduced, an algorithm change which saw the inclusion of local businesses not only in the Google Places results of a page, but also in the traditional 10 blue links found on every SERP. It fundamentally changed local search and is the basis for how local search results work today.
Google Pigeon was a significant update to local SEO in its own right, and many SMEs suddenly saw their ranking performance improve dramatically. Prior to the update, the results on Maps and traditional SERPs were very different. Following the update, there was far more synergy between the two, seen below: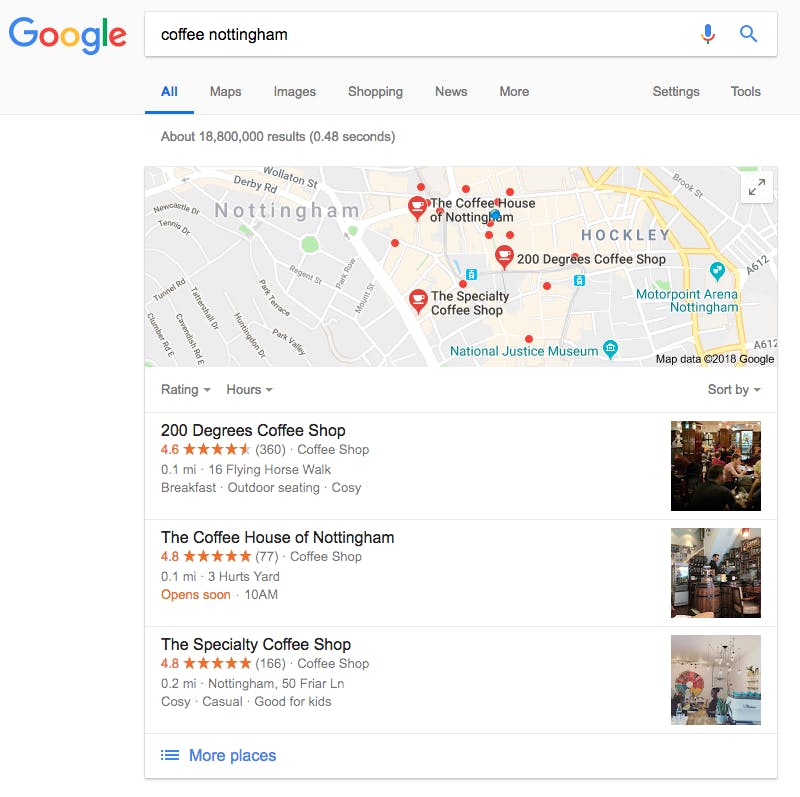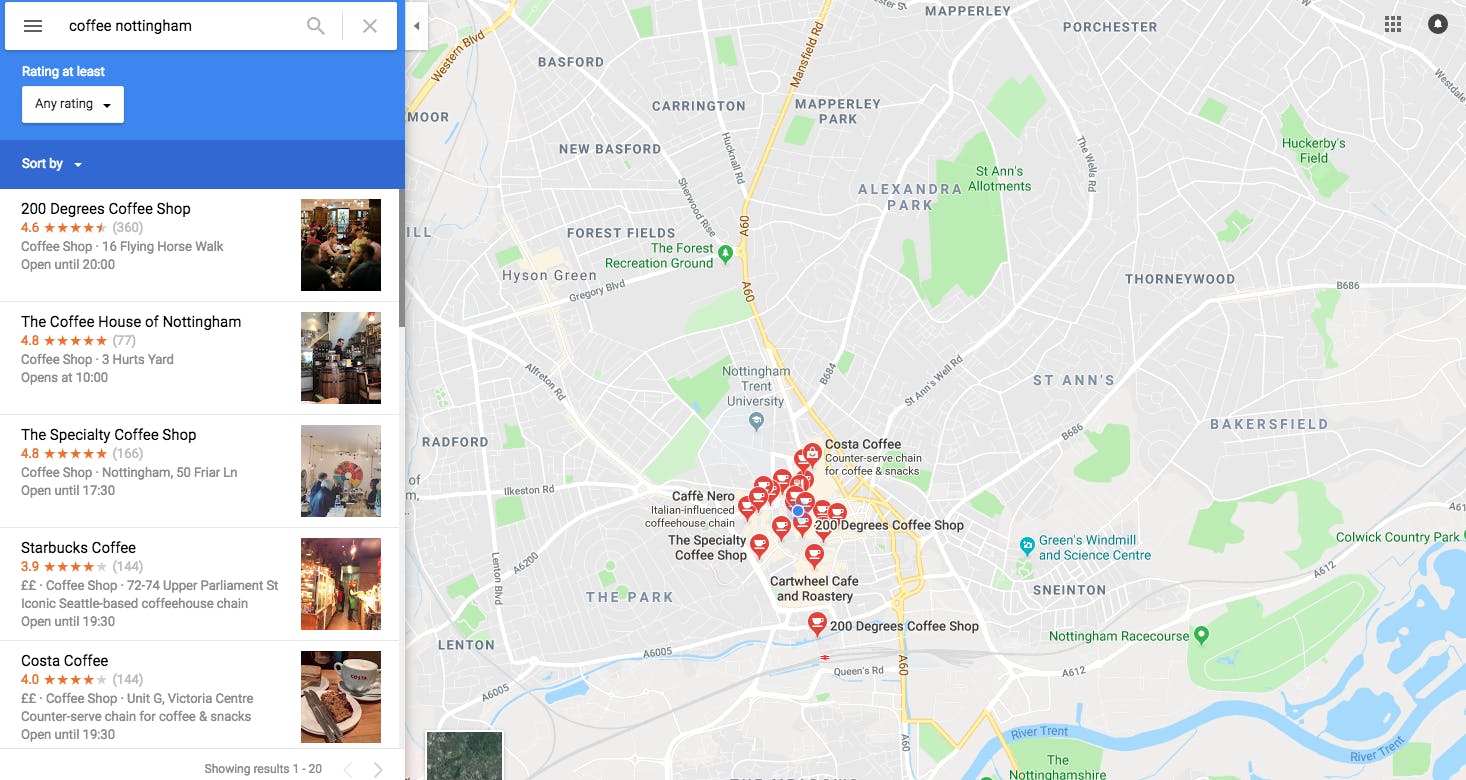 The listings you can see in the first image are what is known as a 'Local Pack' – a selection of the most relevant results for a keyword. This used to contain between 7 and 10 businesses, but, after several updates to the Pigeon algorithm, it has been reduced to the top 3. Any business that is seen in the Local Pack is now even likelier to see significant improvements in website traffic.
Add NAPs
For SEO beginners, there are several fundamental things that a Local SEO strategy should include. The most basic one is to establish your business' Name, Address and Phone (NAP) details. This information lets Google's crawlers know who you are, where you are and how people can contact you. It should be included in on your website in text format so that search engines can read it.
NAPs can go anywhere on a page, but common practice is to include it in the header, footer and contact page of your website.
Use Local Business Schema
Another top tip for every local SEO checklist is to include local business schema – a type of structured data markup code that helps search engines identify who an organisation is and what they do. Google, Bing, Yandex and Yahoo! undertook a joint project in 2011 to establish a shared vocabulary to structure metadata on websites that would help search engines better understand what's on the page. The result was Schema.org (often referred to as Schema).
Google loves structured data because it helps the search engine to more easily understand page content, resulting in a more efficient crawl process and, if the content is good, stronger rankings. Therefore every SEO strategy needs to include schema in 2018.
There are hundreds of different uses for schema, but this guide focuses on the schema language specific to local businesses. Here is just some of the information local business schema provides :
Opening hours
Geographic area that the business serves
Type of business
Images
Company logo
To implement structured data markup you can use either Microdata or JSON-LD. In layman's terms, Microdata is a specification that helps annotate data for it to be embedded inside the HTML of a page. JSON-LD is similar, but uses Javascript to define the data. We'll go more in depth into structured data markup in a future technical SEO blog post.
Beginners to SEO can easily add schema to a site by using Google's Structured Data Markup Helper, which lets users add the information you would like to include before converting it into HTML for them to add to the back end of a site. Once schema is implement, Google's crawlers will have easier time of working out if a business should rank for local keywords.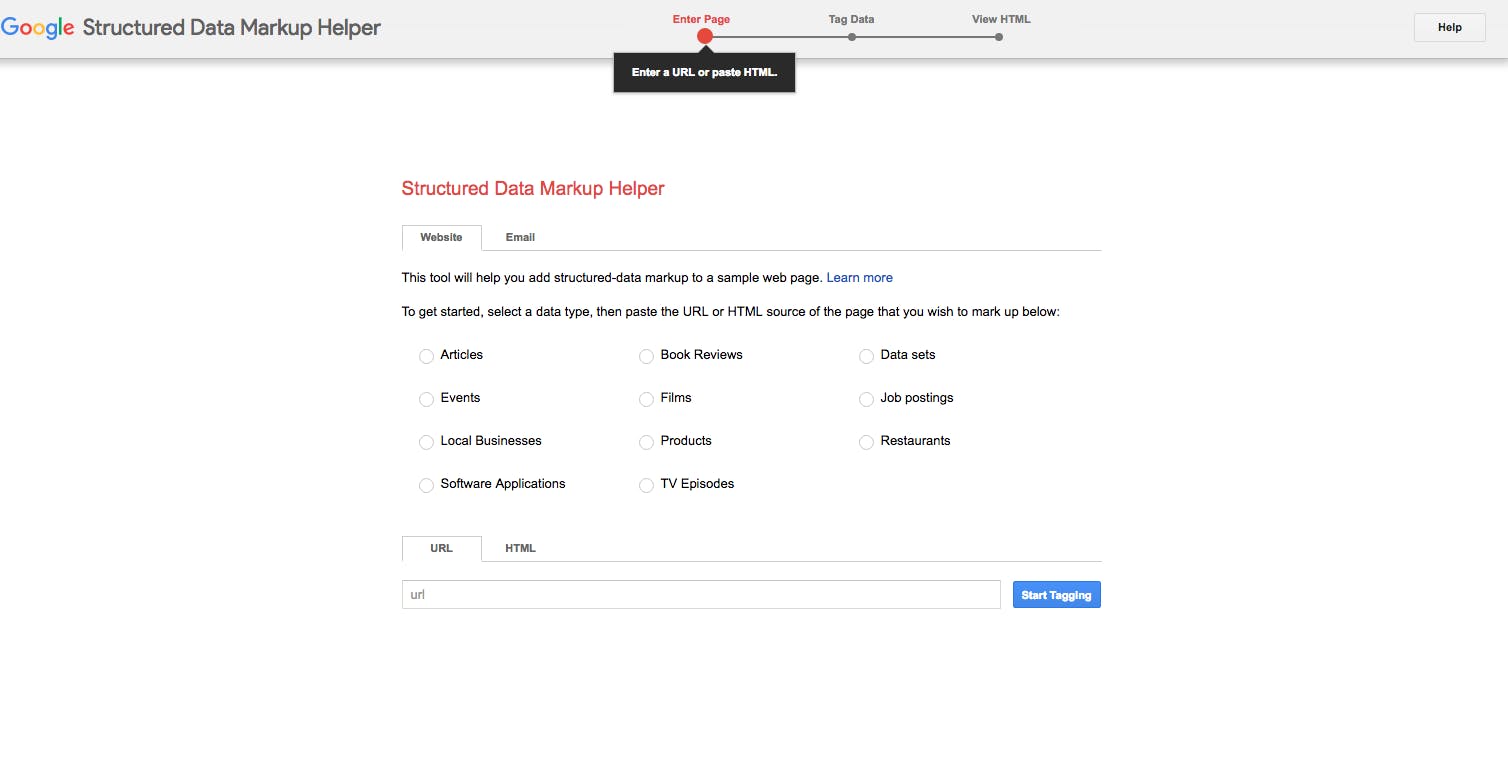 Concise rich snippets are great for increasing click-through rates, as searchers can quickly determine what the page is about and whether it caters to their needs. In the images below, you'll see that Impression has used schema to create a rich snippet for its services page and include its NAP details in the footer of the page.
Build a list of citations
A citation is any mention of your business' NAP across the web, whether it's in directories, Chamber of commerce websites, local business associations or community hubs. It's well known that citations are a key factor in improving local search results, as Google sees citations as proof that a business does in fact exist. The more credible, authoritative sites mention your business, the more signals will be sent to the search engine that the company is trustworthy enough to be included in local search results.
Some citations are more valuable than others; for example, a NAPW (or UNAP) citation includes the website link and offers additional value due to the fact that it gives search engines an additional data point that connects to your business. Nevertheless, as long as the citation includes the NAP it still contributes to your website's ranking.
There are several types of citations, one of which is a structured citation. This is a mention of a business' NAP on a business listing directory where you can submit your business details manually. Examples include Yell.com, the Scoot network and Yelp. Below is an example of a structured citation for Impression.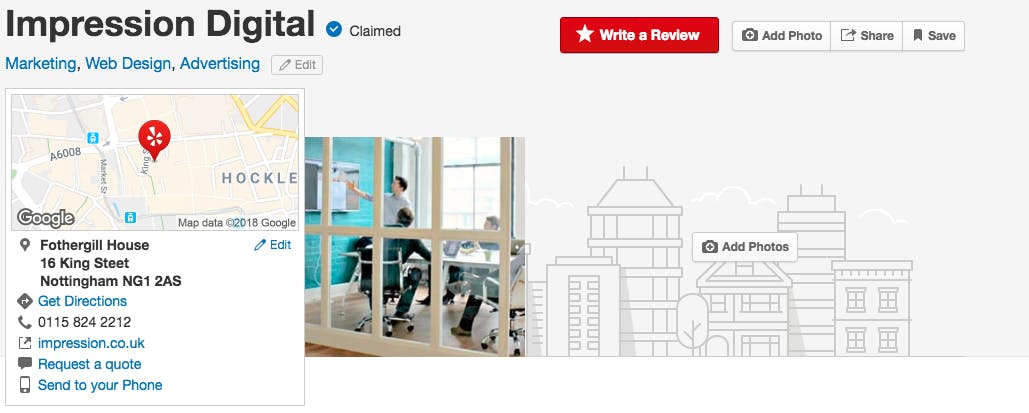 Unstructured citations, however, are mentions of your business information on a site that is not specifically a business listing directory. For instance, if a business is organising an event and another website mentions the business' NAP in the invitation to the event, Google's crawlers will see this and consider it in its local ranking algorithm.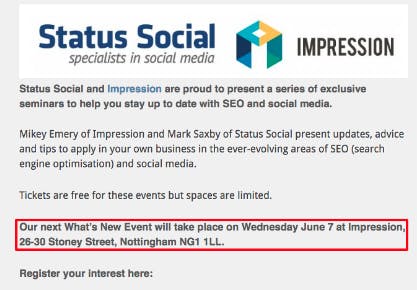 A key tip for citation building is to ensure NAP consistency across the web – the more consistently other people mention your business, the more credible the business information seems to Google. To find a list of directories for structured citations, take a look at Whitespark's list of the top 30 directories in the UK.
Alternatively, type your main keyword in into Google and find the top 10 websites listed in the organic search results. Proceed by searching each business' NAP in quotation marks into Google, which should give you a list of potential sites where you can also place your citations.
Use Google My Business
Another tip for the local SEO checklist is that all businesses hoping to rank for keywords with local intent should upload their information to Google My Business (GMB). Believed to be one of the most important ranking factors for Local SEO, GMB lets businesses add their NAP details, opening hours, photos and any other information that they deem relevant, all for free.
Google My Business is an invaluable tool for people looking to manage the way their site appears in the SERPs. It lets you upload photos and videos, letting you show off your storefront and products as an additional way to entice people to click through to your site. It also facilitates booking appointments and managing online reviews.
Not only do reviews entice people to convert, they also hugely contribute to local SEO efforts by acting as a ranking factor. Google knows that people need reassurance that the product or service that they are purchasing will meet their expectations, and strives to place the most well reviewed businesses towards the top of the SERPs. As such, any small business should look to building a strong online reputation, as regularly receiving negative reviews can make a real difference to someone's bottom line.
There are several offpage ways that businesses can earn positive reviews. For instance, by using social media business owners can post the occasional tweet or announcement asking for reviews. People can also take the more traditional route and ask customers to leave a review as they receive their bill. Alternatively, people can ask visitors to their website to leave a review, either in the footer or on a separate landing page.
If the reviews of your website are positive, consider including them by using review schema. Like the local SEO schema mentioned above, review schema is a structured data markup that can be added to a website to highlight certain pieces of information. The reviews will show up as part of the snippet underneath the title tag on the SERP. It can be a great way of increasing click through rates because searchers can quickly determine whether the product or service will cater to their needs. In the image below, you'll see that Impression has used review schema for its services page.

Build Links For Local SEO
When optimising a site for local SEO, you should always look to incorporate a link building strategy to complement your on-page efforts. Inbound links let Google know that other people find your site authoritative, relevant and useful and, just like in normal SEO, they are a ranking factor in Google's algorithm.
Differently to normal SEO, however, you should focus your link building efforts on gaining links from local businesses and websites. These sites will typically have a low Domain Authority (DA – Moz) or Domain Ranking (DR – Ahrefs) and poor on-site SEO, and any links from these would have negligible effects for sites hoping to rank nationally and even internationally.
Yet with local SEO, these sites are a goldmine. Their location serves as an additional sign of trustworthiness for Google's ranking signals and any SEO executive worth their salt should prioritise gaining relevant, local links for clients looking to rank in their town or city. Any local links are valuable, even nofollow links, because local users are highly likely to convert and give you exposure that is then acted upon offline, so make sure to include it in your local SEO checklist.
Key Steps
The first step of a local link building campaign should be performing an audit of the site's current link profile to evaluate its strengths and weaknesses. This can be accomplished through a variety of tools, but at Impression we like to use Ahrefs and Kerboo. Ahrefs has the world's largest index of live backlinks and is fantastic for providing useful metrics on the backlinks to your site. Kerboo is also a great link audit tool, providing a clear visual of the number of low-quality or bad links to your site for you to disavow. Find the links that are most relevant to local SEO, then perform a competitor analysis of those sites to find other potential opportunities.
The second step is to actively search out for opportunities. An easy way of doing this is using the search operators to find local sites that are highly likely to talk about your client's brand. Search operators are special commands that you can use in Google to refine your search results. A great one to use for local SEO is the "search term" search operator, which forces Google to give you exact-match results. For instance, if you want local Nottingham food blogs to link to your bakery, a good search to do would be "Nottingham" + "food blog".
Another recommended action to take for local link building is to perform an audit of your competitors' link profiles. By using Ahrefs, you'll be able to compare your links to your competitors' and find sites that currently link to them and not you. Make a note of these in a spreadsheet and start outreaching to them with ideas of how to entice them to link.
Finally, local business often rely on engaged communities of customers and a network of relationships to support them. Reach out to businesses and individuals that you've worked with in the past and see if they'd be happy to link out to you. After all, it's far easier to get a link from someone who's already a fan.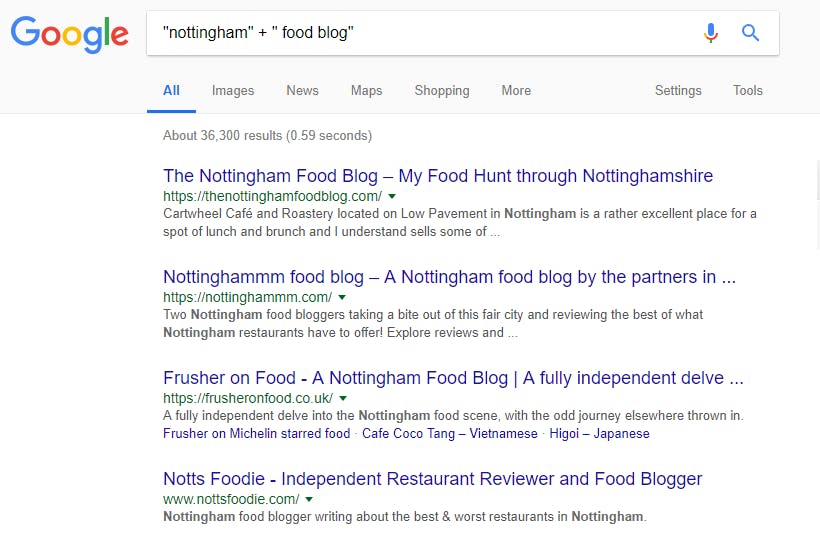 Create local content
If you want local people to convert on your site or in your brick-and-mortar shop, you'll need to create engaging and unique content that caters to them. The first page that searchers see when they visit your site is known as a 'landing page', which could be your homepage or any other pages that rank for keywords in Google. As the old adage goes, 'first impressions count', so make sure that all of your pages are pleasant to use and cater to the intent of the searcher.
Firstly, perform some keyword research to find keywords that are relevant to each product or service that you offer and your location- we like to use Ahrefs, SEMrush or Keyword planner for this. Once you've found relevant keywords, make sure to include them in the copywriting on your page, as well as in the title tag, H1 tag, URL and meta description.
Local searchers also love to see three things on a website – customer testimonials, a brand's story and answers to commonly asked questions. By highlighting positive reviews of your service offering, visitors to your site will have a better impression of your business. Creating a landing page with the history of the company and staff stories is also good from an SEO perspective because it increases engagement with a brand. Finally, a Frequently Asked Questions (FAQ) page is beneficial to a local SEO strategy because it alleviates purchasing anxieties, improves site navigation and helps move visitors further down the conversion funnel.
A great way of incorporating local content on your site is to start a blog. While the blog can be all about your business, it's also advisable to include content that touches on things happening in your local area and community. For instance, if the town or city the business is located in wins a prize or is celebrating an important holiday, write about it. By making your blog a place people come to learn about your local area, you'll be able to direct searchers towards the rest of your site, increasing traffic and your performance in local SERPs.
Ensure your website is mobile-friendly
Making your website mobile-friendly is no longer just recommendable- it's a crucial tip for any local SEO checklist. In March 2018 Google began to roll out its mobile-first indexing, meaning it began to use the mobile version of certain websites as the version it indexed and ranked. While this is currently reserved to sites that are already deemed mobile-first friendly, it will eventually be rolled out to all sites and, as such, everyone in SEO should be looking to optimise their client's websites for this change.
This change is particularly relevant to local SEO, as the most common device people use to make local searches is overwhelmingly mobile phones. When people are out-and-about, they'll most likely use your site to find directions, search for contact information, perhaps even read your menu. The last thing you want when people are looking for a place to eat is to be put off from your business because the website is difficult to navigate on mobile phones or is too slow to load.
For mobile-compatibility, ensure that the website has a responsive design. This allows website developers to design a site that can be viewed on all devices of all shapes and sizes. Every page on the website should be flexible, meaning that images, layouts and fonts will adapt to the device it is being viewed on. Google has even said that it's their preferred format for mobile websites. Best practice also dictates that the font and navigation buttons should automatically be larger on mobile phones, so make sure this is the case. Finally, verify that the site loads quickly – the longer it takes to load, the more likely a searcher will bounce straight off your site and proceed to a competitor's. One easy way of doing this is to compress anything that takes up a lot of space and time to render. High-resolution images, for example, should be compressed. Equally, the Cascading Style Sheets (CSS) of the site should be written in the most efficient way to reduce loading times.
To build a site's presence in local search results, a local SEO strategy is needed. This guide has provided a broad overview of the things to consider when working with a client that wants to target local keywords and anyone new to SEO should incorporate as many of the practices listed above as possible.
If you enjoyed this local SEO guide and want see how we could help you business, get in touch here.
---