What is Search Ads 360?
Search Ads 360 (also known as SA360, or formerly DoubleClick) is Google's advanced search marketing platform, and unlike Google Ads or Microsoft Ads, this platform comes with a price tag.
The platform itself helps agencies and marketers manage large search marketing campaigns, across multiple engines and media channels, all in one place.
One of the most useful elements of using SA360 is being able to manage your campaigns, ads, and keywords, on a single platform, rather than analysing performance on each search engine individually. This gives you a clear overview of performance across all channels, and on top of this, you are able to optimise, introduce rules, apply bidding strategies, and more, across all engines in one go.
How does Search Ads 360 work?

Search Ads 360 works similarly to Google Ads, as you can manage multiple advertisers under a single agency network. Within an advertiser account, there can be multiple engine accounts and campaigns, as well as users who can view reports, edit settings, and make changes.


If you are a direct marketer, working on boosting leads or sales for your business, you could create multiple advertiser accounts for different areas of your organization, e.g different service offerings, product lines, or locations that you cover.
How does the campaign data get pulled into Search Ads 360?
Search Ads 360 has a direct API connection with multiple search engines (Google Ads, Microsoft, Yahoo, and Baidu). You can schedule for the search engines to sync with SA360 on a regular basis, e.g every 24 hours – this way the data is always fairly up to date, and if you need more accurate data you are still able to sync manually whenever you'd like.
It's also worth noting that any changes made in the platform will then be copied to the search engines automatically. 
What are some of the unique features that make Search Ads 360 so useful?
1. You can manage multiple engines in one place
As I've mentioned above, one of the most unique features of the platform is being able to compile all of your data from Google Ads, Microsoft, Yahoo, etc, into one place.
This is an extremely simple way to manage your campaigns across multiple engines without having to look at them individually, giving you a clear picture of where things need to be optimised. On top of this, you are able to create reports within the platform, looking at performance across each engine.
So ultimately, it's a huge time-saver and frees up more time for more strategic planning.
2. Optimise with Search Ads 360 Bidding Strategies
Similar to Google Ads bidding strategies, Search Ads 360 bidding strategies will optimise the performance of keywords and product groups, adjusting bids to achieve the highest number of conversions/amount of revenue/highest impression share/number of clicks, etc.
However, unlike Google Ads, Search Ads 360 bidding strategies can optimize your spend across multiple search engines within an advertiser account. Depending on the engine, bid strategies will also set or recommend bid adjustments for your location targets, mobile devices, and remarketing targets.
Search Ads 360 will also recommend Smart Bidding strategies for Google Ads & Microsoft Ads but only if there is strong confidence that the strategy can deliver either a similar number of conversions at a better CPA or ROAS, or more conversions at a similar CPA or ROAS.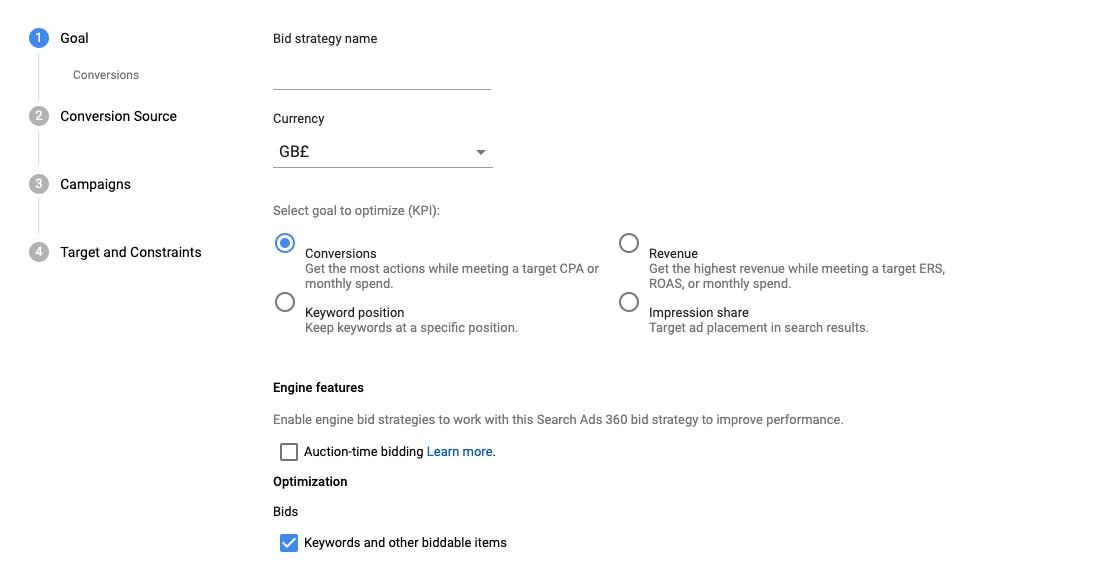 3. Executive reporting for quick and easy reports
You can create executive reports in the platform, all formatted as charts and tables – instead of manually downloading reports all of the time and spending time organising the data to look 'pretty'. You can then share a link to the report directly with your client so that they have access to the report without having to download it themselves.
You can pull the reports on a number of things, e.g week-on-week trends, last month's performance, annual cost-per-engine, the list is endless and completely dependent on your needs for the report.
To conclude…
Hopefully, I've sparked your curiosity in the Search Ads 360 platform, keep your eyes peeled for more of my tips and tricks on campaign management in Search Ads 360 including my most recent Search Ads 360 How-To Guide!
Alternatively, many of our paid media team are very skilled in campaign set up and management in the platform, so don't hesitate to get in touch here and find out how we can help.
---