A lot of sites are still recovering and feeling the repercussions from the many core algorithm updates we have had in 2019. In light of this, a few SEOs have now begun to pay attention to the E-A-T of their site.
So what exactly is EAT, why is it important to recognise and how can improving it help your rankings? More importantly, how can we boost the EAT of your site? Luckily, there are a few relatively simple tactics you can adopt straight away that we will go through in this guide.
What is E-A-T?
EAT stands for:
Expertise
Authority
Trustworthiness
It is a score found in Google's Quality Raters Guidelines (QRG) which Raters assign to websites' content to score their quality and relevance. The QRG is used by employees of Google to allocate quality scores for specific search queries.
Why is E-A-T important?
Google's QRG were updated in July 2018. All mentions of "high quality" have been changed to "high EAT". Jennifer Slegg highlighted at SMX Advanced that the most noticeable change was that Google wanted their Raters to not only judge the reputation of a website, but also the content creators themselves.
Whilst most sites will have an 'About Us' page, they might not have substantial bios for their authors. Slegg stated that "if the content is created by someone with a great reputation, it makes sense for Google to rank that content higher than someone with a bad reputation since it is generally a better user experience for the searcher."
In a world of fake news and conspiracy theories, it is clear that Google's aim is to ensure that content that is created by creators with great reputations ranks well. It is also apparent that Google hopes to tackle clickbait. In the QRG, they have asked Raters to rate sites as "low" if their title is too sensational and doesn't match the actual content.
How could E-A-T affect my site?
When the Florida 2/March Core Algorithm Update was rolled out, there seemed to be a focus on YMYL (Your Money, Your Life), health and medical websites. This meant that sites that could impact a users' health or future wellbeing were either rewarded or penalised with poorer rankings.
The clear correlation between how sites' rankings fluctuated seemed to be their expertise, authority and trustworthiness. Sites that were seen to be trustworthy and experts in their fields prevailed whilst those, with little to no evidence to suggest they had the same expertise, lost rankings and organic traffic.
Google states that their quality raters cannot alter search results directly. However, they did say that quality scores are used in the same way that restaurants might use feedback cards. This does imply that rater data does, in fact, inform their algorithm. This means that sites that receive high-quality scores from raters are the types of sites that Google want to rank well.
Update: Since publishing, Search Engine Journal has commented that the Quality Rater Guidelines are not a roadmap of Google's algorithm update. That is correct! We're not implying that at all. It is, however, worth remembering that Google advised webmasters whose sites had been affected by core updates to understand how raters assess good content. In turn, Google says that this will help you improve your own content and perhaps do better in Search.
Now that we've covered what EAT is and why it is important for your site, let's talk about what you can do to boost your site content's EAT.
1. Add authors and biographies to all editorial content
The QRG states that "understanding who is responsible for a website is a critical part of assessing EAT" and it advises raters to assess this based on the type of website. For blog posts and other long-tail content, information on the author should be available to evaluate whether they are an expert or not – such as internal links to a separate biography page.
John Mueller recently advised, in a Webmaster Hangout, that author biographies are not a technical requirement, nor do they require a specific Schema markup. However, he has endorsed "trying to figure out how you can best show that the people who are creating content for your website, they're really great people, they're people who know what they're talking about [and] they have credentials or whatever is relevant in your field."
For YMYL sites, if you know that the original content creator is not an expert in the field, an alternative is to get an authoritative figure to fact-check the piece. A great example of this is Healthline. Not only do they dominate the SERPs for most long-tail health-related queries, but their content plans are clearly underpinned by being trustworthy experts in the health and medical verticals.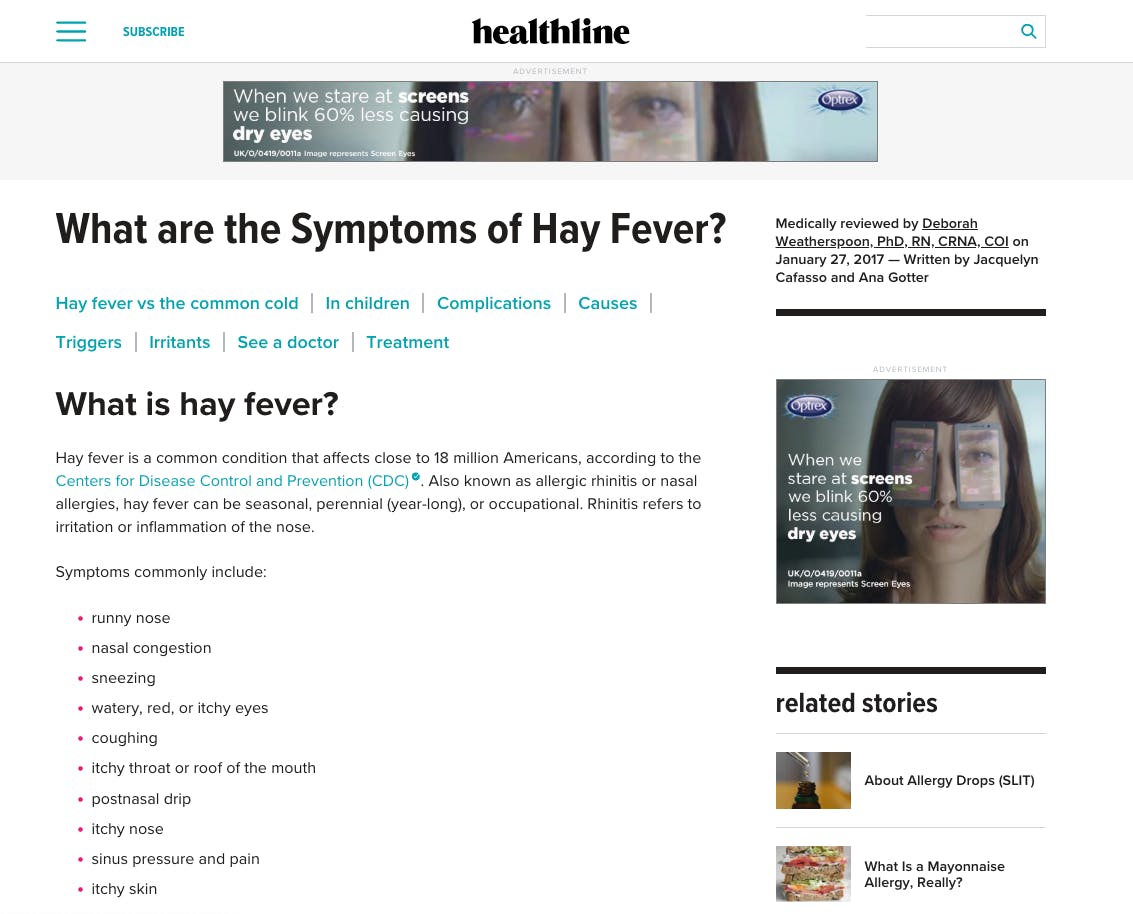 After adding authors to long-tail content, ensure that your biographies (whether in individual profile pages or Meet The Team bios) are built out to display your team's expertise and knowledge in your respective fields.
On Healthline's Nutrition Team page, despite the missing headshots, it is clear that close attention has been paid to ensure that each team member has listed their qualifications, degrees and their experience in nutrition.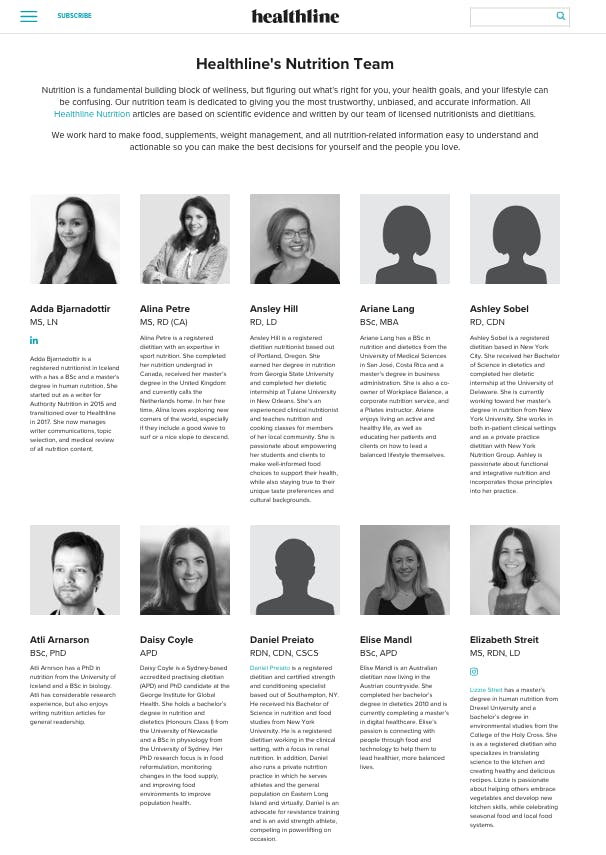 2. Delete or optimise low-performing content
Google's Quality Rater Guidelines have an entire section on low-quality pages. It states that if a page has one or more of the below characteristics, the "Low" rating applies:
An inadequate level of expertise, authoritativeness and trustworthiness
The quality of the main content is low
An unsatisfying amount of main content
The title of the content is clickbait, intentionally shocking or exaggerated
The ads or supplementary content distract from the main content
There is an unsatisfying amount of website information or information on the content creator
The website has a mildly negative reputation, based on extensive reputation research
The QRG goes on to say that they will consider content to be of low-quality if it is created without adequate time, effort, expertise, talent or skill. Pages will also be considered low if they have a small amount of content for the purpose of the page. Such as an encyclopedia article on a very broad topic, such as World War II, that only has a few paragraphs.
We put this into practice for a few of our clients that had a lot of long-tail and blog content. We used Ahrefs to analyse all pages by the amount of traffic they pull into the site and keywords ranking for. Exported in a spreadsheet, we provided more insight by pulling in Google Analytics data to see each page's sessions and bounce rate.
Here's an example of what one of the spreadsheets would have looked like. Instead, using some of our own blog data.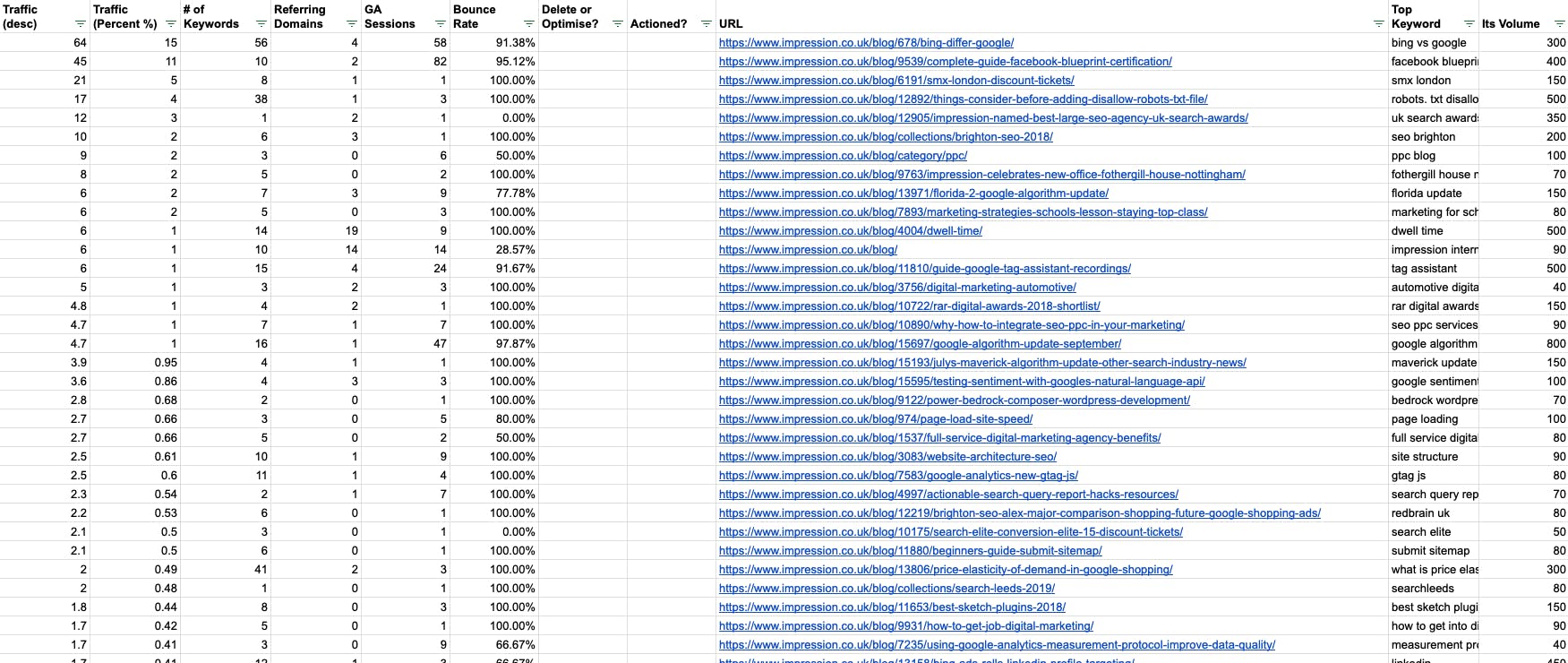 Then, in collaboration with our clients, we worked through each page to decide which pages should be deleted or optimised. Alongside other work done to build out the E-A-T of their sites, we have been able to regain lost keyword positions that were hit during the many-core algorithm updates that have taken place in 2019.
Here's a screenshot from one of our client's STAT dashboards. You can see where they were hit by the March core algorithm update and have now begun to recover. This site's long-tail content has now managed to gain many new featured snippets.

Conclusion
E-A-T might be considered a buzzword or the new "in thing" in the search industry. But it is worth bearing in mind that Google has provided lengthy guidelines on how increasing your site's expertise, authority and trustworthiness will increase its page quality.
When creating content that could affect someone's health or financial situation, you need to have proven expertise, authority and trustworthiness for Google to rank it highly. You can power up the quick fixes listed above by ensuring that your content creators have built out their professional social channels. They should be sufficient enough that if a Rater were to investigate, they could find profiles to back up the authority and trustworthiness of a content creator.
Has your website lost rankings since a core algorithm update? Get in touch and find out how the SEO team can help.
---